Play Rugby
Loughborough University offers a unique rugby playing experience with a complete rugby pathway from participation through to the semi-professional game.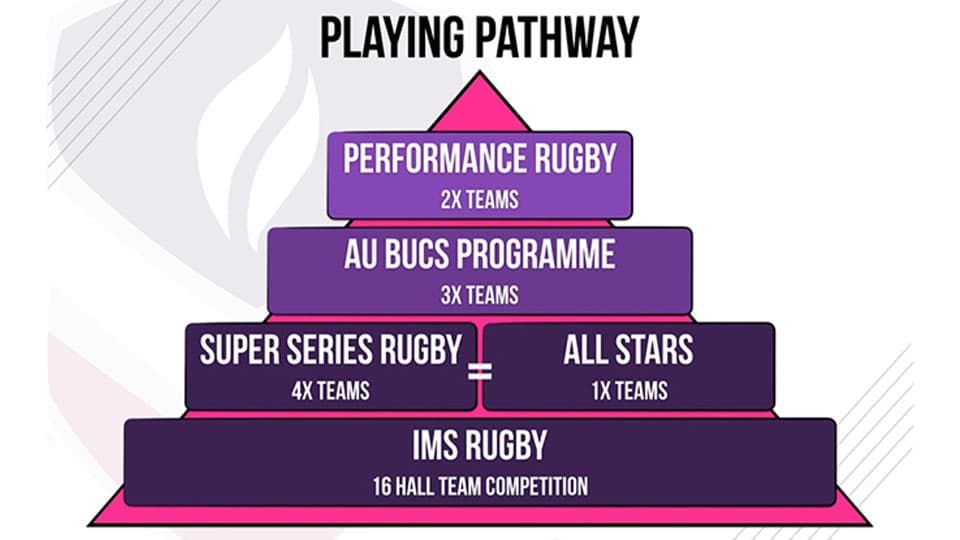 National 2 West & BUCS Super Rugby
Loughborough rugby offer a unique playing programme with our Performance teams competing in RFU National 2 West (Tier 4) and BUCS Super Rugby, the top tier of University rugby. The Rugby Programme benefits from a formal partnership with the RFU and strong working relationships with England 7s and a number of Premiership Clubs. Players within the programme utilise the world class facilities on offer at Loughborough which enhances our ability to provide a professional rugby environment where players can maximise their potential.
As a performance squad player you will receive expert and specialist coaching, access to world class facilities including elite training hours at Powerbase Gym, indivualised and tailored strength and conditioning support and rugby specific sports medicine care. Our Performance Support Team has a vast shared experience of working with coaches and athletes at the very highest level.
Alongside our extensive performance programme we have three further teams competing at the highest levels of BUCs rugby. The three teams are made up of approximately 85 players with a challenging playing programme often against other institutions' 1st XV.
We are extremely proud to say this is a fully connected pathway with a huge focus placed on us being "one rugby club". Full time rugby staff actively support both the quality of experience and the overall coaching support BUCs players receive.
All three of our BUCS teams utilise our state of the art of rugby crumb 4G pitch for both training and matches, with a typical training week as follows:
Additional and specialist full club units and skills sessions (front row club)
Self-directed S&C sessions
The coaching of the teams is supported by RFU coach qualified performance players and external coaches, with specialist knowledge in specific areas of the game e.g. Scrum, lineout etc.
We encourage you to compete in Rugby for you halls of residence in IMS competitions held throughout the year. A friendly, yet competitive league gives you the chance to compete alongside your friends for the coveted title each year. The best players from each hall are then selected for the Super Series Programme, and ultimately the All Stars Team.
Super Series was launched in 2017 to provide another level of competiiton for those players who are not involved in the Club. Four separate teams made up of the very best players across hall rugby compete in a 3 round competition following January exams. The Super Series is coached and officiated by both our performance and AU players and further supported by a group of committed rugby volunteers. This is something we are hugely proud of and supports our aim of having a fully connected rugby club, no matter what level you are playing at, and gives the players a really positive experience and an opportunity for them to develop as rugby players.
Following the Super Series an All-Stars team is selected from the best players across the competition. The All-Stars team go head to head with the BUCS 4 team in the last competitive fixture of the year. For the IMS programme this is a hugely important match for our rugby pathway and will see a number of All-Stars players invited to join preseason training on the back of their positive performances.
As a club we put a huge emphasis on our playing pathway and the overall experience of our players when participating in rugby at the Loughborough.
Additional Opportunities
Further opportunities to be involved in Rugby at Loughborough University include joining the Touch Rugby Club.
The Touch Rugby Club run sessions for all abilities from social through to performance players. The Club is open to both male and female players, with training sessions and teams being mixed gender. Both the Performance and Development teams compete in the University National Touch Series providing a great competitive opportunity, while the social players get chance to play games during their social sessions.
Aside from playing rugby at Loughborough there are opportunities to work with the Club in the following areas:
Coaching (Club & IMS / Super Series)
Refereeing (IMS / Super Series)
Performance Analysis
Strength & Conditioning
Media
For further details check out our Work With Us pages.
Prospective Students
One of the incredible things about Loughborough Students Rugby Football Club is that, not only are we very successful, but we offer a vast array of academic opportunities to our players at both Loughborough College and Loughborough University.
If you are interested in joining the Loughborough University Rugby Programme please fill in the form below to the best of your knowledge. The application forms are monitored regularly and someone will look to respond to you as soon as possible.
Register your interest