Our 2020/21 Scholars
Loughborough's elite athletes
Holly Bradshaw
Pole Vault
Holly Bradshaw is one of the most successful British female field eventers of the past decade. National record holder for the pole vault both indoors and outdoors, Holly has won 14 British titles alongside four European medals, a bronze World Indoor medal and an incredible Olympic bronze medal.
Holly joined the Loughborough Athletics Programme in 2019 after enrolling in an MSc in Psychology. She made a fantastic start to her Loughborough athletics career by winning the 2020 Indoor BUCS title with a new Championship Best of 4.65m and has gone on to extend her own national record to 4.90m as well as win her well deserved Tokyo medal.
Coach: Scott Simpson
Niamh Emerson
Heptathlon
Britain has excelled in producing world class female multi eventers, from Mary Peters to Jessica Ennis-Hill, Denise Lewis to Katerina Johnson-Thomspon, and Niamh Emerson is fast becoming the next one to watch.
Four years after Loughborough's own Morgan Lake won World Junior heptathlon gold, 2018 was Niamh's turn to top the podium as the world's best junior multi-eventer. Niamh only completed two heptathlons in 2018, but she made sure those two counted, and as well as the aforementioned World Junior gold, Niamh took Commonwealth bronze for England at her first major senior Championships.
Although injury scuppered most of the 2019 outdoor season, it wasn't before Niamh took her first medal in a senior British vest, winning a silver medal behind KJT in the Pentathlon at the European Indoor Championships, setting a world best score for a 19 year old in the process. As Jess Ennis-Hill had half an eye on a young Kat Johnson-Thompson in 2012, it seems that history may be repeating itself. Niamh will hope to be on the plane to Tokyo in 2021, with Kat having half an eye on yet another young multi-talented British female.
Coaches: David Feeney/Shaun Pickering/Graham Ravenscroft/Goldie Sayers
Jessica Judd
5000m
Jess Judd has been competing on a global stage since she was just 16. World Youth and World Junior medalist before arriving at Loughborough in 2014, Jess has gone on to compete at the Commonwealth Games, European Championships and World Championships across the 800m, 1500m and 5000m, and in 2021 she added Olympian to her athletics CV.
Adept across all surfaces, Jess has been a major contributor to the Loughborough endurance women's BUCS medal tally during her time here, winning multiple medals indoors, outdoor and at cross country, as well as strongly contributing towards Loughborough's women's cross country team victories in recent years.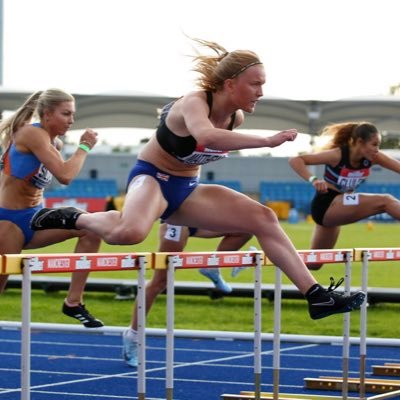 Lucy-Jane Matthews
100m Hurdles
Lucy-Jane Matthews is one of the most exciting young sprint hurdlers to have come from the UK in recent times. A talented multi-eventer at U15, she started specialising in the hurdles at U17 level. She is the UK record holder at age 17 and U18 age group for the 100m hurdles and placed 3rd at the European U20 Championships when she was still in the U17 age group.
In 2020 she placed 2nd to Olympian Cindy Sember at the British Championships, and finished 3rd in the UK rankings for the year as well as 3rd on the all time U20 lists.
Coaches: Benke Blomkvist/Ashley Bryant
Ben Pattison
800m
Ben Pattison arrives to Loughborough in 2020 as a truly exceptional middle distance talent. In 2018 he followed up his Indoor and Outdoor National Championship victories over the 400m with a 4th place 400m finish at the European U18 Championships. But it was evident that he made the right choice to step up to 800m in 2019, and in his first full season at the event he finished 2nd at the European U20 Championships, as well as setting a time in June that year which placed him 8th on the U20 UK All Time lists.
Ben still managed to fit in one 400m race in 2019, and it was fitting that it took place at the Loughborough International. He set a PB on the track which would soon become his training base, with a time that was good enough to see him ranked 2nd in the UK for the 400m for 2019, to go alongside his 2nd placed 800m national ranking.
Abi Pawlett
Heptathlon
The UK continues to produce top class heptathletes, and Abi Pawlett is steadily rising up through the all time rankings. Featuring in the U20 UK top 10 for four individual events, Abi's heptathlon PB score of 5593 moves her to 11th on the all time list for UK Junior heptathletes. She finished 7th at the European Junior Championships in Tallin in 2021, as well as finishing in 2nd place at the England U20 Championships in the 100mH in the same year.
As well as being a scholar at Loughborough, she was invited onto the British Athletics Futures program for the 2021/22 season and will be aiming for the World Junior Championships in Colombia in 2022.
Coach: Joe Frost
Zak Skinner
T13 Long Jump and 100m
Zak Skinner is the British record holder for the T13 long jump, and in 2019, having just turned 21, he attended his 3rd major Para Championships. Zak has a condition called ocular albinism, which causes 75/6 vision - he needs to be six metres away from an object to see what a person with perfect vision can see at 75 metres.
The long jumper and sprinter comes from a multi events background, but decided to specialise in the speed/power events in 2017. Since then he has attended two World Para Championships and one European Para Championships, picking up European long jump silver in Berlin in 2018 and finishing 4th and 5th in the same event at London 2017 and Dubai 2019 respectively.
2021 was easily his most successful year to date when he won double gold at the European Para Championships in the 100m and long jump and finished 4th at the Tokyo Paralympics.
Coach: Aston Moore
Tiers 2 and 3
Georgina Adam, 200m. Coach: Joe McDonnell
Kalechi Aguocha, High Jump.
George Armstrong, Discus. Coach: Zane Duquemin
Sophie Ashurst, Pole Vault. Coach: Kate Rooney/Scott Simpson
Daniel Bainbridge, Javelin. Coach: Mike McNeill
Ellen Barber, Heptathlon. Coach: David Feeney
Owaab Barrow, 110mH. Coach: Jerzy Maciukiewicz
Emily Borthwick, High Jump.
Sam Brereton, High Jump.
Molly Caudery, Pole Vault. Coach: Scott Simpson
Lydia Church, T12 Shot Put. Coach: Jim Edwards
Alex Cooper, 400m. Coach: Grant Barker
Nicolas DeLuca, High Jump.
Seamus Derbyshire, 400mH. Coach: Nick Dakin
Charlie Dobson, 200m. Coach: Benke Blomvkist
Steph Driscoll, 400mH. Coach: Joe Frost
Natasha Harrison, 400m. Coach: Alex O'Gorman
Alex Haydock-Wilson, 400m. Coach:Benke Blomkvist
Tom Hewson, Javelin. Coach: Mark Bradford
Thomas Holmes, Javelin. Coach: Mark Bradford
Lily Hulland, Triple Jump. Coach: Femi Akinsanya
George Hyde, Shot. Coach: Stuart Carlaw
Joshua Lay, 1500m. Coach: Matt Yates
Aidan Leeson, 400m. Coach: Nick Dakin
Ioanna Malli, Javelin. Coach: David Turner
Nessa Millet, 400mH. Coach: Nick Dakin
Nate Moses, Discus. Coach: Gary Herrington
Luke Nuttall, T46 1500m. Coach: Alison Wyeth
Chris O'Donnell, 400m. Coach: Benke Blomkvist
Emmanuel Oyinbo-Coker, T47 100m. Coach: Joe McDonnell
Zoe Pollock, 400m. Coach: Nick Dakin
Matt Stonier, 3000m. Coach: Peter Mullervy
Kirsty Taylor, T44 100m, 200m and Long Jump. Coach: Joe McDonnell
Taia Tunstall, Discus. Coach: Stuart Carlaw
Bekah Walton, Javelin. Coach: David Turner
Jamie Webb, 800m.
Benjamin West, 3000m. Coach: Kyle Bennett
Any enquiries regarding Sports Scholarships should be directed to Ruth Goodfield, Sport Scholarship Manager at V.R.Goodfield@lboro.ac.uk. Further information can be found in the link below