Professor George Havenith
Professor of Environmental Physiology and Ergonomics – Design and Creative Arts
The work of Professor George Havenith – award-winning Director of the Environmental Ergonomics Research Centre (EERC) – focuses on human thermal physiology, environmental ergonomics, and heat and vapour transfer through clothing. He is renowned for his multidisciplinary integration of physiology, physics and ergonomics which spans experimental studies, the development of theoretical frameworks to explain observations, and the application of knowledge in the field.
Environmental ergonomics – safeguarding health and wellbeing while optimising performance
Our surroundings affect our bodies in a multitude of ways – not always positively. Studying our bodies' responses to various environmental stressors provides experts with data that can protect and save lives. Professor Havenith's research – spanning four decades – has driven change in the development and design of protective apparel as well as sports performance clothing; guided health and safety policy; and improved our understanding of human responses to extreme environments like severe heat, cold and altitude.
My research covers two main topic areas. On the one hand, human thermal physiology and environmental ergonomics. On the other, heat and mass (vapour) transfer through clothing.
Though they are quite distinct in terms of research methods and knowledge, they interact across most of my work, and are complemented with a third area – clothing ergonomics.
Over the years, via international collaborations, my research has explored a variety of environmental stressors like heat, cold and altitude. Given the already noticeable impact of climate change, my recent focus has been on protecting people from heat impacts in a warming world.
Understanding the impact of heat on workers' productivity is relevant in the calculation of the economic impacts of climate change. Finding low-energy solutions to improve working conditions should safeguard workers from heat exposure without adding an additional burden on the climate. The expertise we've developed has been used in optimising clothing design (from athletes to workers in protective clothing), building design, and in health and safety guidance.
Several of the research methods and clothing heat transfer equations that my team and I have developed over the years are now incorporated in ISO, ASHRAE and EN standards – ensuring that equipment and clothing are fit for purpose and provide optimal protection and performance.
For example, our work around body mapping guides sportswear designers in deciding how to use specific fabrics and design features to help keep athletes warm in the cold and cool in the heat. A couple of our high-profile successes in this area include supporting the development of Team GB's ClimaCool® apparel and Team GB's track cycling Hot Pants – both in cooperation with adidas.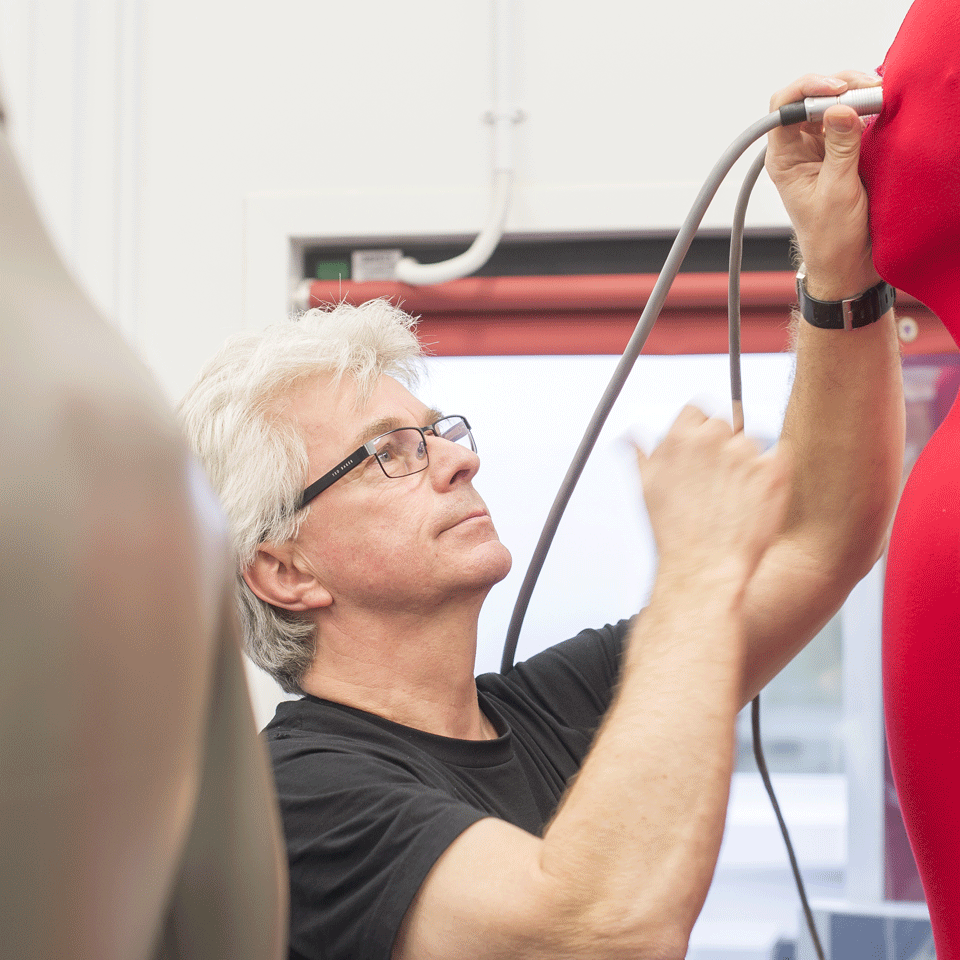 The body mapping data we've compiled is also used in the design of human simulators – manikins used to analyse thermal comfort as well as the heat and moisture transfer properties of clothing. Incidentally, we use some of these manikins in our research – Newton, Ralph and Victoria are our three thermal manikins, and each has specific features for different applications.
Our data highlights the natural processes our bodies use to regulate temperature, and how these processes show strong variations between individuals and across different areas of our bodies. We've also demonstrated that our bodies' regional responses vary according to age and gender.
From this, we've developed our body maps of sweating rates, skin temperature as well as temperature and wetness sensitivity for children, young adults, the elderly, and for males and females.
As part of a pan-European consortium, we've been involved in the Horizon 2020 project, Heat Shield – addressing the negative impact of increased workplace heat stress on health and productivity across manufacturing, construction, transportation, tourism and agriculture.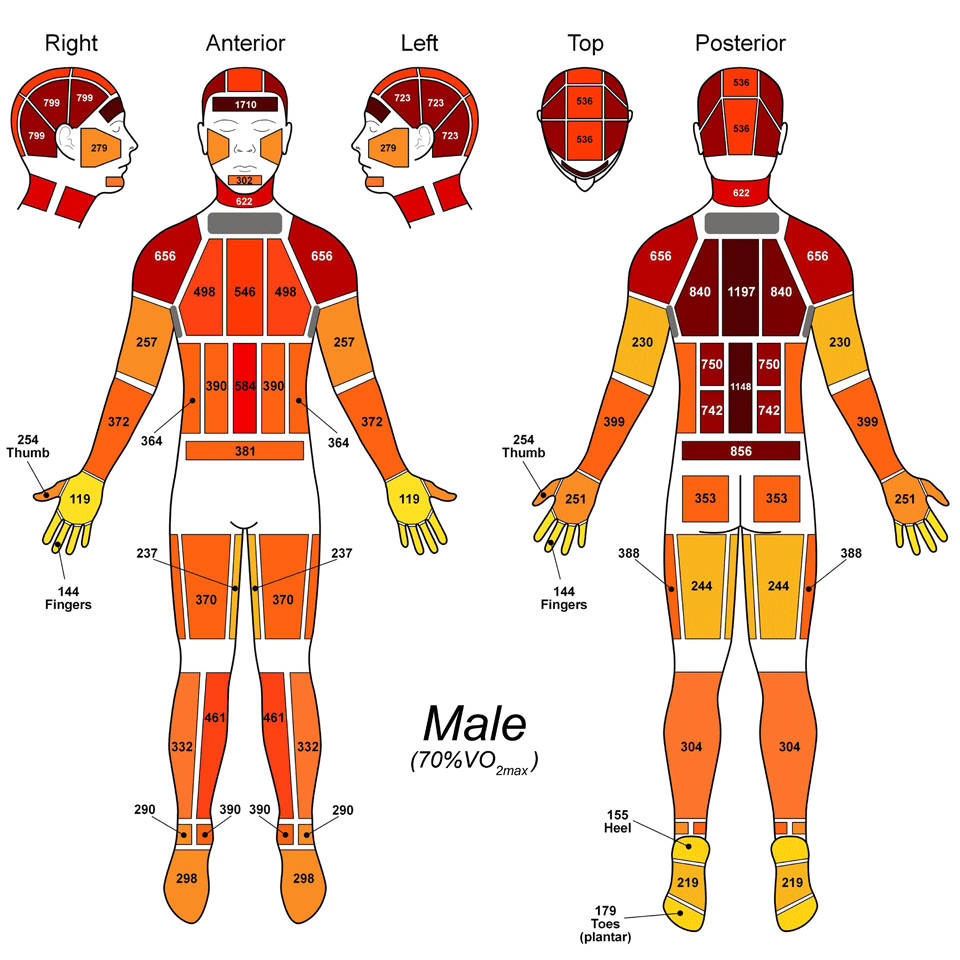 Together, we've produced a framework to promote workplace health and productivity in the context of global warming. Specifically, we've conducted over 800 physiological lab studies to chart the impact of temperature, humidity, wind and sunshine on physical work capacity. Our models can be used to estimate the economic impact of climate change, but also to evaluate various mitigation methods for their efficacy.
During the pandemic, we were asked by the journal Temperature to formulate guidance on measuring fever by non-contact methods, including infra-red cameras used in airports. Our paper provides ways to optimise the reliability of these measurements, but also warns that in many cases they may provide a false sense of safety.
Following a further request by the British Occupational Hygiene Society, we discussed and summarised practical cooling solutions for healthcare and industry workers during the pandemic – due to its need for extra protective clothing.
Alongside my research, I advise several well-known international companies on thermal physiology and clothing science – most notably adidas and Decathlon. In addition, I've provided expert witness testimony that has helped the Armed Forces to revise its heat illness prevention procedures, particularly during training exercises – safeguarding against future fatalities.
My research journey
Enjoying all STEM topics at school, but struggling to pick just one, I decided to study biology. For me, it incorporates all the STEM sub-disciplines. To understand the complexity of our physiological responses, you pull in knowledge from physics and maths – and this really fascinated me.
Thus, my research journey started rather a long time ago at Utrecht University in the Netherlands where I completed my BSc in General Biology and subsequently a research MSc in Mathematical Biology, Human Physiology and Informatics.
When I graduated in 1983, I was fortunate to find my dream job, and joined the TNO Human Factors Research Institute, a scientific consultancy– first as a Research Scientist and then as Principal Scientist and Group Manager of the Thermal Physiology Group. This led me to the area of human temperature regulation, exposure to environmental extremes and the development of protective clothing and equipment with applications across the military and industry.
I stayed at TNO for about 15 years but, in 1990, I took the opportunity to join the Noll Human Performance Lab at Pennsylvania State University for a year as a Visiting Scientist. Here, I learned new research techniques and studied the role of ageing in heat stress responses.
Two years after my return from the States, while continuing my work with TNO, I began my PhD in Medical Sciences (1992-97) at Radboud University in Nijmegen. My thesis explored "Individual Heat Stress Response", including physiological studies and produced a simulation model of the impact of individual characteristics on our heat stress response. I complemented my PhD research with a Postdoctoral Diploma in Medical Physiology.
In 1998, I joined Loughborough as a Senior Lecturer and, after a promotion to Reader, achieved my Professorship in Environmental Physiology and Ergonomics in 2006. Since then, I've achieved Chartership and Fellowship of the Chartered Institute of Ergonomics and Human Factors, Fellowship of the American College of Sports Medicine, and Fellowship of the Higher Education Academy.
Over the years, I've held several roles at Loughborough including Leader of the Environmental Ergonomics Cluster, Dean of the Design School, and my ongoing responsibility as Director of the Environmental Ergonomics Research Centre.
Alongside my research and managerial activity, I teach both under- and postgraduate modules, and have supervised about 20 PhD students. I have found guiding my students to success and becoming independent researchers one of the most rewarding aspects of my career.
I'm also involved in numerous organisations external to the University – as a committee member, examiner, scientific advisor and editor, to name a few – and have contributed to several Coroner's Court enquiries as expert witness and to civil litigation cases, related to heat injury and clothing patents.
In addition, my expertise in thermal physiology and clothing science supports the product R&D of international companies including adidas and Decathlon with whom I have collaborated for more than 20 years.
My main research achievements have been in body mapping, and heat and mass transfer modelling of clothing. I am proud that my work is used and cited regularly – and to see many of my former PhD students take important positions in academia and industry.
Having our work recently recognised by two awards – the Tromp Award for Best Paper (2021) and ASHRAE Technical Paper Award (2021) – has been a great experience.
Looking forward, I see further work around mitigating the impacts of climate change as an important topic for us. Contributions to two publications in The Lancet on this topic can be seen as a good start.