Professor Cunjia Liu
Professor of Robotics and Autonomous Systems - Aeronautical and Automotive Engineering
Professor Cunjia Liu's expertise lies in control engineering and unmanned vehicles. In 2020, he received prestigious Newton Fund support to lead a project, developing a turn-key crop disease management service to combat wheat yellow rust – a fungal disease that can ravage harvests across the world. About 80% of our diet is plant based, but each year pests and disease destroy up to 40% of our crops (FAO). Food insecurity impacts more than a quarter of the global population. Cunjia's work is supporting the UN's 2015 commitment to achieve food security for all.
Crop-spraying drones to boost food security
Crop diseases are a major challenge, decimating harvests and exacerbating the threat of food insecurity. However, the excessive use of – often inappropriate and ineffective – pesticides can have devastating ecological impacts. Agri-tech solutions – including remote sensing and crop-spraying drones – can provide early disease detection and targeted interventions without harming the environment.
The UN's Sustainable Development Goal 2 is to "end hunger, achieve food security and improved nutrition, and promote sustainable agriculture". By 2030, it aims to double agricultural productivity and ensure sustainable, resilient farming practices worldwide. Advanced technologies that can nurture healthy crops play an important role in achieving these targets.
Rice, maize and wheat are China's major crops, accounting for more than 90% of the country's total food production. Wheat is susceptible to yellow rust which can reduce yields by up to 50%, according to some sources.
Building on previous research, I'm leading the Space-enabled Crop disEase maNagement sErvice via Crop sprAying Drones (SCENE-CAD) project.
An international team, comprising partners from the UK and China, we are developing technologies to combat wheat yellow rust in Gansu Province – the origin of inoculum that is causing huge yield losses across Central China.
We are creating a cloud-based tool for intelligent monitoring and forecasting of crop diseases. This will draw on crop disease modelling as well as satellite and environmental data – allowing us to map rust hot-spots.
Alongside this, an intelligent and user-friendly flight planning and management tool for crop-spraying drones is in development. Based on the crop treatment map and spraying requirements, this will automatically generate optimal flight paths and parameters for the drone operators.
We're hoping that our work will cost effectively improve food productivity and contribute to long-term sustainable agricultural practices.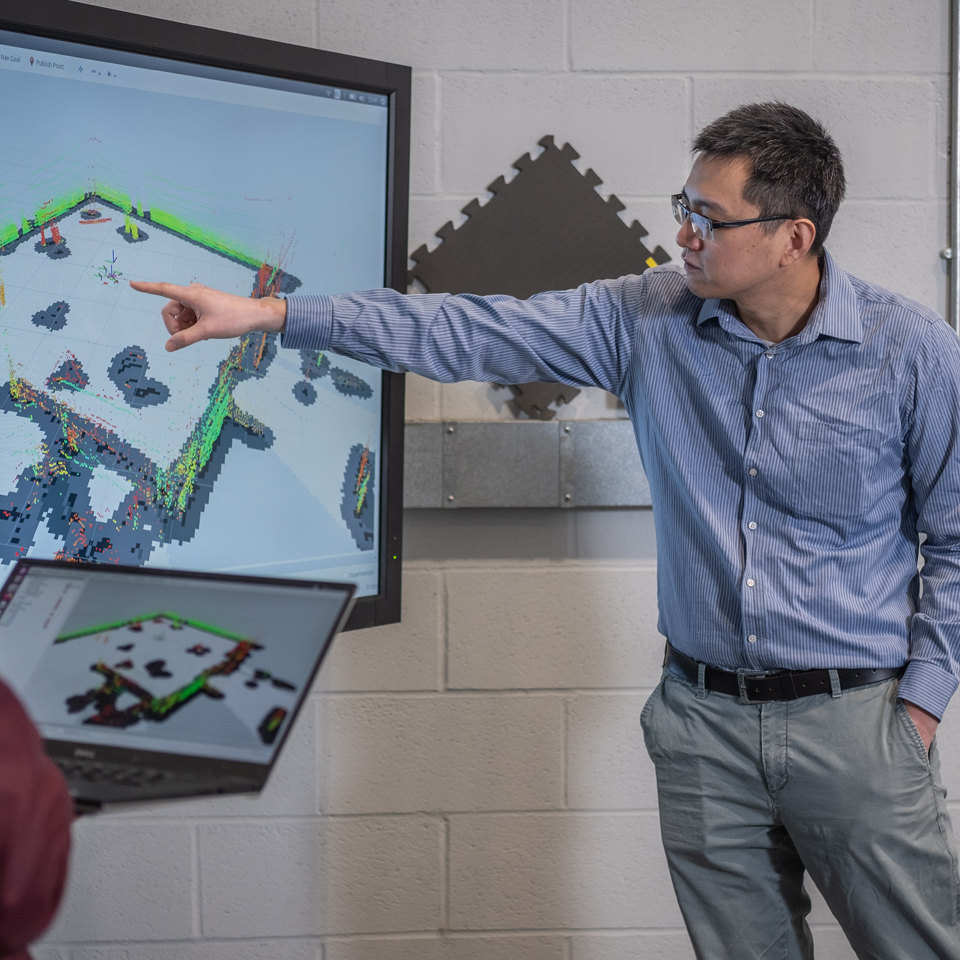 And, once we have demonstrated the effectiveness of our technologies, we will work together with project partners from South Asia and Africa to roll the technology out more widely across a range of crop management scenarios worldwide.
In tandem with SCENE-CAD, I'm leading another project which is exploring how autonomous unmanned aerial vehicles (UAV) can be used to locate the presence of hazardous materials (HAZMAT), for example, following terrorist attacks, chemical or nuclear accidents.
Using UAV in this kind of hostile environment would obviously put fewer emergency personnel in danger and help to reduce civilian casualties.
We're exploring how an UAV fitted with integrated HAZMAT sensors could provide real-time, targeted measurements, including rapid and accurate predictions of HAZMAT locations and a forecast of their dispersion and deposition – helping responders to take appropriate mitigation strategies and guide people from affected areas.
My research journey
Before joining Loughborough, in 2008, to begin my PhD in autonomous aerial vehicles, I studied at Beihang University where I completed my BEng and MEng.
Throughout my career – both as a student and researcher – I've focused on control engineering and unmanned vehicles. Combining these technologies will enable many interesting applications of unmanned vehicles - something which has always fascinated me.
I haven't spent all of my career in academia. When I finished my PhD, I worked at Triumph Actuation and Motion Control Systems-UK Ltd for six months as a Control System Engineer, focusing on the control system design for aerial actuation systems.
This time in industry was invaluable for me. I was able to apply my expertise in a commercial setting and gain a real insight into industrial R&D.
In October 2011, I returned to Loughborough as a Research Associate with the Autonomous Systems Lab – and have been here at the University ever since, exploring a range of applications for unmanned vehicles – spanning smart farming, mobile sensors for CBRN response, and machine learning for intelligent mobility.
I'm proud that my current work is contributing to global efforts to increase food productivity while reducing its environmental impacts.