Dr Alister Smith
Reader in Geotechnics - Architecture, Building and Civil Engineering
Alister leads the Listening to Infrastructure research programme, which is developing acoustic emission sensing technologies to provide early warning of deterioration and failure of buried infrastructure systems, such as dams, foundations, retaining structures, pipelines, and tunnels.
Alister was Principal Investigator of an EPSRC Fellowship that established Listening to Infrastructure, and the research programme is continuing with the support of Alister's Philip Leverhulme Prize. He is also Co-Investigator of ACHILLES, an EPSRC funded programme grant investigating the impacts of climate change on infrastructure earthworks. Alister's research underpins the world's first commercial acoustic emission geotechnical sensor – Geo Acoustic Aware, available globally from RST Instruments Ltd.
Listening underground; acoustic emissions sensing technology to protect lives and livelihoods worldwide
Acoustic emission (AE) sensing has the potential to revolutionise infrastructure stewardship – protecting people and critical services worldwide. Analogous to a stethoscope listening to a patient's heartbeat, AE sensing can provide information about the condition of infrastructure and early warnings of deterioration.
Landslides are more widespread than any other geological event. Between 1998 - 2017, according to WHO, they affected almost five million people worldwide, causing thousands of deaths each year.
Climate change and population growth are accelerating the deterioration of buried infrastructure systems which can lead to collapse. This often happens without warning with disastrous economic, environmental and societal effects.
Buried infrastructure is vital to our way of life. The networks transporting people and products – including water, oil and gas – cover vast geographical areas. The foundations of buildings, retaining structures, tunnels and dams are all vital to our modern existence.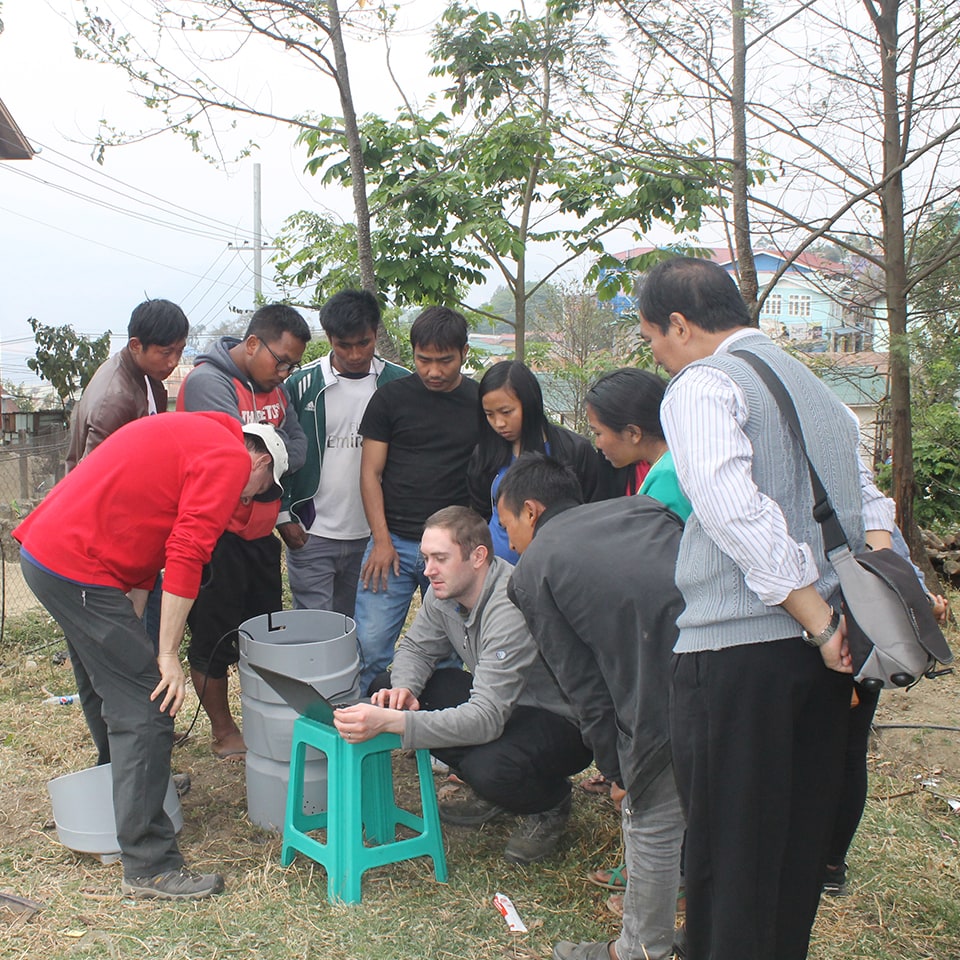 Acoustic emission sensing technologies allow us to carry out health checks on the condition of buried infrastructure systems and provide real-time, early warning of deterioration. Applying this vital knowledge can safeguard our global building, transport and energy networks.
The ground supporting all infrastructure is made up of small particles, forming soil. When it deforms, the particle interactions release energy as sound - called acoustic emission.
The acoustic emission generated as the soil moves travels through a buried structure - for example foundations or a pipeline. Our sensors detect and interpret the acoustic emission, filter out background noise to prevent false alarms, and send warnings to enable timely and targeted preventative measures.
This approach can be applied to a range of geotechnical problems, for example detecting internal damage and failure in earth dams and monitoring the condition of buried pipelines, foundations and tunnels.
Our current work combines numerical simulations, laboratory experiments and field tests to develop methodologies – such as artificial intelligence analytics – to interpret the acoustic emission generated by buried infrastructure, enabling implementation in autonomous monitoring systems.
Our vision is for a family of acoustic emission sensors distributed globally, protecting people and infrastructure. This calls for extensive global collaboration with academics, asset managers in the public and private sector, humanitarian organisations and community groups worldwide.
My research journey
When I finished my PhD in 2015, an EPSRC Doctoral Prize Fellowship allowed me to begin my independent research career at Loughborough.
In 2017, I embarked on an EPSRC Postdoctoral Fellowship – an invaluable opportunity to further my research whilst applying it to commercialise novel AE sensing technologies. The fellowship provided the long-term and flexible funding required to tackle this complex project. It allowed me to be risk-taking and tackle a multiplicity of challenging research questions while developing new and existing collaborations and networks.
This work led to the launch of Geo Acoustic Aware – available globally from RST Instruments Ltd. This technology has widespread applications for landslide early warning in both the developed world and the Global South.
In 2019, I gained international recognition with a Philip Leverhulme Prize in Engineering – securing a further research grant to support the next phase of the Listening to Infrastructure research programme.
I was thrilled to be promoted to Reader in Geotechnics in early 2023.