1-2-1s
Training programmes developed for you by our dedicated team of Fitness Instructors, tailored towards your short and long term health and fitness goals
1-2-1s are open to everyone at Holywell Fitness Centre or Powerbase, but places are limited so you will need to book! The easiest way is to book online or via the Loughborough Sport app. However, you can also book at reception or over the phone (01509 226250).
Purchase our 1-2-1 Credit package and get 15% off each session. Each package consists of 3 gym sessions plus a FREE Programme Consultation. To create a bespoke training programme to work towards achieving your personal goals, our Holywell consultations additionally consist of a body composition analysis and our Powerbase consultations provide a movement analysis to allow our instructors to write a comprehensive programme based on data collated. You cannot book a 1-2-1 gym session until you've had an initial Programme Consultation.
If you purchase on a pay as you go basis, you must first purchase an initial Programme Consultation before 1-2-1 gym sessions are available to book (the price of Programme Consultations are the same as 1-2-1 gym sessions).
If you are not a member of our gyms, the price of a 1-2-1 session and consultation includes the entry price for the gym.
How to start your 1-2-1 training programme:
Step 1 - purchase your 1-2-1 Credits*
First purchase your 1-2-1 Credit package on the Loughborough Sport app, online or at reception. If you're yet to join and activate your Loughborough Sport account, please download the Loughborough Sport app to get started. Instructions on how to join are HERE. Credits are available to purchase through the Join tile.
Our 1-2-1 Credit package is part of our Health & Fitness Credits offer which provides 3 sessions at 15% off the pay as you go price. Your first 1-2-1 Credit package also includes a FREE Programme Consultation.
Prices are further discounted for gym members who also don't have to pay the price of entry into the gym.
* You can skip this step if you'd prefer to pay as you go for your Programme Consultation or 1-2-1 gym session. Just book in the app where you'll then be asked to pay to confirm the session.
| | | Regular | Student, Staff & Partner | Member |
| --- | --- | --- | --- | --- |
| 1-2-1 Credits | x 3 gym sessions | £62 | £56 | £32 |
| | breakdown per session | £20.67 | £18.67 | £10.67 |
| Pay as you go | x 1 gym session | £24.50 | £22 | £12.50 |
Step 2 - book your Programme Consultation
Book your Programme Consultation on the app through the Holywell Instructor Programme tile. If you've purchased a 1-2-1 Credit package, this will be free and will require no further payment.
You'll be able to see the available slots listed for each of our Fitness Instructors. Please browse their bios and qualifications below to choose the Fitness Instructor most suited to your training goals. Or just book into the slot at the most suitable time as all our Instructors are great to work with!
At the Consultation, the Instructor will discuss your previous experiences, short / long term goals and any medical conditions and / or injuries that may prevent you from taking part in any specific or general exercise. With this information they can put together a fitness programme that is tailored to your individual needs and goals.
This will take approximately 20 to 30 minutes and will be delivered in the Holywell Fitness Centre foyer area so no need to be dressed in gym attire. Please report to reception 5 minutes before your scheduled booking. The Instructor will meet you here.
After this Consultation, the Instructor will put together your training programme and you will then be able to book your 1-2-1 gym sessions, either redeeming the Credits on your account, or on a pay as you go basis.
Step 3 - book your 1-2-1 gym sessions
Once you've had an initial Programme Consultation, you will be able to book 1-2-1 gym sessions on the Loughborough Sport app.
You will receive your training programme before the first session so you have the opportunity to prepare any questions you might have about it.
At each 1-2-1 gym session, the Instructor will go through the programme and it will last for one hour. Please be gym ready for your 1-2-1 sessions.
Once you've redeemed all 3 sessions on your Credit package, purchase a new package in-app or top up using the pay as you go option.
If you have any queries, please don't hesitate to email us at holywellfitnesscentre@lboro.ac.uk.
Meet our Fitness Instructors: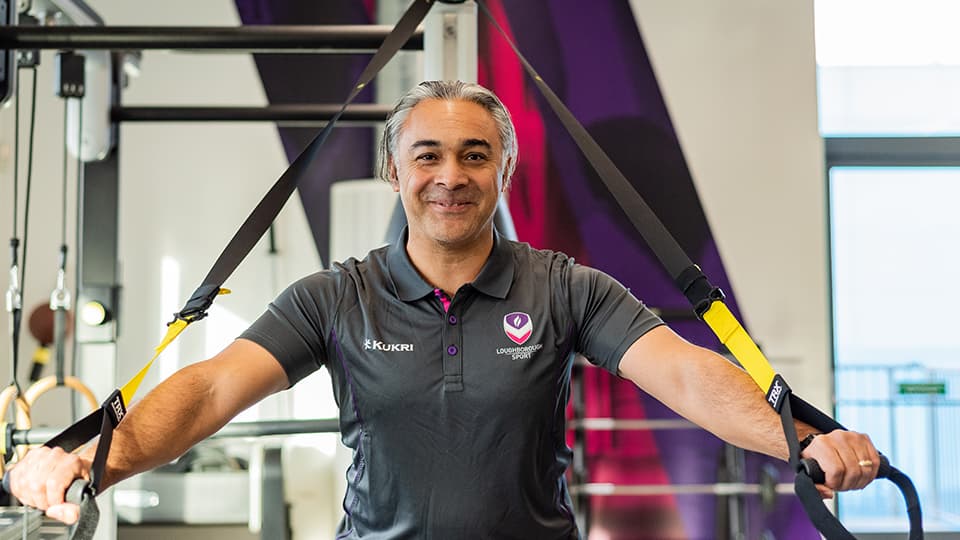 Alex
Holywell Instructor
I have worked in the Fitness Industry for 20 years and have experience and expertise right across the board.
I really enjoy HIIT and resistance training, however, I also enjoy teaching Grit Strength and cardio…oh and I also have a variety of spinning classes as part of my repertoire!
My background is in volleyball and American Football, the latter I played for 16 years up to college level in the USA.
Karen
Holywell Instructor
As a Fitness Instructor, my challenge is to help you achieve your health and wellbeing goals, whether that be to lose weight, tone up or improve your mobility, flexibility and balance.

I hold qualifications in Senior Fitness, Youth Training & Corrective Exercise, and take pride in teaching correct human movement, helping reduce your chance of injury.
My passion lies in group exercise where my personality and love for exercise is showcased; at Holywell I teach a variety of classes including Circuits, Legs, Bums & Tums and Indoor Cycling.
Kev
Holywell Instructor
I really enjoy climbing, kayaking and mountain biking.
I recently achieved my biggest sporting achievement in North Wales when I made my hardest grade in traditional climbing. I'd like to keep pushing myself, continue to develop my skills and climb even harder grades.
I hope to carry this determination and ethos through to the clients I train and, as it does for me, help them achieve their respective goals.
Currently I teach both Grit Cardio and Strength. I have set myself a personal goal of becoming spin qualified so I can further broaden my skills and the activities I deliver.
James
Holywell Instructor
I love adventure and the outdoors; travelling, hiking, camping, and climbing, which means being fit, healthy and injury free is essential for my lifestyle. Therefore, the gym is an important part of that. I have key interests in resistance training, whole body functional circuits, and specific prehab mobility.

I take great pride in helping people of all abilities to achieve their goals, by providing specific programming, support, and accountability and I'd love to help you too.

I will be running weekly circuit training sessions and group HIIT classes. Come and join me for a fun & exciting class or book me for a consultation to discuss personalised 1-2-1 sessions.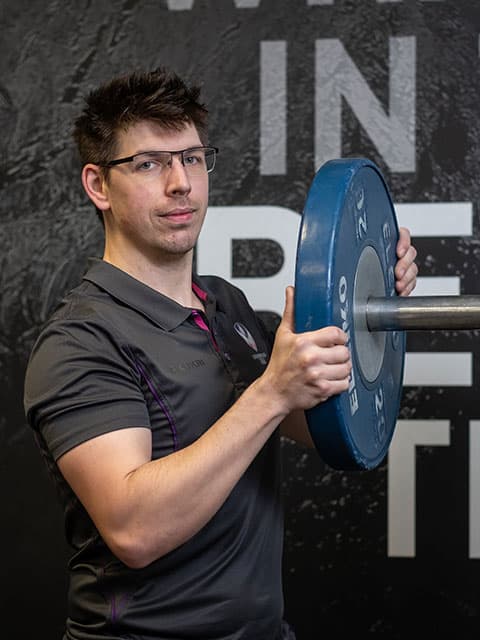 Paul
Powerbase Instructor
I have 15-years' experience working with athletes 1-2-1 focusing on teaching and developing their skills to progress towards their goals.
My coaching is client-focused, ensuring that I am continuously up-skilling myself and passing on this knowledge in a fun and engaging way during each session.
My specific passion is weightlifting, and I regularly compete. This motivated me to specialise and become a certified Level 2 British Weightlifting Coach and EXOS Movement Performance Specialist.
Lydia
Powerbase Instructor
I have a diverse range of sporting interests from playing at my local football team to competing at golf at a county level, but now my main passion lies in CrossFit where I train regularly.
I specialise in sport-specific training, weight loss and transformations whilst making the sessions engaging and using my experience and knowledge to help you achieve your goals.
I enjoy coaching a wide variety of classes including circuits, HIIT & abs, Kettlebells and Body conditioning. My focus is to make the classes challenging and exciting, but suitable for all abilities.