1-2-1s
Training programmes developed for you by our dedicated team of Fitness Coaches, tailored towards your short and long term health and fitness goals
1-2-1s are open to everyone at Holywell Fitness Centre or Powerbase, but places are limited so you will need to book! The easiest way is to book online or via the Loughborough Sport app. However, you can also book at reception or over the phone (01509 226250). You cannot book a 1-2-1 gym session until you've had an initial Programme Consultation.
To create a bespoke training programme to work towards achieving your personal goals, our Holywell consultations additionally consist of a body composition analysis and our Powerbase consultations provide a movement analysis to allow our coaches to write a comprehensive programme based on data collated.
How to start your 1-2-1 training programme:
Step 1 - book your Programme Consultation
Book your Programme Consultation on the app through the Fitness Coaches tile and select your preferred gym.
You'll be able to see the available slots listed for each Fitness Coach. Please browse their bios and qualifications below to choose the Fitness Coach most suited to your training goals. Or just book into the slot at the most suitable time as all our Coaches are great to work with!
At the Consultation, the Fitness Coach will discuss your previous experiences, short / long term goals and any medical conditions and / or injuries that may prevent you from taking part in any specific or general exercise. With this information they can put together a fitness programme that is tailored to your individual needs and goals.
This will take approximately 20 to 30 minutes and will be delivered in the Holywell Fitness Centre foyer area so no need to be dressed in gym attire. Please report to reception 5 minutes before your scheduled booking. The Fitness Coach will meet you here.
After this Consultation, the Fitness Coach will put together your training programme and you will then be able to book your 1-2-1 gym sessions, on a pay as you go basis.
Membership level

Discount information

Price per session

Non-member

0% price includes £9 gym entry fee

£27.50

Purple

10% price includes £9 gym entry fee

£24.75

Bronze

20%

price includes £9 gym entry fee

£22.00

Silver

30% after gym entry fee deducted
£12.95

Gold

40%

after gym entry fee deducted

£11.10
Step 2 - book your 1-2-1 gym sessions
Once you've had an initial Programme Consultation, you will be able to book 1-2-1 gym sessions on the Loughborough Sport app.
| Membership level | Discount information | Price per session |
| --- | --- | --- |
| Non-member | 0% price includes £9 gym entry fee | £27.50 |
| Purple | 10% price includes £9 gym entry fee | £24.75 |
| Bronze | 20% price includes £9 gym entry fee | £22.00 |
| Silver | 30% after gym entry fee deducted | £12.95 |
| Gold | 40% after gym entry fee deducted | £11.10 |
You will receive your training programme before the first session so you have the opportunity to prepare any questions you might have about it.
At each 1-2-1 gym session, the Fitness Coach will go through the programme and it will last for one hour. Please be gym ready for your 1-2-1 sessions.
If you have any queries, please don't hesitate to email us at holywellfitnesscentre@lboro.ac.uk.
Meet our Fitness Instructors:
Karen
Holywell Senior Fitness Coach
As a Fitness Instructor, my challenge is to help you achieve your health and wellbeing goals, whether that be to lose weight, tone up or improve your mobility, flexibility and balance.

I hold qualifications in Senior Fitness, Youth Training & Corrective Exercise, and take pride in teaching correct human movement, helping reduce your chance of injury.
My passion lies in group exercise where my personality and love for exercise is showcased; at Holywell I teach a variety of classes including Circuits, Legs, Bums & Tums and Indoor Cycling.
Jake
Holywell Fitness Coach
My promise to you as your fitness coach is to help you to achieve whatever goal you have set your sights upon, however small (or not so small).
We will work together as a team, as hard and as effectively as we can, to push your boundaries, to keep you focused and accountable, and to set you on the path to progress, whatever that might look like for you.
I believe in a health-first approach to exercise; the well-being of both body and mind is one of the most important aspects of anyone's life.
Accordingly, my interest in fitness is holistic, but mainly revolves around free-weight training and various forms of cardiovascular training.
Joanna
Holywell Fitness Coach
My love of sport started from a young age, developing into training for, and competing in triathlons, alongside various other recreational outdoor pursuits like water sports. My passion for coaching began at university when working with sports teams in cycling, hockey, athletics, and swimming
My aim is to make you feel as comfortable as possible on the gym floor; I like to show you new ways of training to help you enjoy the process, whilst reaching your maximum potential and becoming the best version of yourself.
I am full of energy, and you will often see me dancing away on the gym floor, I love teaching the fast paced classes such as HIIT or circuits, but also enjoy a nice wind down & stretch class too.
Luke
Holywell Fitness Coach
I have been in the fitness industry for many years. My passion for fitness started at a young age, competing in multiple sports, including football, go-karting and golf.
I hold additional qualifications in Strength and Conditioning for both adults and youth. I take pride in helping you to achieve your fitness goals, whether you are new to the gym or sport specific.
I enjoy coaching a variety of classes including Indoor Cycling, Circuits and HIIT, with my primary aim to make the classes exciting and challenging, but suitable for all abilities.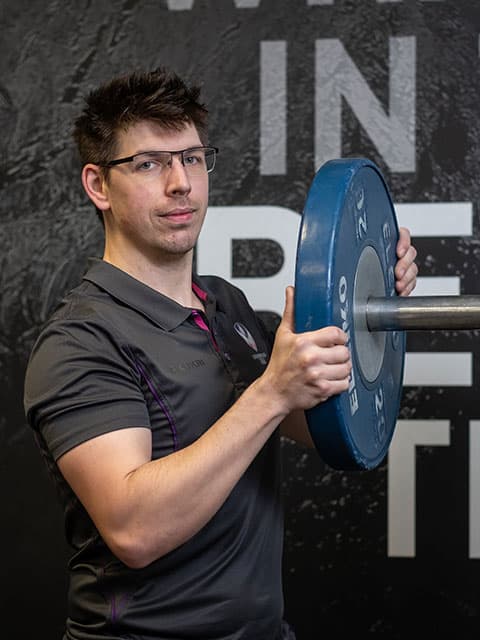 Paul
Powerbase Senior Fitness Coach
I have over 15-years' experience working with athletes 1-2-1 focusing on teaching and developing their skills to progress towards their goals. This motivated me to specialise and become a certified EXOS Movement Performance Specialist.
My coaching is client-focused, ensuring that I am continuously up-skilling myself and passing on this knowledge in a fun and engaging way during each session.
My sporting passion is Olympic weightlifting, and I regularly compete. I also have a long history in Competitive Swimming.
Harry
Powerbase Fitness Coach
I love all things sport and fitness related, from playing cricket and football for my local teams, to going on long hikes, runs and cycling within my spare time. My passion for sport lead me to pursue my coaching career, which began whilst studying my BSc and MSc, working with a multitude of athletes within local performance teams and elite sporting organisations.
As a coach, a key value of mine is to help and motivate people of all abilities to achieve their goals, whether that be performance, health, or rehab related.
I am very friendly, supportive, and I can guarantee that all classes and 1-2-1 sessions I lead will be fun and tailored to help you meet your fitness goals and aspirations.
James
Powerbase Fitness Coach
I love the outdoors and adventure. Regular hiking, climbing and camping means being fit, healthy and injury free is essential for my lifestyle. Therefore, the gym is an important part of that.
Having suffered from a range of minor injuries and niggles in the past, I developed a keen interest in mobility training, and specifically prehab exercises. Prehab essentially prepares the joints of the body through end-range strength training and stability exercises to help prevent those annoying overuse injuries.
I take great pride in helping people of all abilities, from complete beginners to overcoming plateaus and improving advanced lifting performance.
I will be running weekly mobility classes that explore different prehab exercises to help improve full body mobility. If you would like to have some more individualised mobility training, feel free to book me for a consultation where we can discuss some personal training sessions.
Book in for a consultation also to spice up your training, develop your lifting or if you simply want to improve your overall physical condition – I am here to help.
Josh
Powerbase Fitness Coach
My coaching style is truly client-centred, the goal being to empower you to improve your performance in and out of the gym. Everyone is different and will not have the same response to how training is applied. My aim is to adapt my approach according to the needs of the individual to provide them with the best coaching experience possible.
I am constantly immersing myself in information to improve my skill set. Furthermore, I have had the opportunity to work with a variety of populations with different skill levels, ranging from complete novices to national-level athletes. This allows me to appreciate the art and science of coaching and blend the approaches to deliver a bespoke service.
I have been competing in powerlifting for six years, competing at the national level. Managing training, studying and work is no easy task. Therefore, I understand that life does not stop for training. My role is to ensure that training works for you, whether that means adapting a session to meet your recovery state or finding alternative exercises because of an injury. Whatever it is, I am here to help.
Kat
Powerbase Instructor
As your Coach I will help you set and achieve all your health, fitness and wellbeing goals through bespoke programming designed to appeal to your strengths, improve your weaknesses and make you feel and perform at your best. My goal is for you to enjoy every session and leave with a smile feeling accomplished and empowered by your own abilities!
I have a vast range of interests including freestyle kickboxing, yoga, OCR and outdoor pursuits, and I love incorporating those skills into sessions to make your training dynamic and engaging and maybe lead you into starting a new hobby or sport too. I also have a particular passion for women's fitness and am currently continuing my education in pre- and post- natal adaptations and other female hormonal considerations.
I also enjoy teaching fun, high energy classes such as kettlebell combat and HIIT circuits as well as improving your posture, range of movement and biomechanics through stability, mobility and full body resistance training. Come say hi in the gym, join a class or book a consultation through the app to get started with me!