Dr Madeleine Orr
Lecturer – Institute of Sport Business
Banner image courtesy of Selena Phillips-Boyle
Sport ecologist Dr Madeleine Orr is the founder and co-director of The Sport Ecology Group. Her research examines the impacts of climate change on the sport sector, exploring resilience and adaptation in outdoor sports. Her work within the sport sustainability movement has been recognised by the North American Association of Environmental Education, Corporate Knights Magazine and the Forbes 30 Under 30 List of 2021.
Is the sports world ready for climate change?
Climate change is already having an impact on many sports. Extreme heat, storms and wildfires have disrupted recent major sporting fixtures including the Tokyo Olympics' long-distance running events, the Rugby World Cup 2019 and the Australian Tennis Open 2020. At the same time, estimates around professional sport's carbon footprint are eyewatering – and led to Formula One's commitment, in 2019, to achieving net zero by 2030. Madeleine's work asks if the sports world is ready for climate change and what it can do to mitigate its environmental impacts.
My research explores the impacts of climate change on the sport sector, with a focus on vulnerability and resilience. I'm particularly interested in climate risk and adaptation as well as sustainability. I like to think that my work champions a fair and just transition to a more inclusive and sustainable future.
Over the years, I've been fortunate to work with colleagues who are leaders in this field, including Dr Brian McCullough (Texas A&M University), Dr Tim Kellison (Georgia State University) and Dr Greg Dingle (La Trobe University).
Most recently, I've been working with Dr Walker Ross (Florida Southern University) and Dr Jessica Murfree (Texas A&M University) on projects aiming to forecast future climate conditions in sport, and identify meaningful ways for sport organisations to adapt to the changing conditions.
So far, we've completed studies forecasting the coming ten years' worth of climate hazards for mega-events – like the Olympics and FIFA World Cup – and reviewed the climate adaptation efforts of Major League Baseball teams. Central to our work is the development of strategic approaches for proactively addressing climate vulnerability.
I've long known the value of partnerships – a strong team that works well together can achieve far more than a lone voice in isolation.
So that's why, in 2019, I formed The Sport Ecology Group. We're an international consortium of sport scholars – from universities across North America and Europe – with a shared ambition to drive climate action in the sport sector through research and public engagement initiatives. We believe the sport sector can broaden the conversation about climate change and are working hard to catalyse change.
In November 2021, we were part of the global community that gathered at COP26 to reimagine the role of sport in accelerating climate action. As the co-host of Sport@COP, alongside Aileen McManamon of 5T Sport, I had the privilege to chair the first Sustainable Sport Hackathon and to coordinate a meeting of athletes from around the world as part of the shadow events of the summit.
I also spoke on a panel at the Extreme Hangout, presented by Beyond Sport, about the power of athlete activism in the fight against climate change, and co-hosted a special presentation on BBC 5Live on climate and sport.
Thanks to the hard work of a number of my industry colleagues – including Claire Poole of Sport Positive, and Russ Seymour at the British Association for Sustainable Sport – COP26 achieved huge leaps forward for the sport industry in the collective efforts to address climate change as several organisations announced new commitments to the cause.
Meanwhile, another strand of my work is exploring how sports organisations and sportspeople can act as positive green role models. I'm interested in their capacity to inspire climate action among their sponsor networks, supply chains and fans – as well as the role of the media in supporting this activity.
In addition to a large-scale Athlete Activism Project – a multi-national research effort that will be published later this year – I have worked hard to advise and support several athlete activists on their efforts in recent years. The potential for athletes to serve as catalysts of change on climate is immense.
Alongside my research, I'm involved in some practical grassroots activities and initiatives that promote the importance of sustainability within sports.
I'm the Chair of the Green Sports Day Canada Steering Committee. Our event, in October 2021, brought together a group of top athletes and sustainable sports practitioners to discuss sport and climate action, highlight best-practice for sustainable sport, and celebrate the work already underway in this area.
My research journey
Growing up in Toronto, I was surrounded by creatives – and their imaginative approaches to problem-solving continue to inspire my work.
Following my undergraduate studies at the University of Ottawa in Social Sciences and my first Masters degree in International Events Management at the University of Brighton, I decided to take a gap year. This turned out to be a pivotal 12 months in my life.
Working in France's ski industry and then at the Rio 2016 Olympics, I witnessed first-hand the impacts of climate change on sports – it's hard to ski without snow – and, conversely, the effects of human behaviour on the environment – a large-scale sports event can cause an awful lot of pollution and waste.
It got me thinking – if sport and physical activity depend on good natural conditions, why doesn't the industry take better care of the planet?
And so, I embarked on my current path, first with a Masters in Natural Resource Sciences and Management followed by a PhD in Kinesiology, focusing on sport management – both at the University of Minnesota.
There, I found supervisors who were very supportive of my interests in sport ecology and helped me to identify significant gaps in the extant literature, which I'm now seeking to fill – including on climate vulnerability assessment and adaptation for sport organisations.
Throughout my years as a student, I secured various paid and voluntary roles – including swim coach for a master's club, Director with Youth in Action Camp, and Festival and Sponsorship Manager for Spartan Race– which broadened my skill-base, providing me with a wealth of experience that serves well.
Before joining Loughborough in 2021, I was an Assistant Professor of Sport Management at the State University of New York College at Cortland for two years.
I made the move to Loughborough University London for the opportunity to be part of a top sport research team in the Institute for Sport Business and to develop new coursework in sport ecology and sustainability.
My next big project is a book, to be published by Bloomsbury in 2024, on the impacts of climate change on sport. I'm very excited about it and will be spending the better part of 2022 visiting sport sites and conducting interviews for the project.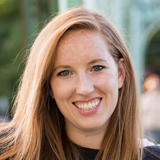 Follow Madeleine on Twitter @maddyjorr