Sporting achievements were celebrated amongst alumni, staff and sporting guests at the Loughborough University Stadium on campus.
Fellow Hall of Fame member and former 5000m world record holder, David Moorcroft OBE, presented the awards and invited the Hall of Fame inductees to share highlights of their impressive careers.
The new inductees joined 66 existing members in an impressive and ever-growing group of Loughborough alumni and linked sportspeople who have achieved at national and international level.
The Hall of Fame covers four categories: performance, performance coaching, performance support, and sports leadership.
Phil Burgess, Lisa Dobriskey, Goldie Sayers, Jon Schofield and Nicola White MBE were inducted into the performance category, recognising their achievements as athletes in their respective sports.
Emma Mitchell and Mark Simpson were inducted for performance support, and Penny Briscoe OBE and Jack Buckner for sports leadership.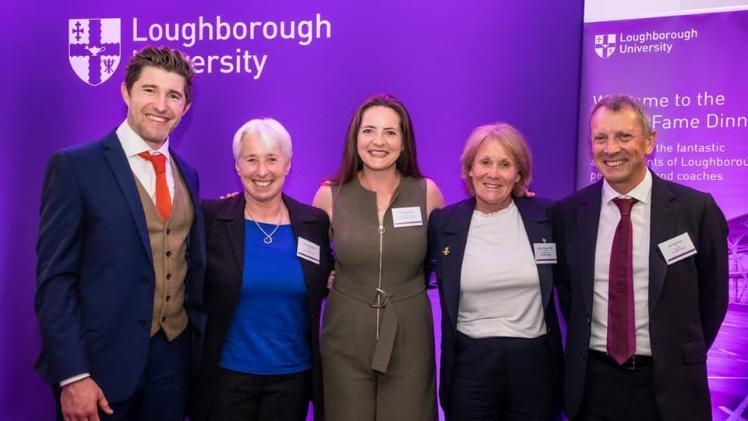 Phil Burgess, Emma Mitchell, Goldie Sayers, Penny Briscoe OBE and Jack Buckne‌‌r.
Alumnus Phil Burgess played for the England Rugby Sevens team from 2013-2021. He earned 60 Sevens caps and he was in the GB squad that claimed silver in the Rio 2016 Olympic Games. He Vice-Captained the side at Rio – where the event was first introduced to the Olympic Games. He graduated from Loughborough in 2010 with a BSc in Geography and Sport and Leisure Management. He retired from professional rugby last year.
Lisa Dobriskey excelled in the 1500m event. A middle-distance runner, she began athletics at a young age, and won Amateur Athletics Association titles and English Schools titles in the late 1990s. She won gold at the Commonwealth Games in Melbourne when she took almost two seconds off her 1500m personal best to secure victory. Her personal best time for the event is sub-four minutes, achieved in 2009 in Zurich. She graduated with a degree in English in 2005.
Goldie Sayers began her athletics career early, breaking the British junior javelin record in 2001. She was the youngest female athlete to compete in an individual event at the Athens Olympic Games in 2004, and won a bronze medal in Beijing 2008 where she threw 65.75m. The alumna, who studied BSc Sport and Exercise Science, graduated in 2005. She is the British Javelin record holder, with a throw of 66.17m, achieved in July 2012 at the Crystal Palace Aviva London Grand Prix.
Double Olympian Jon Schofield competed in canoe sprint. He won bronze in the K2 200m sprint at London 2012 and silver in the same event at Rio 2016. Alongside fellow alumnus Liam Heath, they won gold at the European Championships in 2010 and they went on to win World Championship silver in 2013 and bronze in 2014. Jon turned his attention to single kayak events after the K2 was dropped as a discipline. He is now sharing his experience and supporting other canoeists in a role with the Scottish Canoe Association. Jon studied Human Biology at Loughborough and graduated in 2010.
Nicola White MBE was part of the gold medal winning GB Women's hockey team at the Rio 2016 Olympic Games. When she retired from international hockey, Nicola had earned 186 caps for Great Britain. She also won 13 major international medals including 2015 Eurohockey Championships gold, 2014 Commonwealth Games silver, and 2010 World Cup bronze. Nicola graduated from Loughborough College in 2013 with a BSc in Applied Sports Science and was awarded an honorary degree in 2018.
History alumna Emma Mitchell (1987) is a former England rugby captain and 1994 World Cup winner who is now an expert in the field of Performance Lifestyle. She has worked for the English Institute of Sport for 15 years, providing support to the men's and women's Great Britain Hockey squads. Emma has spent time as a coach, mentor, and practitioner. She helped to facilitate the GB hockey squad preparation, selection, and decompression around four Olympic Games and is proud to be a member of 'the team behind the team' in a sport that has won three consecutive Olympic medals.
Mark Simpson has more than 25 years' experience in sport science, athlete performance analysis, and injury prevention. He has worked with top athletes across a range of professional and Olympic sports and was the first full-time Sport Scientist to be hired into a major US professional sports league. Mark is currently the Vice President of Player Performance for Monumental Basketball. In this role he develops and delivers player performance initiatives for the Washington Wizards and the Washington Mystics professional basketball teams. Mark graduated with a BSc and MSc in Sport Science in the 90s.
Alumna, honorary graduate, and member of University Council, Penny Briscoe OBE, has more than 30 years' experience in elite sport as an athlete, coach, manager, and director. She is the Director of Sport at the British Paralympic Association and has been the Chef de Mission for ParalympicsGB since 2014. She has now supported the preparation of British teams at two Olympic and ten Paralympic Games. Her instrumental role in British Paralympic sport has been recognised twice in the Queen's Honours list. She was awarded an MBE in 2013 and then an OBE in 2017.
Jack Buckner has recently been appointed CEO of UK Athletics. Prior to this he was the CEO at British Swimming. He oversaw a hugely successful Team GB performance at the Tokyo Olympic and Paralympic Games in 2021. Look back a little further and Jack was at the helm of British Triathlon, where they achieved their best ever results at the 2016 Rio Olympics and Paralympics. Buckner was also a distance runner. In 1986 he took victory in the 5000m at the European Championships in Stuttgart. His time, 13:10.15, remains the Championship record. Jack graduated with a BSc in Geography in 1983 and an MBA in 1992.
Also recognised with School of Sport, Exercise and Health Sciences (SSEHS) Distinguished Alumni Awards were Sue Anstiss MBE, Professor Jo Harris, and Professor Mary Nevill OBE. Professor Mark Lewis, Dean of SSEHS, presented the awards to the three recipients who have each had a profound impact on sport.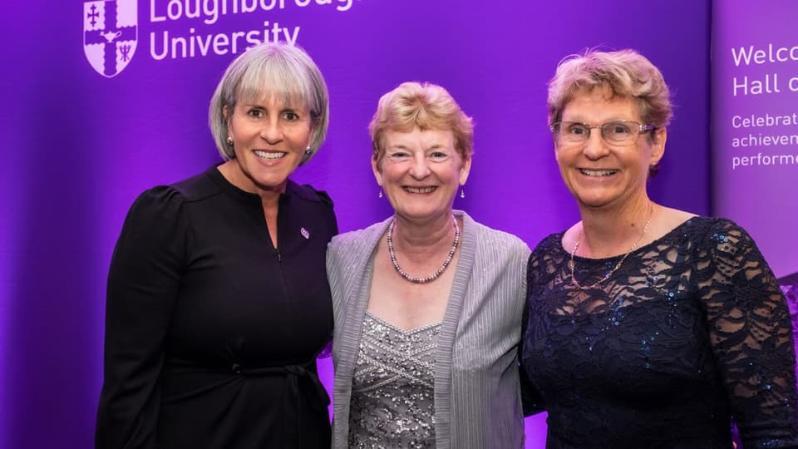 Sue Anstiss MBE, Professor Jo Harris and Professor Mary Nevill OBE
Sue Anstiss MBE (BA English and Physical Education and Sports Science 1988) was awarded in recognition of her outstanding contribution to grassroots and women's sport. Sue is CEO of Fearless Women, and a passionate activist for equality in women's sport. For 27 years she ran a multi award-winning sports PR agency which had a momentous impact on grassroots participation in the UK. She holds a number of voluntary positions and is also a founding trustee of the Women's Sport Trust. In 2019 she launched The Game Changers podcast, which celebrates and amplifies the stories of trailblazing women in sport, and in 2021 she published her book 'Game On: The Unstoppable Rise of Women's Sport'.
Professor Jo Harris (PhD Physical Education 1998) was recognised for her outstanding contribution to physical education teacher education. She became a Senior Lecturer at the University in 1999, Reader in Physical Education and Sport Pedagogy in 2015, and Professor of Physical Education and Sport Pedagogy in 2020. She is now an Emeritus Professor of Physical Education and Sport Pedagogy. During her time at the University, she led teacher education, at the Teacher Education Programme at Loughborough was rated outstanding in four consecutive Ofsted inspections. She has also made leading contributions to educational strategy and across her career has held leadership roles in local, regional, national, and international organisations.
Professor Mary Nevill OBE (BSc Geography and Physical Education and Sports Science 1982; PGCE 1983; PhD Physical Education 1987) was given the SSEHS Distinguished Alumni Award for her outstanding contributions to sport and sports science. From gaining 180 international caps for England and GB in field hockey, to becoming European Champion and member of the first British women's team to play the sport at an Olympic Games in Seoul 1988, Professor Mary Nevill OBE has shown huge commitment to sport during her career. In academia, as an expert in exercise physiology, she led and collaborated on some of the most influential papers in sprint and intermittent exercise.
Many congratulations to our new inductees and award recipients.
Nominations for the 2023 Hall of Fame are now open and will close on 31 January 2023.