The project – the first of its kind in the sector – involved the refurbishment of an existing 3G MUGA (multi-use games area) facility on campus with all construction and production activities closely monitored for carbon emissions.
This included the removal of existing turf, infill and shock pad system, and the install of the new SISTurf Xtreme 45mm synthetic turf system. The area also now has 100 per cent organic high-performance infill and recycled foam shock pad.
The organic infill is made from a species of pine that is harvested and replanted in continuous cycles and the specially engineered wooden infill particles undergo an 11-step conditioning process to remove any splinters or dust. The infill is also extensively tested and is used throughout the whole life duration of the pitch.
The synthetic turf was designed and manufactured at SIS Pitches manufacturing facility in the UK and the recycled prefabricated shock pad is locally sourced to reduce delivery impacts.
To further aid both Loughborough and SIS Pitches pledge to sustainability, once the infill material has reached the end of its useful life, it will either return to earth as a soil amendment for natural turf fields, lawns, gardens, and golf fairways, or as a landscape mulch.
SIS Pitches, who have recently acquired B Corp certification, will collate feedback from users of the facility to understand how the turf performs day-to-day.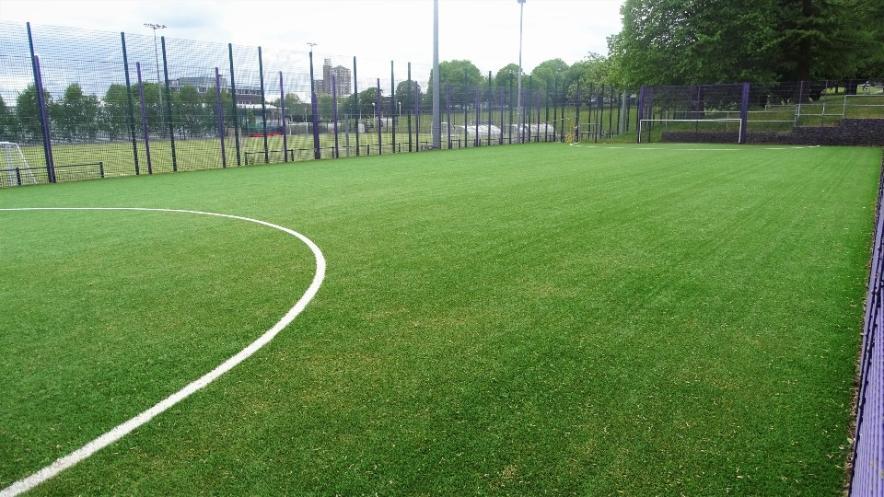 Mark Davies, Sports Capital Strategy and Maintenance Manager, Loughborough Sport, said:
"By working together with SIS Pitches we're helping inform the sector in terms of how a fully sustainable pitch operates and functions in a multi-use setting.
"The new install also aligns with the wider University strategy on sustainability and we're happy to be making positive steps in this space.
"We're all looking forward to the feedback from students who will be using the pitch over the coming months."
Luke Edwards, Technical Director, SIS Pitches, commented:
"Sustainability and the environment are at the centre of everything we do.
"As a company we are committed to changing how sports surfaces are constructed, installed and maintained and we continue to invest in new technologies to help us reach this goal.
"We are excited to see how the new system at Loughborough performs and believe this is a glimpse into what the future holds for synthetic sports fields."