Performance Support Services for Motorsports
Our Performance Support Team has been providing support to a range of motorsports since 2005. We have worked with motorbike racers across the levels from junior to World Superbike and MotoGP as well as motocross, and also drivers from F3, DTM, British Touring Car and World Rally Championships.
We aim to provide cutting-edge support at the highest level. We are able to draw upon our experience and expertise across the University to provide an interdisciplinary support service not only delivering standard testing and support but ensuring these are integrated to have optimal impact. We are experienced in working with individuals and teams to provide a bespoke service finding novel and innovative ways to improve an individual's performance.
Located 15 minutes' drive from East Midlands Airport, and 1.5 hours train from central London, we can easily accommodate racers and teams from outside the UK. We have staff available who can speak a range of languages including Italian/Spanish/French if necessary.
Our Offer
The services below provide great insight into a rider or driver's ability to perform at a high level, and allow for comparison across different levels of athlete and across periods of time.
Ideally testing would take place regularly to allow progress to be assessed, and modifications to training to take place to optimise adaptations.
In addition we can provide on-going, remote support to athletes with regards training and nutrition, and also provide bespoke support for any particular performance issues or to prepare for specific racing conditions.
Lab-based Physiology Assessments
Fitness testing can be carried out cycling, running or rowing. Generally we would recommend doing the physiology assessment in the mode of exercise the rider/driver most commonly does in training, so that the results can be used to guide training sessions and intensities.
However if the rider/driver does not do any specific endurance training in any of those modes of exercise, we would recommend doing the cycling test, as similar to motor racing, the bodyweight is supported, and there is reduced risk of injury or impact of injury affecting the ability to do the test.
The physiology tests are split into two parts – maximal and submaximal.
The maximal test provides us with information on a person's:
VO2max (maximal capacity to use oxygen)
Cycling test - Maximal Aerobic Power Output (power output they sustain during the last minute of the test)
The submaximal test provides us with information on a person's:
Lactate thresholds
Ability to sustain a good percentage of their maximal capacity
After testing we will put together a detailed report feeding back the results and providing the rider/driver with training zones and suggested training sessions to improve their fitness. We can provide benchmarks and comparisons with different levels of rider/driver.
Nutrition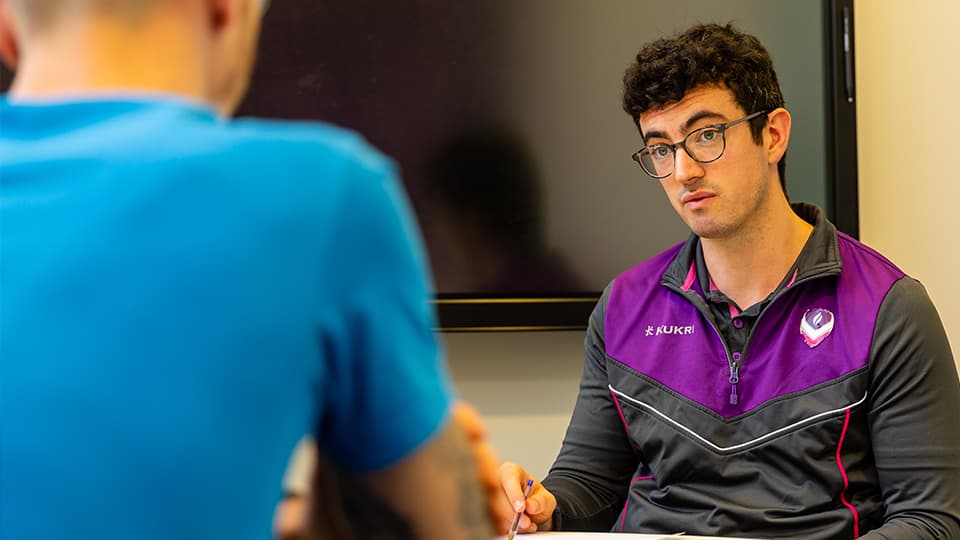 How we eat supports the way we train, adapt and compete, beyond that getting your nutrition right can also improve your concentration, sleep and immunity giving you to tools you need to excel on and off the track.
Our nutrition team can support you or your riders to better understand their nutrition for life, training and racing. We can build a package to support you and have a combination of services available to choose from:
Consultation
After recording a diet log your nutrition will be analysed and you'll meet with a Performance Nutritionist. Areas for improvement and tactics of how to improve your nutrition will be addressed. Following your meeting, a report and recommendations will be provided.
Follow up
These less formal meetings are designed to revisit areas previously covered in a consultation, finding and addressing obstacles to improving your nutrition. Putting new strategies in place to help you achieve your goals. Follow-ups can also be used to address new areas or challenges that arise after consultation improvements are implemented.
ISAK Body Composition Assessment
An internationally recognised method of body composition assessment helps to create a better understanding of the body and, with multiple measures over time, understand how it changes. ISAK body composition assessments create a profile with 5 girths, 8 skinfolds, and 3 bone breadths. Multiple assessments over time allow a better understanding of how nutrition, training, travel, as well as a number of other factors, are affecting your body and performance.
Preparation For Racing in the Heat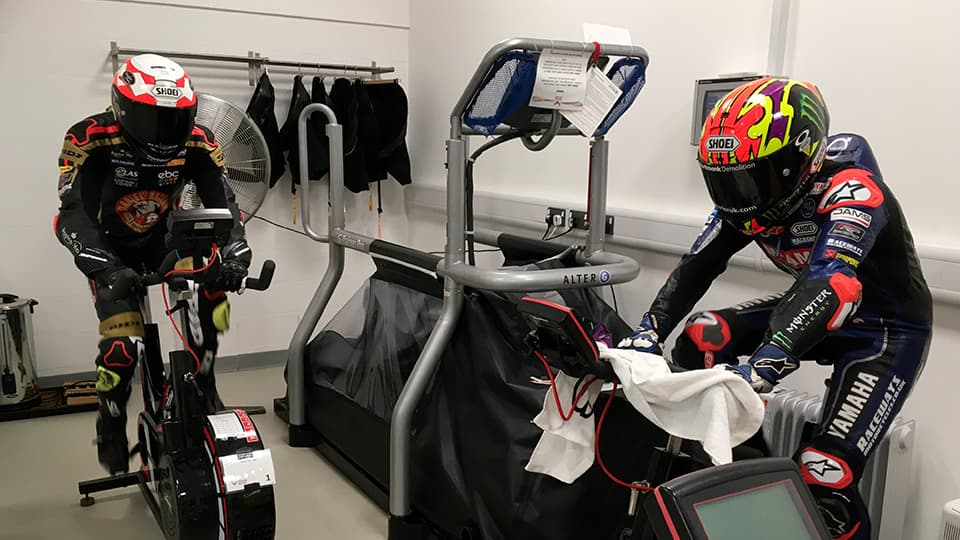 Many races take place in the heat, but even in cooler climates, the rider or driver can still be affected by heat through increased core temperature from physical effort, in combination with the race suit and heat from the bike or car.
Our environmental chamber allows us to assess individuals' responses to the heat.
Hydration strategies for racing in hot conditions – development of individual hydration strategies based on a rider's sweat rate and sweat composition. This would involve an hour exercising in the heat chamber in full race gear, and we would measure sweat loss and sweat composition.
In addition we can advise on individual strategies for cooling between qualifying/races, as well as strategies to gain physiological adaptations to enhance performance in the heat.
Further bespoke support can be provided to riders who particularly struggle in the heat, or who are going to be racing in extreme conditions. An individual plan for heat adaptation and maintenance of this over a season, hydration, cooling etc can be developed.
Strength Testing
Our Strength & Conditioning and Physiotherapy team work in collaboration to provide bespoke testing, planning and coaching to help riders develop physical limitations in their performance.
Utilising the rider expertise and technical coaching staff, the strength and conditioning team seek to identify the gap between current competency and optimal technique.
If a rider is limited in performing a particular movement skill due to deficiency in a particular physical capacity such as force production, or work capacity (the ability to complete a set amount of work and recover from it) the strength and conditioning team seek to:
1) Assess the physical qualities of the rider to understand the areas of development, including max force, work capacity, explosive strength qualities and muscle balance.
2) Provide bespoke planning solutions to help resolve physical gaps in performance in alignment with the multidisciplinary team
3) If required provide coaching solutions in person or remotely anywhere in the world."
Medical Services/Physiotherapy
Our team of physiotherapists, soft tissue therapists and network of doctors can help provide full care for all motorsport athletes.
‌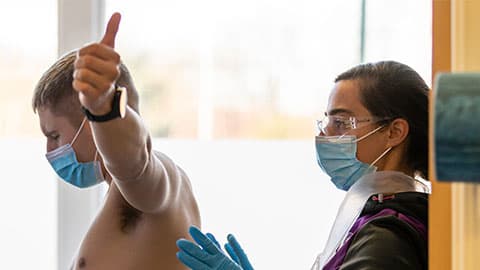 We would complete a full musculoskeletal screening which would include strength, range of movement and capacity testing. The screening would be individualised based on previous medical history and the goals of the athlete. The information gained would then be used to guide the management of the riders moving forwards.
Rehabilitation:
Injuries are part of elite sport especially motorsports. Our experienced team can help rehabilitate injuries using our vast experience, facilities and network of specialists. This management and treatment helps reduce time lost to injuries allowing a swift and safe recovery and reducing time spent off the bike.
Performance:
The information gained from screening and other disciplines allows us not just to focus on injuries but improving riders speed on the bike. This could be physically getting into optimal positions or the ability to hold optimal positions for extended periods.
Psychology and Cognitive Function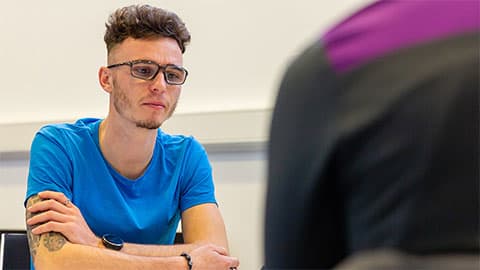 As well as helping a rider prepare mentally for racing, we have access to experts in the field of cognitive function in sport.
Improve Race Start and Optimise Reaction Times – we can help a rider improve their reaction times through training to improve cognitive function during racing, as well as by individually tailoring sleep, caffeine and carbohydrate intake to optimise reactions on race day.
Sleep and Travel Strategies
We are able to offer advice and individual strategies to minimize the impact of jetlag and optimise sleep during travel, and sleep in general. We can also provide any of the above services to the personnel supporting riders on race day.