Performance Football
Our men's performance programme provides talented footballers with the opportunity to pursue a dual career, develop on and off pitch in our hybrid high performance environment.
Loughborough Students Football Club offers many competitive opportunities, the first team play in the non-league at Step 5 (Uhlsport United Counties Premier Division), FA Cup and FA Vase, while Loughborough University compete in British Universities and College Sport (BUCS) competitions as well as several high profile games against professional clubs. In the past few seasons, these opponents have included Manchester United, Liverpool, Derby County, Watford, Northern Ireland and England Under-18's.
Each year, Loughborough University continues to invest in our performance football programme, and this investment can be seen in our facility developments. For example, our 3,500 capacity stadium and pitch complex. As a member of the performance squad, you will have the opportunity to play on our stadium pitch, and call this your home.
As a performance player, you will recieve expert, player-centred, holistic coaching, access to world-class facilities, strength and conditioning programmes, as well as nutrition, psychology, sport science, medicine and performance lifestyle support, with the intention of supporting you to achieve your best both on the pitch and off it in your academic studies. Certain athletes are also awarded scholarships, which will be awarded by head coach Jamie Clapham.
Our Mission
We want to inspire, educate and develop talented male footballers through our culture of excellence and world class facilities.
Our Vision
We strive to provide talented male footballers with life shaping, high performance opportunities as they start their dual career.
Normal Performance Week
A normal week includes;
2-3 Team Training Sessions
2-3 Strength and Conditioning sessions (Individual Specific Programmes)
2-3 Matches (BUCS Northern Premier and United Counties League)
Team Video Analysis
Massage and Physiotherapy
Nutrition Support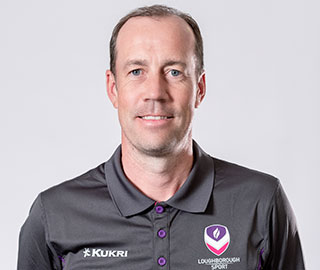 Jamie Clapham
Head Coach
A Pro-licensed Coach, Jamie has joined the University following roles with England U20s, Leeds United, Barnsley FC and Coventry City. This followed an illustrious playing career spanning over 500 professional appearances.
Mat Stock
Football Programme Manager
Mat re-joins the Loughborough University Football Programme after two years working as PDP Player Care Officer at Wolverhampton Wanderers FC. Mat has experience of the University Football Programme Landscape in addition to knowledge of the Pro Game environment. Further roles include working for England 2015 and IMG as Deputy Commercial Venue Manager at Kingsholm during the England Rugby World Cup. Mat is a UEFA B Qualified coach, working with Lightning Partner Club Loughborough Foxes, further qualification include; GK Level 2, Talent ID Level 2.
M.Stock@lboro.ac.uk