Performance Football
Loughborough University offers a unique environment to develop in sport whilst gaining a prestigious degree.
Loughborough Students Football Club offers many competitive opportunities, the first team play in the non-league at Step 5 (Uhlsport United Counties Premier Division), FA Cup and Vase as well as the British Universities and Colleges Sport (BUCS) Northern premier League. In addition to these fixtures LSFC play a number of high profile games against professional clubs including Manchester United, Liverpool and England U18's.
Each year Loughborough University invests a million pounds in performance sport, and a million pounds in facilities. Thanks to this investment, Director of Football Richard Allen is able to lead a professional programme of coaching and support.
As a first team squad member you will receive expert coaching, access to our world class facilities, heavily discounted Powerbase gym membership, strength and conditioning training, nutrition, sports science and sports medicine support. Within the programme players also have access to Performance Lifestyle support and our top athletes can apply for scholarships.
Normal Performance Week
A normal week includes;
2-3 Team Training Sessions
2-3 Strength and Conditioning sessions (Individual Specific Programmes)
2-3 Matches (BUCS Northern Premier and United Counties League)
Team Video Analysis
Massage and Physiotherapy
Nutrition Support
Rebecca Sawiuk
Director of Football
Rebecca Sawiuk boasts an extensive career in football, including fulfilling roles at Regional Talent Centres, England Talent Camps, London Bees FC (Head Coach), Millwall Women (Manager), Oxford Girls Academy (Technical Director), Watford Football Club's boys' academy (Lead Coach) and Head Coach of the BT Sport Ultimate Goal series.
Her football journey started as an undergraduate student working at Challenger Sports in America, before completing UEFA B, and UEFA A licences, the Advanced Youth Award, and the LMA (League Managers Association) Management Diploma.
She also holds a Bachelor of Arts and master's degree in Sport Coaching from Manchester Metropolitan University.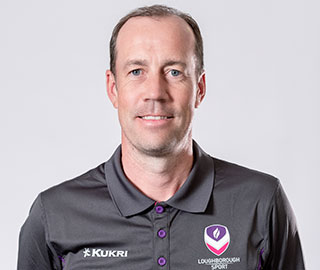 Jamie Clapham
Head Coach
A Pro-licensed Coach, Jamie has joined the University following roles with England U20s, Leeds United, Barnsley FC and Coventry City. This followed an illustrious playing career spanning over 500 professional appearances.
Mat Stock
Football Programme Manager
Mat re-joins the Loughborough University Football Programme after two years working as PDP Player Care Officer at Wolverhampton Wanderers FC. Formally working in the role of Programme Manager for the Men's programme between 2015-2020. An MSc Sport Management Student: Mat has experience of the University Football Programme Landscape in addition to knowledge of the Pro Game environment. Further roles include working for England 2015 and IMG as Deputy Commercial Venue Manager at Kingsholm during the England Rugby World Cup. Mat is a UEFA B Qualified coach, working with Lightning Partner Club Loughborough Foxes, further qualification include; GK Level 2, Talent ID Level 2.
M.Stock@lboro.ac.uk