Teams from Loughborough, England, Scotland, Wales, GB&NI U20s, and the National Athletics League went head-to-head as crowds were welcomed back to campus after an enforced hiatus at last year's annual event due to the COVID-19 outbreak.
And in what proved to be pleasant spring conditions at the Paula Radcliffe Stadium, they certainly weren't left disappointed.
Thomas Young, the Loughborough Sport Scholar and 2022 Paralympic Games gold-medallist, lived up to his pre-race billing by claiming victory in the Men's Para 100m in 11.16 seconds. A composed Young did enough to edge out competitors Ola Abidogun (11.33), and Segun Samuel (11.50) to continue his fine recent form.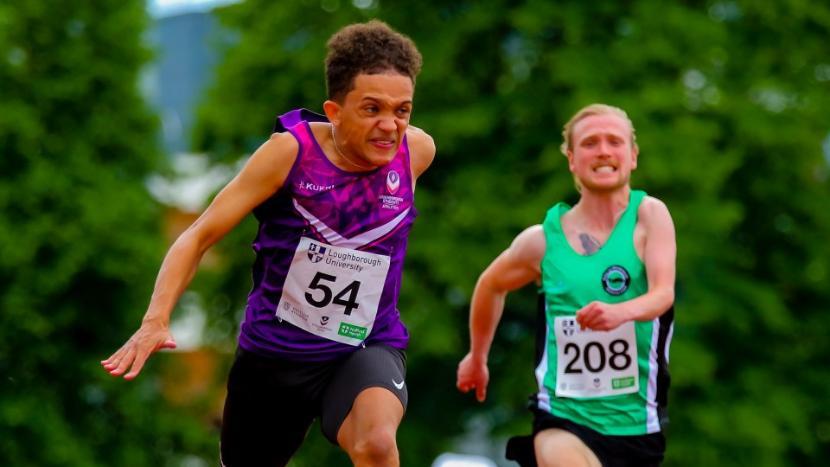 T‌homas Young was once again in fine form. Image provided by Ben Lumley Photography.
In the Women's event, Maddie Down's explosive time of 13.29 seconds saw the Halesowen athlete take the win in front of Sophie Kamlish (13.49), and Hetty Bartlett (13.51) respectively.
Elsewhere, Loughborough's Jessica Judd blew away the field in an astonishing performance in the Women's 1500m. The current University PhD student in Regenerative Medicine clocked 4:16.36 to cruise to victory by some distance.
Earlier in the day, England's Katie Head performed well in the hammer, taking victory with 66.18m after completing five throws over 64m. In the Men's event, Ben Hawkes (England) secured a personal best with 69.88m as Wales' Osian Jones stormed to victory with a huge 70.42m throw.
Scotland's David Smith recorded 2.19m in the Men's High Jump to take the win, ahead of Loughborough's Kelechi Aguocha (2.16m), and England's Divine Duruaku (2.10m).
In the Women's 400m hurdles England's Hayley McLean held her nerve to win a competitive race in 57.08, with Loughborough pair Jessica Tappin (57.71), and Nessa Cooper Millet (58.42) claiming second and third respectively.
There were also dramatic scenes in the Women's 4x100m event as the England team were reinstated after initially being disqualified to win in 46.22.
The day also saw a welcome return to action for Loughborough's Niamh Emerson, who appeared in several disciplines at her first competition since September 2020.
The 2018 Gold Coast Commonwealth Games Bronze medallist recorded a personal best in the Women's Shot Put with a distance of 13.61m.
The 23-year-old also reached 42.90m in the Women's javelin in an event dominated by fellow Loughborough athlete Rebekah Walton (54.75m). Emerson also claimed an eighth-place finish in the Women's 100m hurdles in 14.10 seconds.
Rebekah Walton stormed to victory in the Women's javelin. Image provided by Ben Lumley Photography.‌‌
In typical fashion for LIA, the day concluded with two thrilling races in both the Women's 4x400m and the Men's 4x400m.
England recorded a time of 3:36.90 to win the Women's event ahead of Loughborough in 3:40.12. The Loughborough Men's team (3:06.44) then edged out Ireland (3:06.55) in an enthralling finish to bring down the curtain on a stunning day of athletics competition.