Kick starting the Season Opener event, held at Resorts World Arena Birmingham, Lightning got off to a slow start going goal for goal with their opponents for much of the opening quarter. However soon shaking off their nerves, Lightning shifted into another gear and pulled ahead at the close of the quarter.
End of Q1: Loughborough Lightning 14 – 11 London Pulse
The second half saw a determined Lightning return to court and with confident feeds from Panagarry and Joseph into the 2021 leading goal scorer Mary Cholhok, Lightning soon began to extend their lead. Vitality Rose Beth Cobden opened up additional opportunities for her side to convert, using her famous long limbs to steal the ball from Pulse attack and wreak havoc in their transition through court.
Half-time: Loughborough Lightning 31 – 20 London Pulse
In her first outing as Head Coach, Vic Burgess changed up her side for the second half with Suzie Liverseidge providing a new option in the circle at goal attack and young England U21 defender Ella Bowen making her first ever appearance in the VNSL at goal defence. Needing little adjustment, Lightning continued to dominate through court with captain Nat Panagarry leading by example from the front.
End of Q3: Loughborough Lightning 46 – 35 London Pulse
Despite Pulse's increasing physicality, Lightning kept their cool heading into the final quarter, eager to close out the game and secure the win. With a lead of ten and 5 minutes left on the clock, Burgess rotated the bench once again, with Thacker and Vimbela also gaining their first cap in purple, much to the crowd's delight. As the clock wound down, Lightning kept the ball safe and with Clark and Thacker holding strong in the circle, continuing to add points to the board it was only a matter of time before the final whistle sounded, confirming Lightning's first victory of the season.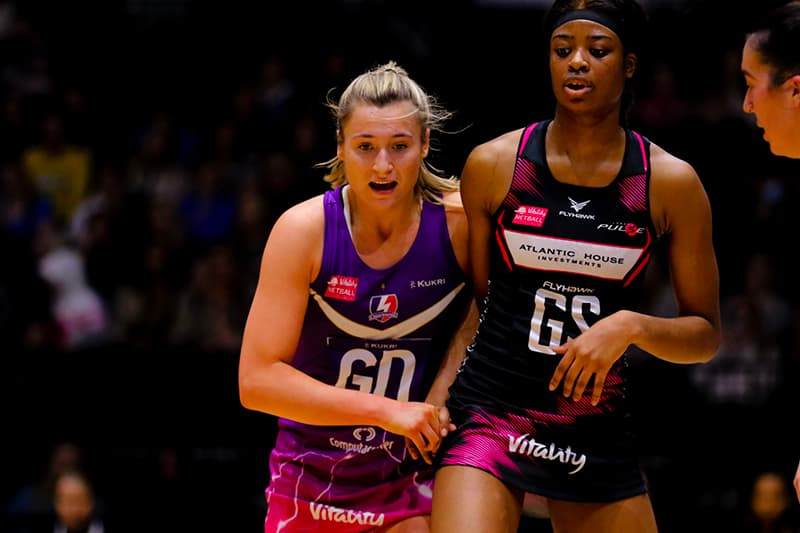 ‌(Photo by Ben Lumley)
Full-time: Loughborough Lightning 61 – 50 London Pulse
Head Coach Vic Burgess reflected on the match;
"It wasn't perfect today, we've got lots to work on but to get the win in the opening match, I'm very happy with that."

"We could've started better, been a bit more consistent in our attacking availability but I think in the second quarter we really put our foot down and pushed on. I think we need to now go and work on that consistency quarter to quarter and make sure when we do get a lead that we look after it."
Marking the end of a long pre-season, Burgess noted the team's excitement to get out on court;
"There was a lot of nerves, we've got some new athletes in the environment that haven't taken the court before so there was always going to be a few nerves, but the side were mainly excited and used what nerves they had and channelled them into the game."
Burgess also noted the need to get her entire team on court at every possible opportunity;
"Everyone is competing against each other in training to take the court so it's really good to get those new girls out there in different combinations and get that experience on a VNSL court not just in training."
Of her side, one particular player stood out to Burgess on court on Saturday.
"Beth Cobden wins ball for fun, she gets herself in the right position and she's an integral part of this team. Her performance today was standout for me, so it wasn't surprising that she was awarded the Player of the Match."
Lightning are back in action next week at home for the first time since 2020. Join us as we welcome back our beloved #LightningFamily to Sir David Wallace Arena to face Celtic Dragons. Tickets are on sale now.
Starting 7:
GS: Mary Cholhok
GA: Ella Clark
WA: Hannah Joseph
C: Nat Panagarry
WD: Beth Cobden
GD: Fran Williams
GK: Alice Harvey
Replacements: Emma Thacker, Ella Bowen, Suzie Liverseidge, Hannah Williams and Zan Vimbela