In mens doubles Alex Green with partner Callum Hemming reached the semi-finals before going out to eventual winners and world number 16 pair Ben Lane & Sean Vendy in two tight games, 22-20 21-17.
In the womens doubles Hope Warner and Lizzie Tolman won a silver medal following a solid semi-final win against former national champion Jenny Wallwork and Sian Kelly. In the final, they came up against Abbygael Harris and Annie Lado after losing out to them in the recent Hungarian open final. Unfortunately, Hope and Lizzie came out just on the wrong side again with a 15-21, 21-17, 21-18 scoreline.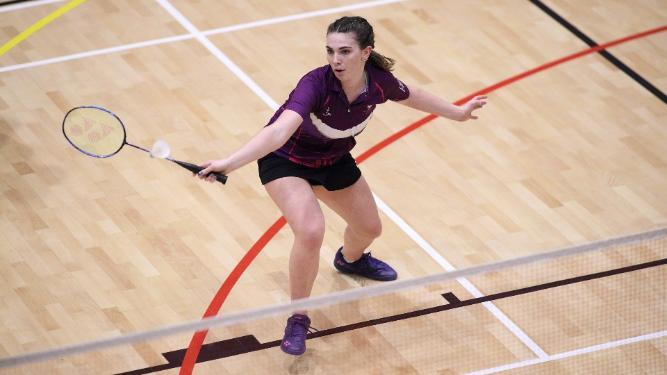 Lizzie Tolman in action. Image provided by Still Sport Photography.
In mixed doubles Jonty Russ made it to the semi-finals with partner Sian Kelly before going out to top seeds and world number 37 pair Callum Hemming and Jessica Pugh. Lizzie Tolman partnering Zach Russ also reached the semi-final before going out to Loughborough compatriot Hope Warner and her partner Steven Stallwood in a close match 21-14, 19-21, 21-18. Hope and Steven then went onto the final where they lost out to Hemming and Pugh in a tight three setter, 23-25, 21-12, 21-18.
Overall, there were some excellent performances from Loughborough athletes. The full list of Loughborough athletes competing was Alex Green, Nathan Moore, Jonty Russ, Alex Dillingham, Stephen Jong, Jack Taylor, Blake Hoang, Charlotte Freer, Hope Warner, Lizzie Tolman, Carly Stevenson.
The full results from the Championship can be found by visiting here: https://be.tournamentsoftware.com/tournament/CAFC6BDE-53CE-4208-8B0F-3BACF324EA6C