Held in glorious bank holiday sunshine, riders competed on the fast, technical criterium circuit, which included steep hill climbs and numerous 90 degree turns that tested athletes both physically and technically.
The festival also incorporated the National Youth Series and two National B Elite Showcase events, including a round of the British Women's Team Cup.
In the first race of the day, the Youth B Boys Race, a strong field rode aggressively with Rory Gravelle (Velo Myrddin CC) claiming first place in a powerful finish from Luke Jones (Beeston Cycling Club), and James Sweeney (Edinburgh CC).
The Youth B Girls Race was equally as thrilling with Arabella Blackburn (Deeside Thistle CC) taking the 22-lap race ahead of Ella Tandy (Solihull CC), and Aelwen Davies (Velo Myrddin CC).
The Jose Gilbert Memorial Trophy, incorporating the British Women's Team Cup Race, was another competition of the highest standard.
Francesca Hall secured a well-deserved third-place for Lightning Cycling -The Recruitment Group, in a stunning sprint finish as Beth Morrow and Lucy Gadd ensured it was a one-two for Storey Racing.
After the race, Frankie spoke to Loughborough Sport:
"Today was quite an emotional race. Jose was a close friend of mine as we started at university together six years ago and we lost her in a tragic accident 18 months ago. I got the start line and had her in my mind for the whole time.
"She would have loved to have been part of today and it's what she loved doing so I'm really proud to get a result today for her."
The race also saw an appearance from Dame Sarah Storey (Storey Racing). Storey, who has a mammoth 14 Paralympic Games medals to her name, crossed the line in 17th place.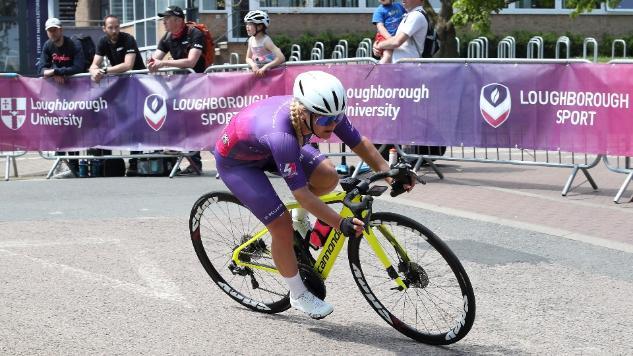 F‌rankie Hall finished an impressive third in The Jose Gilbert Memorial Trophy.
The Youth A Girls Race saw a dominant ride from Cat Ferguson (Storey Racing) and Awen Roberts (Liv Cycling Club – Halo Cycle), in which both riders lapped the field. In a blistering performance by the duo, it was Ferguson that held on for the win with Roberts pushing hard throughout.
The Youth A Boys Race was won in style by Matthew Brennan (Stockton Wheelers CC), as he edged out second-placed Alex Beldon (PH-MAS – Paul Milnes Cycles), and Jacob Bush (Bourne Whls CC) in third.
The final race of the day was the Elite Men's Criterium which saw Toby Barnes (Crimson Orientation Marketing Race Team), and current Loughborough Cycling Academy rider, turn on the style after attacking early on lap three. Stephen Bradbury (Saint Piran) claimed second-place, ahead of Graham Briggs (Clancy Briggs Cycling Academy).
Barnes' explosive victory was a fitting end to an action-packed day of racing on Loughborough University's iconic campus, as the hot weather was matched by scorching performances on the circuit too.
Dr Dave Nichols, Cycling Programme Manager, Loughborough University added:
"The event really showcased everything that is happening in cycling at the University, and there has never been a more exciting time to be cycling here.
"It was fantastic to see Loughborough students on podiums of both the men's and women's elite races, as well as watching the best UK talent in the youth ranks racing around our campus."
For the full list of results and times, visit Velouk.net HERE.