Proposal for redevelopment of sports facilities - outcome of consultation
Proposed redevelopment of the existing Gymnastics Centre into an additional high-performance gym environment.
What is the proposal?
In October 2021, the University put forward a proposal to redevelop the existing Gymnastics Centre into an additional high-performance gym environment.
Why has the University put forward a change of use?
To ensure the University's facilities are inclusive for all and continue to support as many students as possible, demand and use has to be regularly reviewed.
There has been a significant increase in student numbers within existing gym facilities over the last five years, with both gyms now at full capacity. The launch of the University's Para Sport Strategy has also led to an increase in the number of para-athletes and students with disabilities that need specialist space in which to train.
A new facility would enable more students to access a world-class, high-performance training environment, which has been specifically designed to ensure it is inclusive for all user groups. It would create gym capacity for around 2,500 more students and athletes. The current Gymnastics Centre is used by the Gymnastics, Cheerleading, Trampolining and Snow Sports clubs. The combined membership of these clubs is around 400.
What has been happening since October 2021?
Over the last six months the University has carried out an extensive consultation with existing users of the Centre and has sourced alternative training facilities, both on and off-site, for those impacted.
What is the outcome of the proposal?
The University has concluded that the Gymnastics Centre should be redeveloped into an additional inclusive high-performance training environment. Whilst the University acknowledges this will be disappointing to current users of the Centre, it does firmly believe the redevelopment is in the best interests of the wider student community.
What happens next?
The Gymnastics Centre will remain in use until the end of the academic year. Work will then start to redevelop the building.
All affected clubs have been offered alternative facilities to meet their training requirements, both on and off campus. Gymnastics and Cheerleading have been given the option to relocate to an external facility in partnership with the Loughborough Acro Gymnastics Club, based just two miles from campus. The University is working with Loughborough Acro Gymnastics Club on plans to enhance its facilities further. The redesigned centre would include:
2 x floor areas (one fully sprung floor)
Pit environment to

Rings
High bar
A bars
Beam
Vault
Tumble track
Trampoline
To FIG mat landing

25 metre vault
1 x Rings
2 x Pommell (1 high , low)
2 A bars
1 x P bars
5 beams – 3 high, 2 low
2 x mushrooms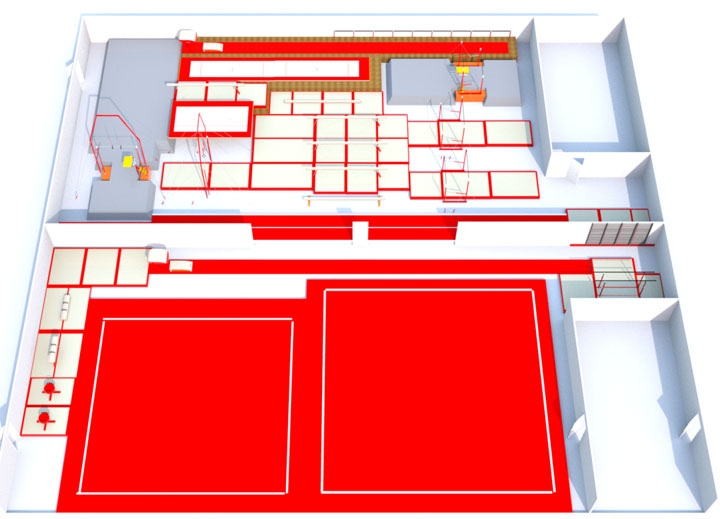 *Designs subject to change following further discussions.
The Sports Development Centre will continue to work with the impacted clubs and their members to ensure the transition to alternative facilities is as smooth as possible.
If you have any further questions about the redevelopment, please email