Support you can expect
Athletes within each of the squads will receive a comprehensive package of support which is detailed below.
Each athlete selected onto the Olympic and Paralympic Squad will be assigned a lead coach from within the centre, who will work with the athlete to best support the needs of both the individual and the group. Athletes in both of these squads are also able to receive support from an experienced multi-disciplinary team which includes access to Strength and Conditioning, Physiotherapy, Nutrition and Physiology practitioners.
Most of the training is based on the Loughborough University campus, where athletes have access to a range of facilities including a 50m swimming pool, indoor athletics centre, outdoor athletics track and world class gym. Off campus running and riding is conducted on a variety of local trails and quiet countryside roads. Squads also include the use of a number of traffic free cycling circuits within the local area for technical development, group bike efforts and transition practice.
English student athletes can receive support through the Talented Athlete Scholarship Scheme (TASS), a Sport England funded partnership between talented athletes, education institutions and national governing bodies of sport. Please click here and to find out more about TASS.
In exceptional circumstances the LTPC can also offer students academic flexibility, supporting them in a stretched degree option in order to help them manage the balance of their sporting and academic commitments and realise their full potential in both areas.
Olympic Squad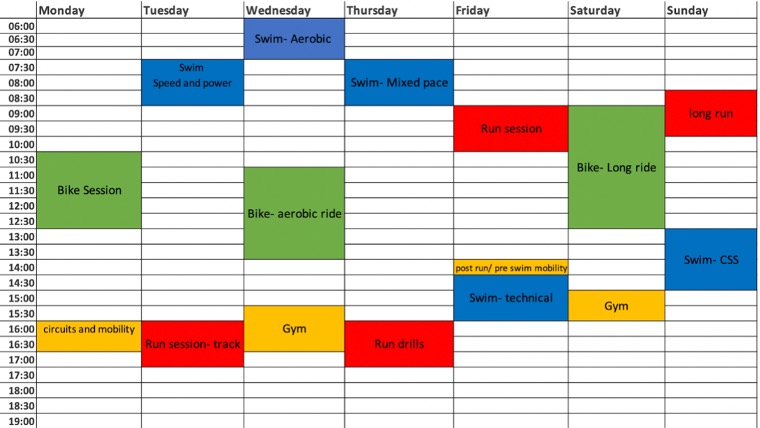 During the week athletes attend 5 coached swims, 1 coached bike, 2 coached runs and 2 coached S&C sessions. Other training in the week is athlete led and usually conducted in groups on given days. During the year we run several camps within the UK and abroad. Each camp will have specific aims and goals to help add to the athletes normal daily training environment.
Paralympic Squad
The squad runs an annualtraining programme, with athletes able to access sessions for year round. A guide timetable of weekly sessions is below.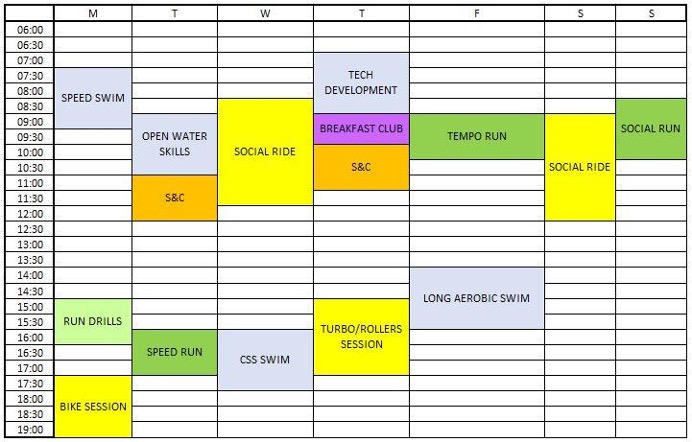 Squad athletes may supplement their time in Loughborough with overseas camps at various points in the year, and athletes will work with their coaches and support staff to determine the suitability of these.
Development Squad
Each athlete can expect an individual training programme alongside the group sessions below. Members will also look to link in with Olympic squad sessions where appropriate. Athletes will also receive support from S&C coaches.