The former Premier League icons now lead the team at Garuda Select, a side that features aspiring young Indonesian players aiming to secure a lucrative move to one of Europe's top clubs.
Established in January 2019, Garuda Select is a long-term football coaching program with its selected players training in the UK and regularly competing against the academy sides of professional teams.
During the visit to Loughborough University the squad will train on campus, using such elite-level facilities as the hybrid stadium pitch, the high-performance grass pitches, and also the new 4G pitch at Holywell.
The team will also stay at Loughborough's range of on-site hotels and accommodation throughout their five-month stay.
Both Wise and Walker represented England at various stages of their career, with Walker playing an integral part of the side which narrowly missed out on a place in the final at the 1990 FIFA World Cup in Italy.
Speaking to Loughborough Sport, Dennis Wise explained his reasons behind choosing Loughborough as a base:
"It's got everything in-house here and that's what you need. Top elite people come here, and you can see why because they have access to all the top stuff which is needed to develop and progress young elite athletes in many ways – in football, in rugby, in athletics – it was the best place for us I've got to say.
"It's very Covid safe, the standards are very high in the rules and regulations and obviously they've got to look after every elite athlete that comes here."
Wise, 54, made 445 appearances at Chelsea between 1990 and 2001 and won the FA Cup three times in a career that also saw him play for Wimbledon, Millwall, and Leicester City. He added:
"What we're trying to do is developing them into footballers that have an opportunity of playing in Europe."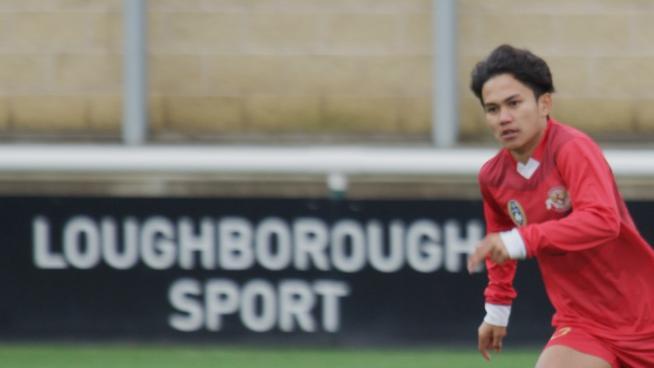 Wise's thoughts were echoed by Walker, who is still recognised as one of the best centre backs of his generation and remains to this day a firm fans' favourite at both Nottingham Forest and Sheffield Wednesday where he spent most of his career.
"For me, Loughborough University is probably the premier facility in the country," he said.
"One of the main aspects we're trying to improve in the players is professionalism and taking responsibility. To come to a venue like this, where the facilities are as good as anywhere in the country, is a massive bonus for us.
"You know straight away we are giving them that professionalism and you're training in an environment that's second to none."
Wise and Walker's backroom coaching team also includes Loughborough University alumnus Jake Fitzsimmons, who was happy to be back on familiar soil:
"I don't think there's a university in the world that can prepare you for the real world, but I think Loughborough is probably the best at getting you as prepared as you can be.
"For someone who wants to work in sport, you're surrounded by the best facilities in the world and elite athletes and coaches that have been there and done it.
"The facilities have always been world-class…they just create great environments full of great people that you can chat to and build a good network within sport.
"I think since I've left the facilities have only got better and the place is developing all the time…Holywell gym has been developed even further and it's just one of the best gyms in the world in my opinion."
Speaking about the Covid secure environment, Jake added:
"It feels really secure…the sport team are working really closely with the hotel on campus to make sure we're really safe."
Loughborough University is a recognised Elite Training Centre with one of the largest concentrations of world-class sports facilities in the UK. To find out more about hosting elite training camps and events on its Covid secure campus click HERE.