Held in partnership with Chesterfield Swim Club at the Moorways Sports Village in Derby, established athletes including Alice Dearing, Daniel Wiffen, Felix Auboeck, Lauren Cox, and Conor Ferguson all contributed to a weekend of first-class swimming action.
Welcoming clubs from across the country, the meet showcased the very best in the sport, delivered through three sessions per day (faster heats, slower heats, finals), a full Olympic Programme, and a dedicated Juniors' event.
Loughborough athletes looked in fine form throughout. Lewis Burras won silver in the men's 50m freestyle A final (21.73 seconds), Harry Robinson won gold in the men's 50m freestyle B final (23.07), and fellow Loughborough swimmer Thomas Exall claimed silver in the same event in 23.09.
Elsewhere, two Loughborough athletes made the podium in the women's 200 backstroke A final as Honey Osrin took gold in 2:07.09 and Natasha Whittall secured bronze in 2:15.49.
There was similar success in the men's breaststroke B final as Mackenzie Cannon took gold in 2:18.15.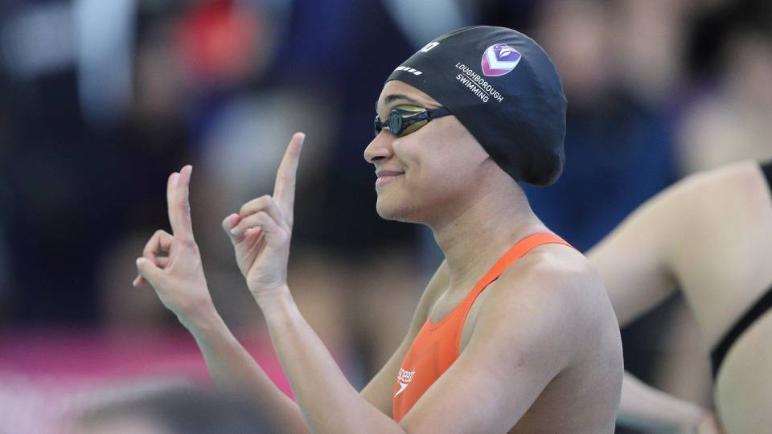 O‌lympic Games athlete Alice Dearing was also in action. Image provided by Still Sport Photography.
Loughborough's Mia Slevin won a well-deserved bronze in the women's 400m freestyle A final, making the podium places in 4:12.91. The men's 400m freestyle A final proved to be a Loughborough one-two with Reuben Rowbotham Keating taking gold (3:50.37) and Samuel Tucker winning silver (3:52.81).
In the men's freestyle B final, Ben Harrison also won a superb gold in 3:59.31.
Loughborough's dominance continued in the men's 100m butterfly A final as Calvin Fry won gold in 53.31, and Luke Ibbeson won bronze in 54.60. Ellis Cleworth (55.90) blew away the field to win gold in the men's 100m butterfly B final with Thomas Sansome taking a brilliant silver (56.42).
Loughborough closed out the weekend in perfect fashion as Harvey Freeman won bronze in the men's 200m breaststroke A final (2:13.83) and Ben Harrison picked up another medal, this time in the men's 200m backstroke A final (2:01.62).
Lucas Henveaux also performed brilliantly, recording two national records for Belgium.
Following a series of hugely impressive performances, Loughborough pair Daniel Wiffen and Sienna Robinson were awarded the top-performing male and female athlete respectively.
For more information on swimming at Loughborough University, visit https://www.lboro.ac.uk/sport/sports/swimming/