Heading back to The Copper Box Arena for their second match of the weekend, Lightning who are currently sitting firmly in second place, prepared to face Surrey Storm, who are sitting in tenth place, fighting for opportunity to move up the table.
Suffering a 19 goal defeat the last time these teams met; Storm stepped on court with nothing to lose, having lost their last nine games in a row. Lightning meanwhile aimed to right their wrongs from Sunday's gritty match up with Severn Stars and claim another three points for their tally.
Kick starting the match with an increased speed, Lightning upped their intensity for the opening quarter, keeping the flow smooth and consistent whilst Cholhok executed clean shots from under the post. Despite Storm increasing their aggression in an attempt to shut down Lightning's fluidity, Williams, who earned her second start of the season in as many days, fed confidently into the circle. At the other end of the court, Cobden's long reach interrupted Storm's attack and with Panagarry and Cobden closing down the space on the circle edge, Storm were left with no option but to force the ball into the circle with little success.
End of quarter 1: Loughborough Lightning 16 – 7 Surrey Storm
Eager to shut down the game, Lightning pushed harder on the pedal going into the second quarter, quickly widening their lead.
Using their experience within the league, Cobden and May kept a close eye on Storm's passage of attack, seizing every opportunity to steal oncoming ball. With an 18-goal deficit and eight minutes left in the half, Storm began to make changes to their side, but whilst new players adjusted to the tempo, Lightning continued to push on.
Shutting down the circle edge from both the outside and in, Harvey and Cobden refused the easy pass into Storm's shooters and with Cholhok maintaining a 100% shot success rate for the entire half, Lightning remained on top as the half-time whistle sounded.
Half-time: Loughborough Lightning 30 – 13 Surrey Storm
Using their lead to make changes, captain Nat Panagarry moved to the wing defence position for the second half, with fellow Vitality Roses teammate Beth Cobden moving to centre. Needing to quickly readjust to the new combination, Storm gave it all they had in an attempt to shut down Lightning's dominance on the game. With six minutes to go and an 18-goal lead, Francis-Bayman rained more changes with Clark stepping out for the first time that day in the goal attack spot. Adding depth to the shooting circle with her cool and calm long-range shots, Clark gave Lightning the perfect opportunity to test out another combination in attack after recently losing starting wing attack Hannah Joseph to injury.
Continuing to add speed through court, Panagarry provided a backup option on the line, with Lightning's fast transitions rewarded by Cholhok's famous lay-up shot.
End of quarter 3: Loughborough Lightning 42 – 21 Surrey Storm
With just 12 minutes left on the clock, Francis-Bayman seized the final opportunity to rotate her bench and give side-lined players crucial court time. Lightning stalwart Lauren Nicholls stepped into the wing defence spot giving captain Nat Panagarry a well-deserved rest, whilst Lucy Parize took on the goal attack bib.
With just minutes left on the clock, Harvey's outstanding performance came to a end after suffering an ankle injury, causing May and Odeogberin to take her place and bring the game to a close. Also given the nod, birthday girl Beth Gabriel took to court for the first time this season at wing attack. Eager to maintain momentum right to the end, experienced players Cobden, Clark and May pushed on, and with Nicholls laying everything on the line, Lightning ran out victorious as the final whistle sounded.
Full-time: Loughborough Lightning 53 – 28 Surrey Storm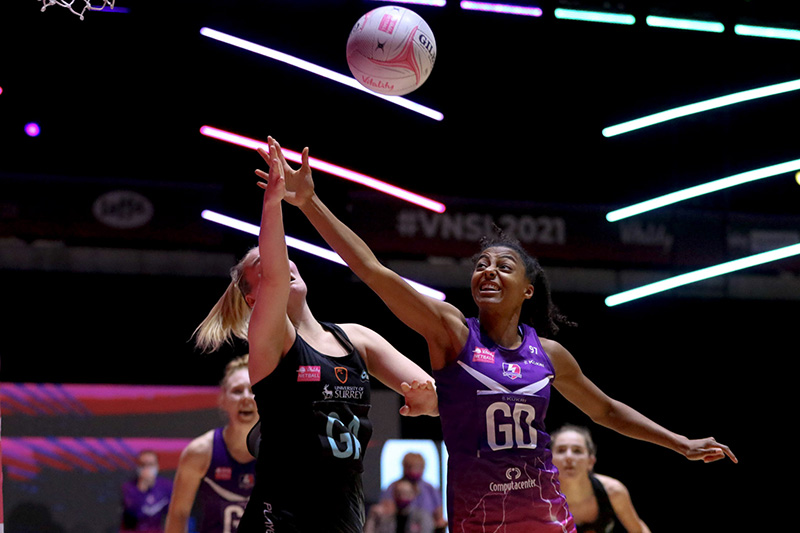 (‌Photo by Ben Lumley)
Giving it her all to aid her side in closing the gap, Surrey Storm's goalkeeper Alima Priest was awarded the Computacenter Player of the Match award.
Lightning Head Coach Sara Francis-Bayman commented on her team's turnaround after a disappointing performance on Sunday;
"We started really well today, we looked like we had a lot more flow to our game. I think the first half was really pleasing. We made changes at half time which took a little bit of time to bed and I'm disappointed that we got a few niggles out of today but overall, I'm really happy with how we came through with a performance."
With young defender Alice Harvey exiting the court after sustaining an ankle injury, Francis-Bayman reflected on her success so far this season;
"It's so exciting this season for Alice, I think she was a bit quiet yesterday but came back out today and was amazing, so we'll be looking to get her back out there as soon as we can."
Reflecting on her changes throughout the game, Francis-Bayman said;
"I think Hannah Williams started well tonight, her combination with Suzie worked nicely and that's what we wanted to have a look at. I'm excited about Beth Cobden getting some time at centre and it's just about us getting people out there so that come hopefully the latter part of the season, they're good to go and we've got lots of options that we can put against those top teams."
Loughborough Lightning are back in action on Monday 17 May when they face London Pulse at 7.15pm in round 16 of the Vitality Netball Superleague.
Don't miss a single second of the action, tune into Sky Sports and Sky Sports YouTube to catch the match LIVE.
View the VNSL table here.