Travelling to The Copperbox Arena for round 16 of the VNSL, Lightning looked to close the game out early, claim their spot in top four and head into a BYE weekend on a high. When the two sides met in round six, Lightning faced a tough encounter but eventually pushed past the capital-based side with a 52 - 40 win.
Head Coach Sara Francis-Bayman changed her starting line-up for the clash from the previous double header weekend, with injury to young goalkeeper Alice Harvey keeping her from this week's fixture. Jas Odeogberin therefore earned a starting spot with Clark, Liverseidge and Cholhok securing the attacking circle.
Catching the defenders unaware, Clark's quick release feeds into Cholhok allowed Lightning the early points on the board. However, with Pulse slowly applying pressure to Lightning's attack, their mid-court trio were forced to look back to defence for some crucial support in delivering the ball to the circle. Giving Lightning no room to breathe, Pulse ground down the seconds, fighting tooth and nail for every ball with Lightning just two points ahead at the close of the opening quarter.
End of quarter 1: Loughborough Lightning 11 - 9 London Pulse
Far from comfortable, Lightning returned to the court for the second quarter and responded to the slow opening quarter with composure and confidence. Keeping both options open in the circle, Lightning's Beth Cobden disrupted Pulse's attack with wide range intercepts. Despite turning numerous ball, Pulse's unforced errors meant they were unable to reward their efforts, leaving Lightning to clear up the loose ball. Keeping ball side, Sam May kept a watchful eye on the ball through court, catching Pulse by surprise and turning the ball to their advantage.
Half-time: Loughborough Lightning 24 - 17 London Pulse
Continuing to make it hard for Lightning, the young Pulse side kept tight to their opposition, who had all to play for going into the second half. Stumbling for options through court, Lightning capitalised on Pulse's increasing error count with two-time VNSL champion Sam May confusing the space in the circle in order to dive onto an incoming ball. Meanwhile down in Lightning's attack, the battle continued with Cobden left with little option but to force the pass into Cholhok. Changing up the circle edge, Francis-Bayman switched Liverseidge for Williams in wing attack as the clock wound down.
End of quarter 3: Loughborough Lightning 33 - 25 London Pulse
With just 12 minutes standing between them and a semi-final spot, Francis-Bayman switched up her side, with Cobden moving to centre and Lightning stalwart Lauren Nicholls stepping out at wing defence. Whilst Clark continued to supply Cholhok with quick confident feeds, Nicholls brought new energy to the defensive circle edge, laying it all on the line. Increasing their physicality, Lightning rode out the additional knocks brought to the game from a faltering Pulse, with an injection of energy to the shooting circle as Lucy Parize stepped out. As the final buzzer sounded there was celebrations all round as Lightning joined Team Bath as the second team to confirm a spot in the VNSL semi-finals.
Full-time: Loughborough Lightning 42 - 35 London Pulse
Never backing down, Sam May was deservedly awarded Player of the Match after a tenacious performance on court;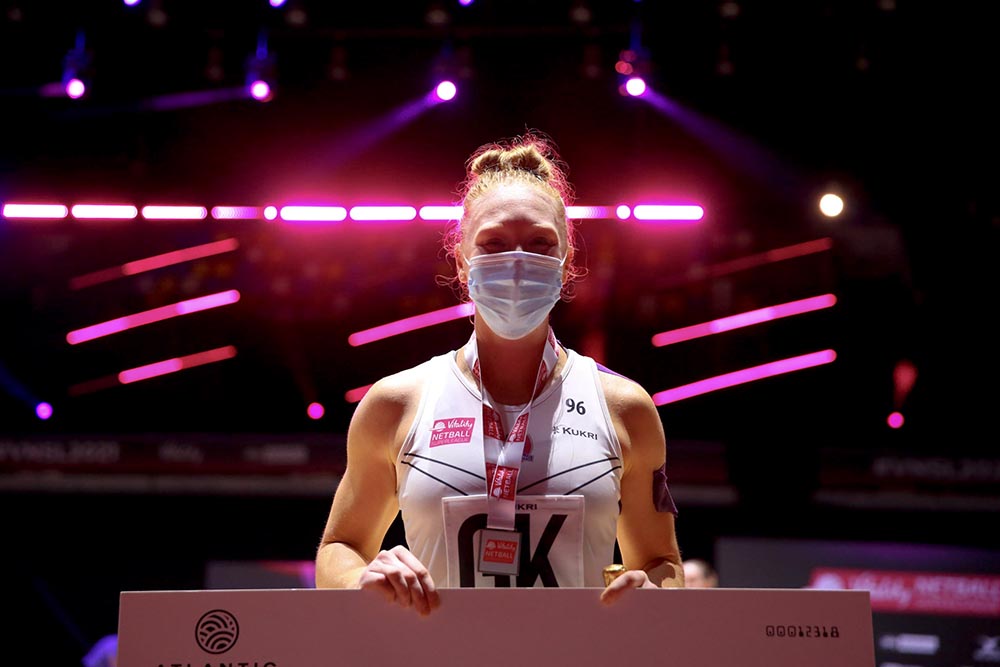 "Top four was always the aim of the game and the tournament, and I'm really pleased that we were able to achieve that today and against a tough opposition! Pulse really brought it to us!"

"It was good to be back in the goalkeeper position for a whole game but it's one of the hardest positions as we're up against some tall timbers but I'm lucky as I get to practice against Mary (Cholhok) all the time. It was great defence by both teams today."
Of her team's success May commented;
"Our team is so versatile, and I think that's a strength of ours. It doesn't matter what positions or who's on court, we do the job, and you can see that. Today's result just proves that."
Head Coach Sara Francis Bayman shared her relief at the games' conclusion, despite another ugly encounter;
"I wish I could say I was happy tonight. I think we needed that game heading towards semi-finals, we'll learn a lot. In attack we were naive tonight, we made the same mistakes over and over, we looked flustered on ball, and I'm annoyed that we lost the last quarter. But it stands us in good stead because for where we're going with semi-finals teams will be playing well against us and we need to learn to be better in those situations.

"I was pretty frustrated in the first quarter with the errors we were making. You can talk about players like Funmi all day long but until you play against her you don't understand it. I'd like one person to make the error and the rest learn from it, not everyone make the same mistake. I thought they worked through it pretty well in the second quarter and I thought defence all through court continued to turn ball over and give us an opportunity so really happy with that today."

Lightning head back to Loughborough University and into a BYE weekend before returning to court for another double header weekend. Facing Celtic Dragons and Leeds Rhinos on 29th and 30th May in round 17/18.
You can witness all the action LIVE on Sky Sports YouTube.