Currently sitting in 2nd place in the Vitality Netball Superleague table, Lightning travelled to The Copper Box Arena for another double header weekend, facing Surrey Storm just over 24 hours after their clash with Stars.
In the opening match of round 15, Loughborough Lightning began proceedings with an explosive start, claiming their first point within ten seconds of the first whistle. Having claimed an impressive 20 goal win margin in their previous meeting, Lightning's start indicated their aim to put a gap between the two sides as quickly as possible, creating opportunity to rotate the bench, with another clash soon on the horizon.
After a strong training week, Head Coach Sara Francis-Bayman rewarded young mid courter Hannah Williams with a starting spot, her first of the 2021 season. Using their variety in shooting styles to their advantage, goal attack Ella Clark provided options out wide in the circle whilst pillar of strength Mary Cholhok offered another option under the post. Severn Stars remained close to the score-line, despite Lightning's body on body defence and continued hustle, with the two sides level on points for much of the game. Remaining calm throughout, Lightning pulled ahead heading into the second quarter.
End of quarter 1: Loughborough Lightning 12 – 9 Severn Stars
The second quarter began with no changes to Lightning's side, as they continued with their fast pace approach to the game, successfully shutting down Stars attempts to feed the ball to the circle edge time and time again. Upping her work rate, Clark consistently offered options on the circle edge, whilst sending confident balls into Cholhok. Meanwhile, capitalising on Lightning's low error rate, Hannah Williams dominated the centre pass attack claiming 14 of the 23 centre passes in the quarter.
Keeping a watchful eye on the incoming ball, two-time Superleague champion Sam May intercepted a pass into Georgia Rowe in the dying seconds of the game, turning a key ball for Severn Stars.
Half-time: Loughborough Lightning 26 – 19 Severn Stars
Making changes to her side in the second half, Francis-Bayman rotated the bench, moving Sam May to the GK position and giving Jas Odeogberin the opportunity to make her mark at goal defence.
Famous for her speed and flair on the ball Stars captain Liana Leota met her match with Lightning's Cobden tracking her movement with key precision and wreaking havoc on Stars favoured option. Bringing Liverseidge on to the wing attack position with just two minutes left, Francis-Bayman's switch up gave Lightning a final injection of energy heading into the final quarter.
End of quarter 3: Loughborough Lightning 36 – 31 Severn Stars
Failing to take the game lying down, Stars continued to keep their foot in the game, closing Lightning's lead to just four points with only six minutes on the clock. Lightning however kept chipping away, capitalising on unforced errors from the opposition and working hard to keep the ball safe.
Providing crucial back up on the centre passes Odeogberin picked up loose balls and transitioned the ball through to attack with speed and precision. Treating the arena to her famous lay-up, Cholhok received fast confident feeds from Clark despite being double marked by Stars. The clock ticked down, and Lightning ground out the win, eventually claiming their twelfth win in a row.
Full-time: Loughborough Lightning 50 – 41 Severn Stars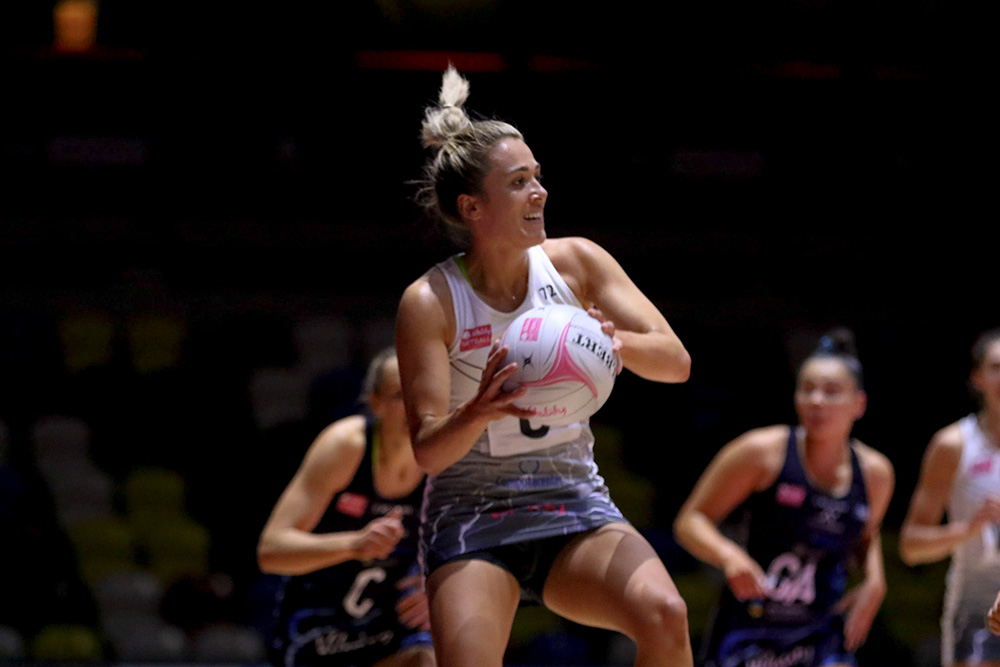 Leading by example at all times, Vitality England Roses midcourter and Lightning captain Nat Panagarry was deservedly awarded Player of the Match;
"It was a good match up; the intensity was there and that's what we want in this league. All the teams are competing and that's what I love and what we need. That wasn't our best game, it wasn't confident and wasn't the slickest but to keep at it and grind out the win, I'm so proud of the squad."
Far from satisfied with her team's performance, Head Coach Sara Francis-Bayman commented.
"It was ugly today, we struggled defensively which is something a little bit new for us. Attack then didn't take the load, through court we looked nervous with ball, it never really flowed, and Stars are a team that do a good job of disrupting you and I don't think we did a good job of adapting to that today."

"I thought Hannah did a good job but in that third quarter we felt like we needed a little bit more availability across the line between wing attack and goal attack and it was a toss-up between who we changed. So, we pulled Hannah off and I thought Suzie did a good job so it's nice to see that we have those options and what they can do out there."
When questioned about her disappointment, Francis-Bayman responded;
"We don't want easy wins at this stage in the season, but we do want them to be easier than today."
Loughborough Lightning are back in action on Monday night when they face Surrey Storm at 5.15pm. Don't miss a single second of the action, tune into Sky Sports and Sky Sports YouTube to catch the match LIVE from 5pm.