Making the trip to Studio 001 in Wakefield, to face new side Leeds Rhinos and Severn Stars in back-to-back clashes, Head Coach Sara Bayman's side were full of confidence after securing two wins on the trot in the opening rounds of the 2021 season.
Claiming the highest points scored in any match so far this season, with a 70 – 41 result over Leeds Rhinos on Sunday night, the squad were left with little time to recover before it was time to go again.
Changing the line-up for Monday night's clash with Severn Stars, Head Coach Sara Bayman gave Ella Clark her first start of the season in the goal shooter spot with young defender and Loughborough University student Jas Odeogberin stepping out at goal defence.
With no sign of tired legs and eager to make an impactful opening quarter, Lightning quickly found their feet and applied the pressure to Stars, a depleted side after losing captain Liana Leota to injury the previous day.
End of Q1: Lightning 10 – 6 Severn Stars
Keeping tight to their opposition, the second quarter saw Lightning hustle Stars' attack, leaving few options in delivering the ball into the circle. Meanwhile in attack, Joseph's speed and constant change of direction, before a sharp shot into the circle to Clark, saw Lightning's score line increase rapidly.
Half time: Lightning 26 – 17 Severn Stars
Eager to claim the championship quarter and seal the deal, Bayman changed up her side with Cholhok returning to the circle and Sam May coming into the goal defence spot. A pillar of strength in the shooting circle, Cholhok sunk ball after ball with Joseph and Panagarry's pinpoint feeds like darts into her awaiting hands.
End of Q3: Lightning 42 – 29 Severn Stars
With a comfortable lead, the final twelve minutes provided the perfect opportunity for Bayman to rotate the bench, with Nicholls and Williams both adding vital minutes under their belts. As the final 10 seconds counted down on the clock, Panagarry sent the ball sailing over two thirds of the court to Cholhok, for Clark to sink a sensational 'on the buzzer' shot.
Full time: Lightning 58 – 30 Severn Stars
Covering both the goal shooter and goal attack positions across the 48-minute match, dual athlete Ella Clark earned herself a Player of the Match performance.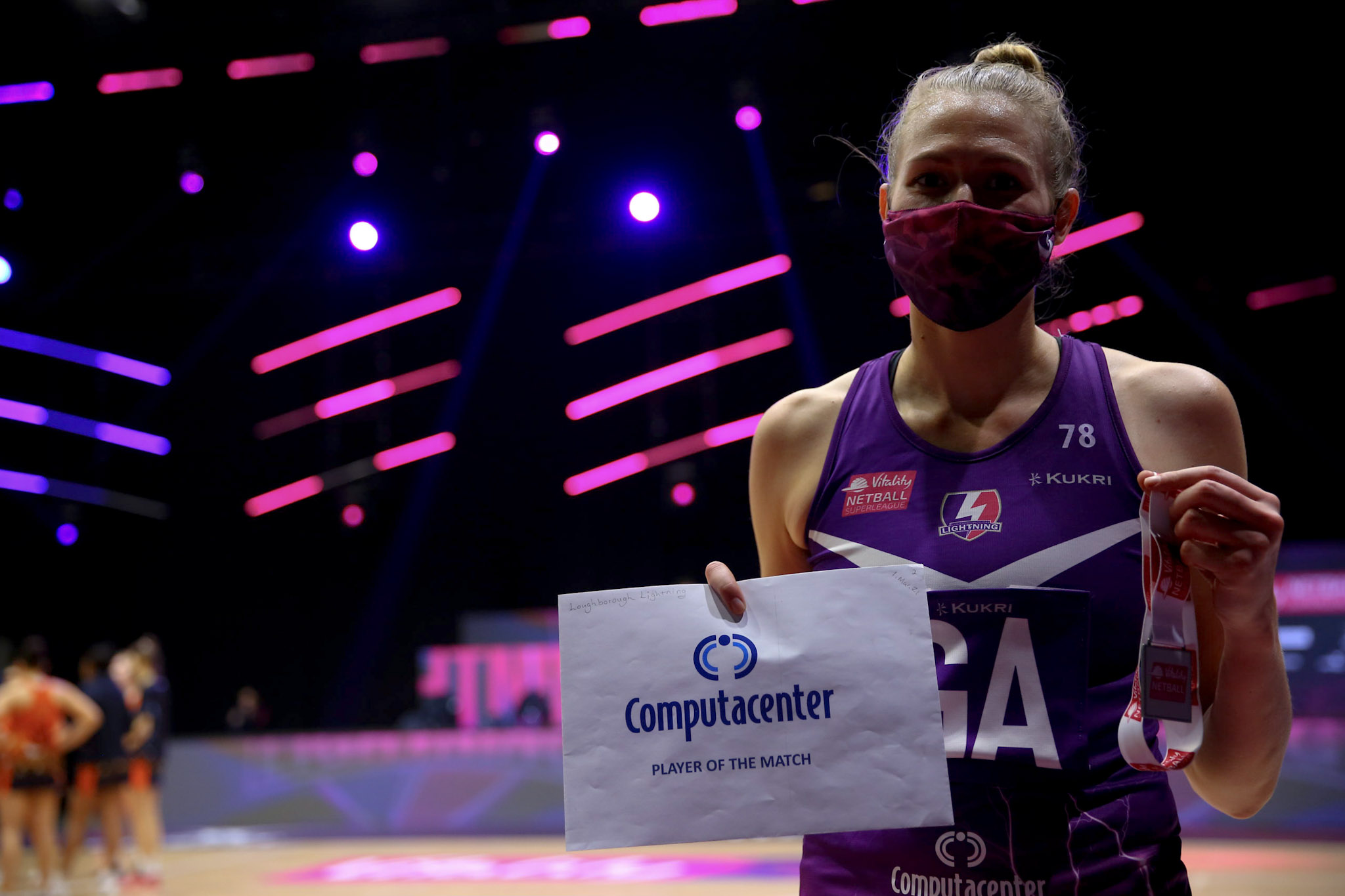 Photo by Ben Lumley
"We never underestimated Stars; we knew they were going to make us work for it. We weren't happy with the first half, so we said to each other that we really needed to come out in the second half and grind it."

"I think there's still work to do, there's still connections to build but it's a good starting block for us, we're only five games in but I still want to build.
Clark commented on the need to remain consistent despite changes to the starting line-up:
"We do so many combinations in training so they're not new to us but it's just trying to start those connections off well each game no matter what they are."
Looking ahead to the rest of the season:
"We're definitely where we want to be, we were disappointed with the result of the Team Bath game but we're still building and it's still early on in the season. We definitely have more to give."
After a successful weekend, Head Coach Sara Bayman spoke of the need to provide consistently good performances:
"There's a lot we're not satisfied about today, I think it was good that the girls got through it and they battled their way through it. I think a lot of teams will look at that game and say 'oh this is what we can do' but to be disappointed with a 28-goal win is a pretty good place to be at."
Commenting on her rotation of the bench:
"We made a couple of changes today and I think had they been against another side they would have been effective. Credit to the girls that came into the changes that we made, they did a really good job, Sam May came in and made an impact as did Lauren Nicholls."

"It was really about building. Games like that you've got to work hard in the first half to have the rewards in the second half and they were able to come in and reap what the starting seven sowed."
Loughborough Lightning will now take a well-earned break with the league's first BYE week next weekend before returning to face Surrey Storm on Saturday 13th March at 2pm.
You can witness all the action LIVE on Sky Sports Youtube.
To view all Lightning's upcoming fixtures, click here.