Grinding out a second win in as many days, the nail-biting encounter with the capital-based side saw the score line to and fro throughout the game with neither team comfortable until the final whistle sounded, with Lightning claiming a 52 – 40 win over London Pulse.
Picking up from where they left off on Saturday afternoon, Head Coach Sara Bayman maintained her starting seven, eager to once again create a wide enough gap to allow opportunity to rotate the bench.
Fresh onto court for the first time this weekend, opposition London Pulse however came out of the blocks quickly, forcing error from the Lightning side and keeping the score line tight throughout much of the first quarter. With captain Halimat Adio wreaking havoc on Lightning's famous pass into Cholhok, the home side were forced to look for other options.
End of quarter one: Loughborough Lightning 10 - 11 London Pulse
Keen to rewrite the mistakes of the opening quarter, Lightning returned to court with a fierce determination. Despite showing signs of fatigue, the mid court trio of Panagarry, Cobden and Joseph applied pressure to the Pulse attack, pushing their centre passes wide and creating opportunity for turnover. Mid-way through the quarter Bayman began to make changes, swapping out Clark for Liverseidge in the attacking circle. Calmly coming into a pressured situation, Loughborough University student Suzie Liverseidge opened up space in the centre pass and adding depth to the second phase before the ball was fired into Cholhok to convert.
Half-time: Loughborough Lightning 24 - 20 London Pulse
The second half got underway with Bayman making more changes to her side. Young defender and former London Pulse athlete Jas Odeogberin stepped up to the mark in the goal defence position with the intention of a fresh take on the task ahead. Far from comfortable with only a four-goal lead, Lightning fought tooth and nail for every ball despite Pulse's defence doubling up on Cholhok and breaking down the incoming ball time and time again. Liverseidge however, provided vital back up, confidently taking shots from wide in the circle to continue Lightning's points tally.
End of quarter three: Loughborough Lightning London Pulse
With just twelve minutes standing in their way, Lightning used all they had left to push on, close down Pulse's attack and grind out the win. With increasing volume from Lightning's bench, May returned to court and immediately snatched a flying interception, feeding the ball straight through court and into the towering hands of Cholhok for a quick clean shot at goal. Not ready to lie down, Pulse continued to hassle every ball and keep the pressure levels at an all-time high until the dying moments of the game.
Full-time: Loughborough Lightning 52 - 40 London Pulse
Leading from the front with a dominant and confident display, skipper Nat Panagarry earnt herself a second Computacenter Player of the match award.
Reflecting on the physical contest Lightning faced, Nat commented:
"It really wasn't pretty, but it was a great game, I thought Pulse were absolutely phenomenal. I'm not sure how I was player of the match today, the girls were unbelievable, the defence they were just relentless, Beth Cobden, Alice Harvey, Sam, Jas, all phenomenal. It was ugly but I'm just so happy we got the win on a big double header weekend."
Head Coach Sara Bayman was keen to share the lack of energy within the camp leading into the fixture:
"We saw quarter one coming from the warmup, we felt a bit flat, and the energy wasn't great from the girls heading into this match. We knew we had the capability to play against that Pulse defence but we also knew that they were going to cause us problems and we allowed them to cause us a lot in that opening quarter. It was about remaining calm under pressure; we talk about wanting pressure situations and we got one."
Looking at her options on the bench, the changes Bayman made throughout the game proved positive:
"The Suzie, Ella option in goal attack changes our attack end completely and I think Suzie did a really good job today of running a lot of the top of the circle and opening up some space for our other mid courters. I'm really pleased with the impact she made when she came on."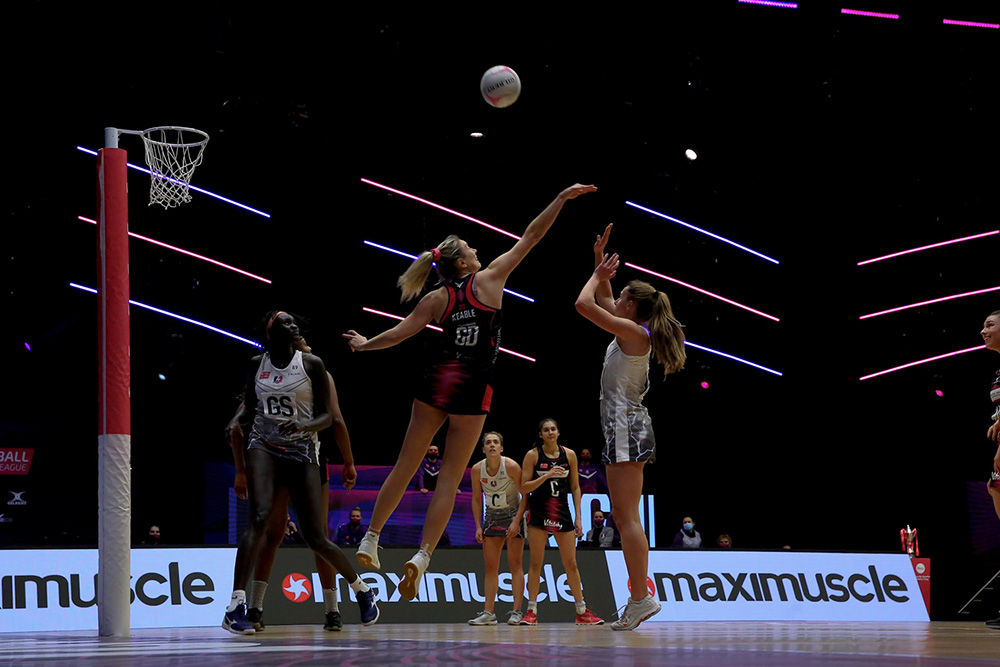 ‌(Photo credit: Ben Lumley)
Commenting on the importance of high-pressure games to a side's development, Bayman said:
"We want pressure situations because we need them, and we got one today. We did find out a lot about our side today, some of the players were having an off day and it's good that we can come through that, so it was really good that other girls picked up the slack on their behalf, I think Beth Cobden at some points was single-handedly keeping us in the game"
Lightning are back in action for round seven of the Vitality Netball Superleague, taking on Strathclyde Sirens on Sunday 28th March at 4pm.
You can witness all the action LIVE on Sky Sports YouTube Channel.
To view Lightning's upcoming fixtures, click here.