Pre-season friendlies, the signing window and intense fitness routines all look to maximise the clubs' impact on return to VNSL action every year.
One player who faced a different experience than usual to return to court this year was Lauren Nicholls – known fondly as 'Steaders' – Loughborough Lightning fan favourite and new mother to baby girl Maya.
Nicholls has been part of the Superleague scene for a number of years now and, having been raised in the Midlands, was brought up through Lightning's pathway and she has stayed with them since making her senior debut in 2012.
The 29-year-old has been an integral part of the squad and has made an impact for her side in the mid-court this year as Lightning sit on top of the league after four rounds of the 2021 campaign.
Due to the enforced conclusion of the 2020 season due to the COVID-19 pandemic, this will be Nicholls' first full season since giving birth in 2019.
"I gave birth in the August and signed my contract for Lightning a month before that with no real pressure of when my exact return date was going to be. We just knew that there was an intention for me to be back on a Superleague court at some point within the season.
"When I returned she was so small and was a lot more reliant on me. I was breastfeeding at the time, so she was having to be with me before and after training and travelling around with me.
"It's a lot more straightforward now she's 18-months-old; she walks, she talks, she's a great laugh. She can have time at home with her dad and then I can go off and have that focused time on netball, so it's a little bit more straightforward now she's a lot older.
"I wanted to keep that identity of being a sportswoman so coming back on to court was really important for me and made me the best version of me. I felt like I could be a better mum for it."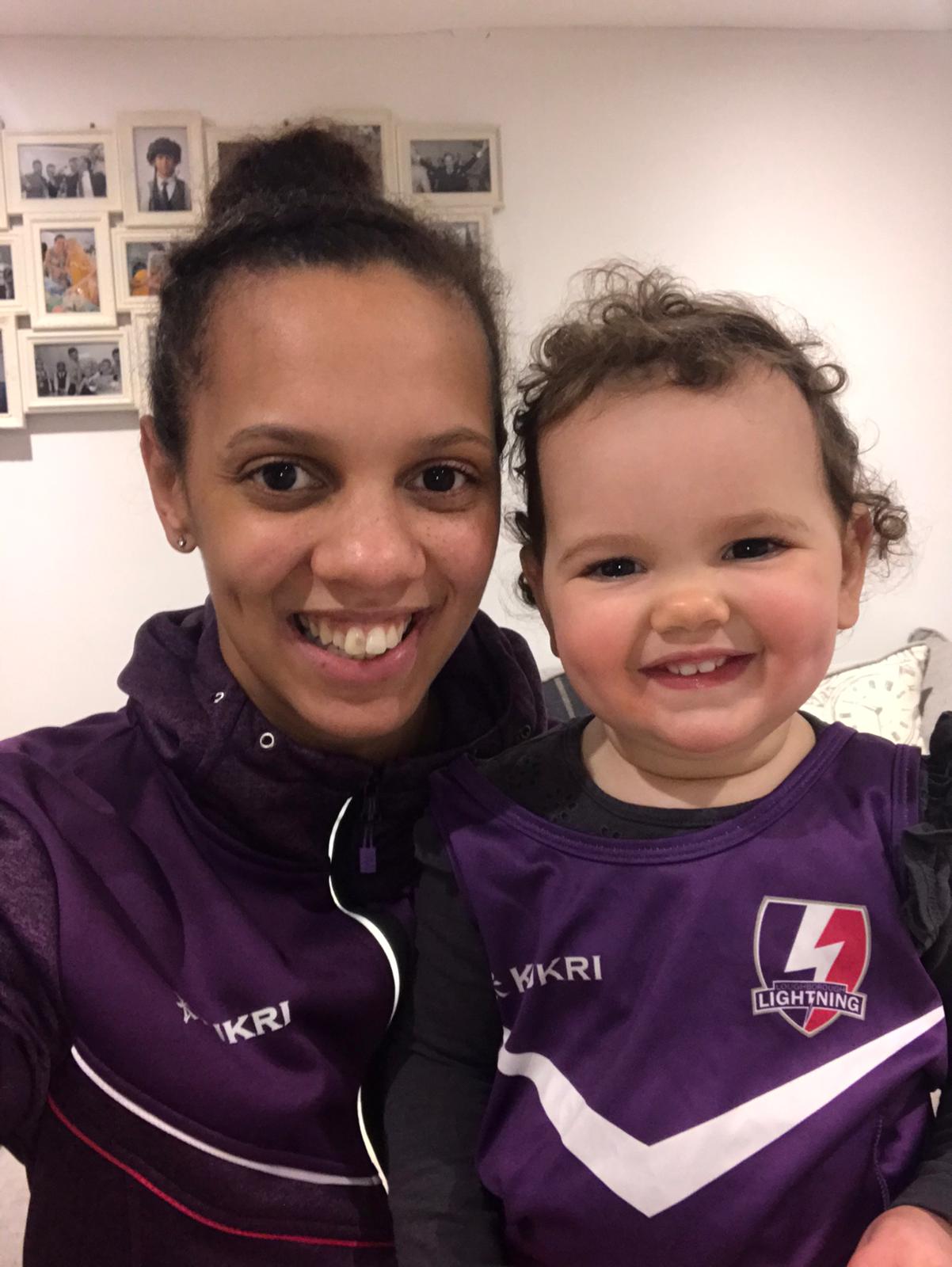 Nicholls had to take a step away due to maternity leave in 2019 but had previously had her court time restricted due to an ACL injury which saw her side-lined for 14 months.
Despite the challenges that come with returning from both, the mid-courter was determined to step out on court again.
She achieved this as a substitute in a game against Manchester Thunder in 2020 and has made several VNSL appearances so far this term.
"It's a huge achievement. It's all the things that people don't see behind the scenes. I had to stay active throughout my pregnancy so, as soon as Maya was born, I could take my time appropriately for getting back to court.
"I'd emailed Sara [Bayman] back at Lightning when Maya was two weeks old and we knew that I was wanting to come back soon. So, working with our wider coaching team, we had a gradual return to play that was a really clear pathway. They were really supportive.
"The girls were so accommodating and welcoming, it was like I'd never left. It wasn't anything new that I was taking up and I felt like my body was strong and able to do that, so I wanted to carry on."
Nicholls is just one of many athletes who have chosen to start a family and later returned to play at the elite level of the sport.
Preparing for a new Vitality Netball Superleague (VNSL) season is always a difficult task for clubs, players and staff as they all gear up to achieve their lofty ambitions over the next few months.
As well as Nicholls, Wasps captain Sophia Candappa and Team Bath Netball's Eboni Usoro-Brown are all making regular appearances this season after recently becoming new mums. The three now keep in contact over text.
Nicholls – who says Maya is now firmly a Lightning fan – believes that this can inspire the next generation of athletes who want to start a family.
"It's so important that we keep celebrating that we are strong women that have given birth, come back on to court and want to compete at that level. Hopefully, people can see that and think they've got the power to do so as well.

"Gone are the days where netball stops when you become a mum. It's celebrating that you've got a new person in your life that you're wanting to give everything to and give the best start in life, but without having to stop your own.
"It's really good to have those challenges off court and show how you are stronger because of them and then you can go out and showcase that on court.
Nicholls is now able to balance motherhood with netball and also with her job as Head of Netball at Oakham School, meaning she is fully invested in Lightning's top four challenge.
With her daughter watching all the games back home on Sky Sports, Nicholls knows the important of role models and what days like International Women's Day can mean.
"It's fantastic that we can keep pushing for that equality. For me, it's not really about comparing us to men's sport, but just celebrating what we're doing and really concentrating on us.
"Even from when Maya was really young, she was reading books and seeing things to make sure that she has female role models in a sporting sense and in the wider world. She needs something that she can look up to. If she can't see it, she can't be it, so we need to be getting those role models out there.
"I can show my daughter what she can aspire to be. We had a few role models when I was growing up but now it's fantastic you've got that sort of media space and we want to keep pushing for more role models for young girls."
International Women's Day takes place on 8 March 2021 with the campaign theme of #ChooseToChallenge. From challenge comes change, so let's all choose to challenge.