Lightning returned to action for their penultimate game of the regular Vitality Netball Superleague season, eager to put one past the reigning 2019 champions and rewrite their 50 – 59 defeat from round nine.
Having both already confirmed a place in the semi-finals, the two teams still had all to play for, with the result of the game determining who would claim the 'home' semi-final fixture.
Stepping out with all guns blazing, the two sides left nothing on the side-lines as the intensity ramped up as soon as the opening whistle sounded. Boasting a pillar of strength in both shooting circles, Thunder's Joyce Mvula reaped the rewards of Cardwell's confident long feeds whilst Lightning's dynamic duo Clark and Cholhok worked the circle in style. Using their experience from the Vitality Roses programme, Panagarry and Cobden meanwhile worked tirelessly to shut down Thunder's attack and disrupt their flow. The reigning champions however remained unphased and ended the quarter ahead.
End of quarter 1: Loughborough Lightning 9 – 16 Manchester Thunder
Making changes to her side in the second quarter, Head Coach Sara Francis-Bayman brought young England U21 attacker Suzie Liverseidge into the mix, with Clark moving into the goal shooter position. Providing a new option on the circle edge, Thunder left little time to adjust, eager to shut down the game as early as possible. Unable to lower their error rate however, Lightning went into the half time break still trailing by ten.
Half-time: Loughborough Lightning 20 – 30 Manchester Thunder
Citing the need for more discipline, captain Nat Panagarry led her team back on court for the second half, determined to change the score line and bring the game back into their own hands. Returning to court for her second outing since injury, Alice Harvey brought height to Lightning's defensive circle, whilst mid game changes to centre and wing defence gave skipper Panagarry the opportunity to witness the errors and changes needed from the side-line.
End of quarter 3: Loughborough Lightning 31 – 45 Manchester Thunder
With just fifteen minutes remaining, a huge push was the focus for Lightning and with a margin of fourteen points between the two sides, they needed to muster every ounce of energy to get over the line. Cholhok returned to the goal shooter spot and as the league's leading goal scorer, she continued to add points to her tally whilst Lauren Nicholls provided a fresh outlook in defence. With five minutes remaining, Panagarry returned to wing defence leaving Cobden to run the court at centre. As time ticked down, Lightning had left themselves a mountain to climb and with Thunder capitalising on their unforced errors, they eventually fell to defeat at the sound of the buzzer.
Full-time: Loughborough Lightning 46 – 60 Manchester Thunder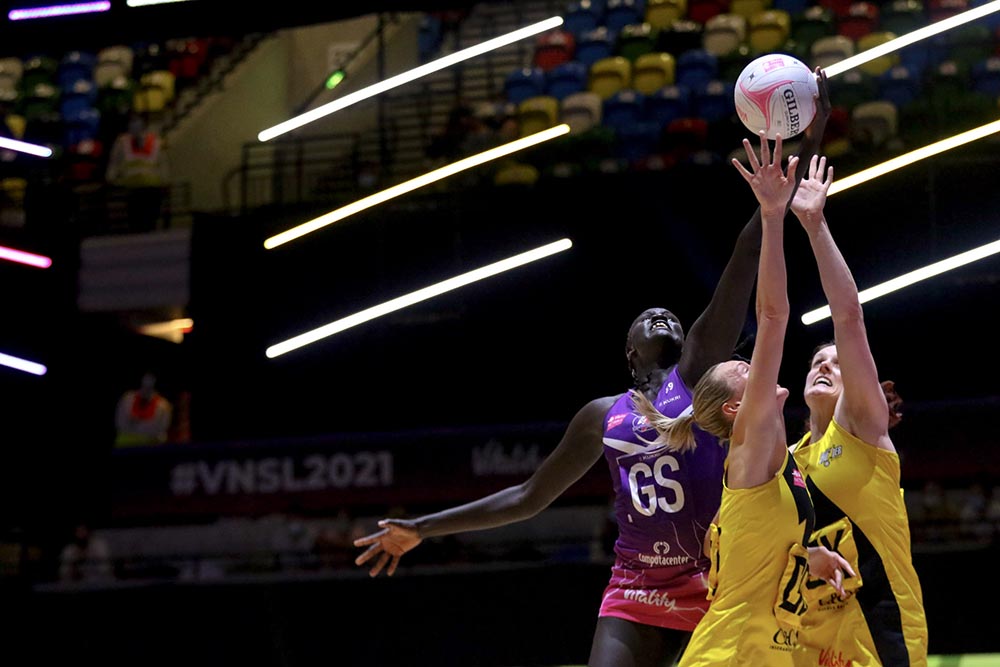 (Photo by Ben Lumley)
Of her team's performance, Head Coach Sara Francis-Bayman commented;
"I don't think we ever really got into the game and if we're being honest about it the last quarter was probably better for us, but we gave too much ball away, way too much goal. We made a lot of individual errors, I thought we were really flat tonight, the energy just wasn't there, and Thunder is going to make you pay. We knew that we'd have to be good tonight and we weren't."
When asked about the possibility of the poor performance being due to end of season fatigue, Francis-Bayman responded;
"I don't know to be honest, it could be. If it is end of season fatigue, we need to get rid of that quickly because we need to be peaking now rather than hanging on. Tonight has certainly given us a kick up the backside that's for sure. It's vital for us to go into the game against Team Bath next week and finish the season well. We need some real momentum going into semi-finals."
Looking ahead to next week's clash;
"Bath is going to be exceptionally hard. They're coming off a loss as well, so I think both teams are really going to want that one, but we've got a lot to fix. The defence wasn't great tonight, our attack wasn't great, so we need to go back, fix it up and try and make sure that we come out a lot stronger than we did tonight."
Lightning return to court next Monday night (21st June) at 7.15pm to face current table toppers Team Bath in the final match of the regular season.
Be sure to witness all the action LIVE on Sky Sports.
Tickets for the finals weekend will go on sale on Friday 18th June with an exclusive pre-sale window for Loughborough Lightning members on Wednesday 16th June at 9am.
Keep an eye on our social media channels for all the latest news and ticketing info.