A slow start to the match saw Lightning take their time to adjust to the pressures of finals netball and set their pace accordingly. Coming into the match after a three week break due to isolation, away side Leeds Rhinos stepped on the gas and kept the score level before pushing ahead at the close of the quarter.
Far from over, Lightning returned to the match to exert their dominance and treat the crowd to a performance worthy of a table topping side. Using speed, precise execution and dominance to apply pressure, Lightning soon had the lead they sought after.
The second half gave Lightning the comfort needed in order to rotate their bench with a lead of sixteen and in doing so giving key players opportunity to save their energy for the impending grand final clash the following day.
Inserting Alice Harvey into the defensive circle saw an immediate impact with the young goal keeper stealing incoming ball from a flailing opposition. A tumble in the shooting circle saw Mary Cholhok pause play, with Ella Clark moving into the goal shooter position, leaving space for Suzie Liverseidge to add a new dimension to Lightning's attack in goal attack.
Despite the changes made, Lightning continued to add points to the board and run the clock down, ending the game with an emphatic twenty goal victory.
With semi-final number two taking place immediately after the close of Lightning's clash, the side returned to the crowd to await their fate and gain key observation of their potential upcoming opposition.
Announcing her retirement from professional netball earlier in the week, VNSL stalwart and three-time champion Sam May saw out her penultimate game in style, claiming the Computacenter Player of the Match award in doing so.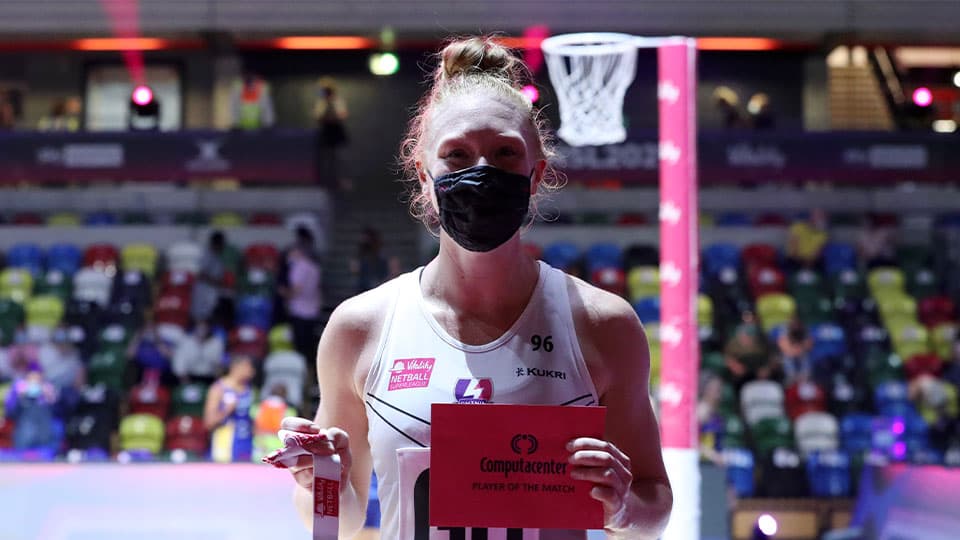 (Photo by Morgan Harlow)
"The amount of work that we've done over the last three days has been incredible and it just shows the commitment of every single member on that team. Everyone wants this so bad and why not!? Let's go for one more.

"We've just worked so hard this season; we've been building from last season and it just shows testament to these girls how much work we're doing and we just want to get on court and that's all we did today. I'm so proud of the side."

"I think it was be the icing on the top of an incredible season. I've loved every minute of playing this year and what a way to go! Win or lose I'm just looking forward to getting out there tomorrow!"
Head Coach, Sara Francis-Bayman was keen to comment on the improvements needed in her side's performance;
"We struggled first half and I think you could really see the nerves out there. Hopefully we've got it out of our system today so we can go out tomorrow and just play and enjoy it. Credit to Leeds, they did a really good job today. We just need to tighten up a bit, there's plenty to work on ahead of tomorrow."

"It's been a squad effort all year and I hope for Suzie's sake that she's able to take part tomorrow but we also have a bench that can come on and do a great job and I'm really proud of the impact they made today."
Having competed in three grand finals, Lightning have never lifted the coveted trophy, but Francis-Bayman shrugs off the pressure that history poses;
"It was a weird game; I think I need to keep a lid on my emotions today because if I start, I won't stop. A lot of people have said what an exhausting season it's been and it really has."

"Tomorrow is going to be a massive release for everyone and we've got one more game. We really just want to express ourselves more, today we looked a bit restricted and I really want the girls to just go out tomorrow and enjoy the occasion and give our opposition the best possible competition."
Lightning are back in action in just over 24 hours, ready to take on Team Bath in the 2021 Grand Final. Tune into Sky Sports from 4.30pm to witness all the action unfold.
Scores:
Q1: Loughborough Lightning 13 – 14 Leeds Rhinos
HT: Loughborough Lightning 31 – 23 Leeds Rhinos
Q3: Loughborough Lightning 46 – 30 Leeds Rhinos
FT: Loughborough Lightning 58 – 38 Leeds Rhinos