The 30-year-old is captaining the squad which has retained the services of Australian star Sam May and added Beth Cobden, who helped the franchise reach back-to-back Grand Finals in 2017 and 2018 and has now returned from a spell with Adelaide Thunderbirds.
Lightning begin their 2021 season with a double-header against Team Bath and Wasps this weekend as the new campaign gets underway at Studio 001 in Wakefield, which will stage the first nine weeks of matches before the teams head to London's Copper Box Arena for the remainder.
Consistent play-off finishes in recent years have not yet translated into silverware for Lightning but Panagarry identified the squad's strength in depth as a reason why that could change this time around.
"Squad rotation will be massive for us," she said. "Over the years, people have probably known our starting seven as we have lacked a bit of depth.

"But this season could be really special. Our young girls are really stepping up now, so it's an exciting team.
"The likes of Beth Gabriel, Suzie Liverseidge and Annabel Roddy have been fighting for opportunities and this season will bring them. And in defence, Jazz (Jasmin Odeogberin) has a reach like I've never seen. She will be a nightmare for attackers.
"Anyone could take to the court, we all have so much faith in each other. We can keep rotating, keep it fresh and keep other teams thinking. That will be key for us and hopefully it can get us over the line."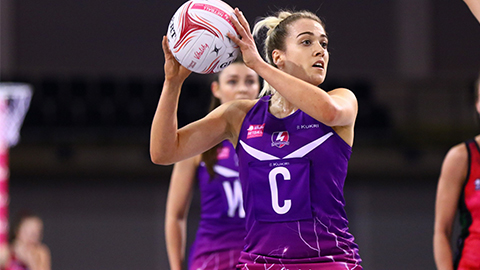 Panagarry has warmed up for the new campaign by representing the Vitality Netball Superleague All Stars against England in a three-match series, showcasing the best the domestic game has to offer.
The contests gave the experienced centre an insight into how tight this year's competition is set to be and with talent spread across the 11-team league – which this year includes Leeds Rhinos for the first time – and Panagarry believes a few surprises could be in store.
"There is not one team you can write off," she said. "It shows how far the Vitality Superleague has come, with the names we have – not just the import players, the homegrown players too.

"I have been a part of it since I was 18 and it's leagues away from where we've been. We can't take our foot off the pedal – every game will be a battle and I can't wait."
A landmark broadcast deal will see every match this season televised by Sky Sports, ensuring Lightning fans don't have to miss a minute of their side in action.
Putting smiles on the faces of supporters is a key motivator for Panagarry, who believes the league's return will illustrate the strength of the netball community, as they bid to Rise. As One.
"It's not just about us as players – it's the coaches, officials and all the young girls who play," she said.
"We absolutely love the sport and want to make sure it is going in the right direction – and broadcast deals like the one we've got are a huge step in doing so.

"We are so grateful for the work that has been done behind the scenes to allow us to play again and we can't wait.

"We are going to put performances out there for the netball family, make it exciting and give them the best matches to enjoy until they can all get back to playing."
Lightning kick start their campaign with a return to 2019's semi-final clash against Team Bath on Sunday 14th February at 2pm.
Fans can watch the match live on Sky Sports Youtube here.
To view all of Lightning's upcoming games, please visit their fixtures and results page.