No stranger to close encounters, these two sides have become famous in the netball world for producing 'down to the wire' matches that could swing in either side's favour. Having pipped them to the title in two consecutive years, Lightning's clash with Wasps has always been faced with a playful vengeance and has now been nicknamed 'The Battle of the Midlands'.
Taking to court for the second time in as many days, an unchanged Lightning side were eager to correct their previous mistakes from their Sunday afternoon defeat to 2019 runners up, Team Bath.
Both sides shot off the mark quickly on the first whistle, eager to claim the opening points and take an early lead. However, with each centre pass, it was clear neither side wanted to be the first to make a mistake and open up an opportunity for the opposition to capitalise.
Using the circle edge to provide support, Lightning's attack kept the ball safe and created opportunity to land the ball safely in Cholhok's hands, perfectly under the net. Facing both Wasps defenders, Cholhok remained calm, as the pressure mounted.
Ending the first quarter behind by just two points, Lightning regrouped and returned to court focussed and ready to push on.
Quarter 1: Lightning 11 - 13 Wasps
Using her speed and dominance on the centre court, captain Panagarry lost Flanagan on the circle edge and confidently fed strong ball to Cholhok who treated the fans watching at home to many of her famous lay-up style shots.
Providing depth for both attack and defence and allowing them to deliver the ball down court, returning stalwart Beth Cobden gave reassurance and stability to her determined teammates.
Half-Time: Lightning 22 – 23 Wasps
Just one goal between them, fans tuning in from the comfort of their homes eagerly awaited the return to court, the anticipation building to find out who would turn the famous third quarter into their 'winning quarter'. With a newfound confidence, Lighting stepped out and pushed on, treating fans to strong through court play before sending the ball into their pillar of strength in Cholhok. Despite it being only her second outing in the Superleague, Liverseidge showed no signs of nerves, continuing to take shots at goal and provide support for her partner. Panagarry's speed in releasing the centre pass kept Wasps on their toes, however their increased physicality in defence kept the opposition ahead by one going into the final quarter.
Quarter 3: Lightning 32 – 33 Wasps
With just 12 minutes left on the clock, both sides had all to play for in the final quarter. Moving May to the goalkeeper position, Head Coach Sara Bayman used the depth in her squad to exert dominance and keep the opposition questioning. With Parize adding a new dimension to the shooting circle, Wasps needed to adjust to the new style of play, whilst an unphased Lightning used the opportunity to push on. As the clock ran down, the noise increased as both sides fought hard to keep the ball safe and minimise mistakes. The buzzer sounded in favour of Lightning who with just a one goal lead, took their first win of 2021 and celebrated in style.
Final score: Lightning 44 – 43 Wasps
After a match winning performance, fending off Wasps' famous defensive unit for the entirety of the match, Ugandan International Mary Cholhok was deservedly named Player of the Match.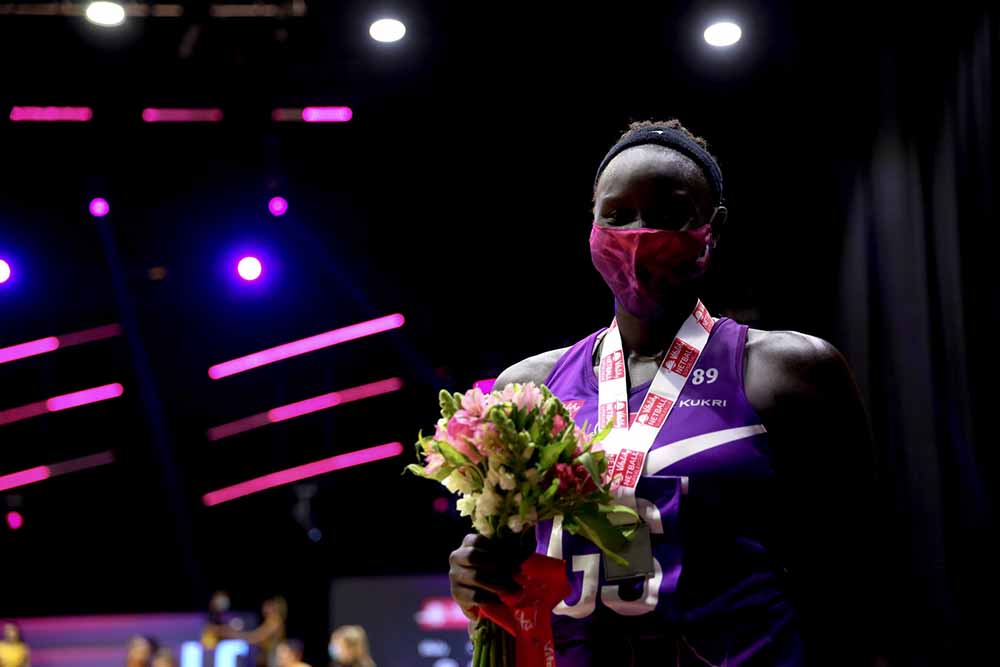 (Photo credit: Ben Lumley)
Of her award, Cholhok commented:
"It has been a long year without netball and now we feel like we have to give it all we've got and that's why you see the intensity, the love and the morale. It's just so amazing to be back on court playing netball.

"We last played Wasps in 2019 so we reviewed the last game and the last few games they played. This win gives us the confidence to know that if we keep our heads up, we can achieve anything!"
After bouncing back from a disappointing defeat in round one, Head Coach Sara Bayman commented on the importance of such wins for her side.
"I always knew we were in the game, with three minutes to go, even though we were down but these Wasps games, there's just something about them.

"It was big for us today, after starting with a loss yesterday and with Mavericks coming up next week, we got a tough run of fixtures and so needed some points on the board. You saw how hard our girls fought for it today and it's so pleasing to see that we can come from a losing position to nick a win like that. It stands us in good stead for the battle that's ahead."
Lightning are back in action for round three of the Vitality Netball Superleague next weekend when they face Saracens Mavericks on Sunday 21st February at 2pm.
You can catch all the action live on Sky Sports Youtube channel.