After suffering defeat on Easter Sunday to reigning champions Manchester Thunder, Lightning headed into the double header weekend with a fierce determination to right their wrongs and get off to a strong start. Facing Sirens just two weeks previous in round eight, Lightning claimed victory by just five goals with a 43 038 final score and a shaky start. Havin gained the opportunity to look back on the match and work hard on their errors, lightning aimed to push that victory wider in Friday night's match.
Opening the weekend's proceedings with a one-minute silence to honour HRH Prince Phillip, The Duke of Edinburgh who sadly passed away on Friday morning, both sides stepped onto court wearing black arm bands as a mark of respect.
Storming out of the blocks, Lightning quickly ran up a 5-goal lead, within three minutes of the opening whistle. Left floundering Sirens had to quickly adjust to the fast tempo set by Lightning who were eager to lay to rest last week's defeat.
With Ella Clark claiming the starting goal-attack bib this week, her cool and confident passes into Cholhok saw the side clock up points as Cobden and Panagarry closed up Siren's circle edge, leaving little room for a pass into the shooters. Lightning ended the opening quarter with a four-point lead.
End of quarter 1: Loughborough Lightning 14 - 10 Strathclyde Sirens
Despite maintaining their lead, Lightning's feed into the circle began to falter in the second quarter with looped passes into Cholhok quickly stolen by Sirens' star signing for 2021 Malawi goalkeeper Towera Vinkhumbo. Having been double marked for most of the match so far, Cobden constantly changed her position to keep Sirens' attack guessing, whilst captain Nat Panagarry pushed her opponent Gia Abernathy on every pass and starved the Sirens mid court of a seamless connection.
Half-time: Loughborough Lightning 25 - 23 Strathclyde Sirens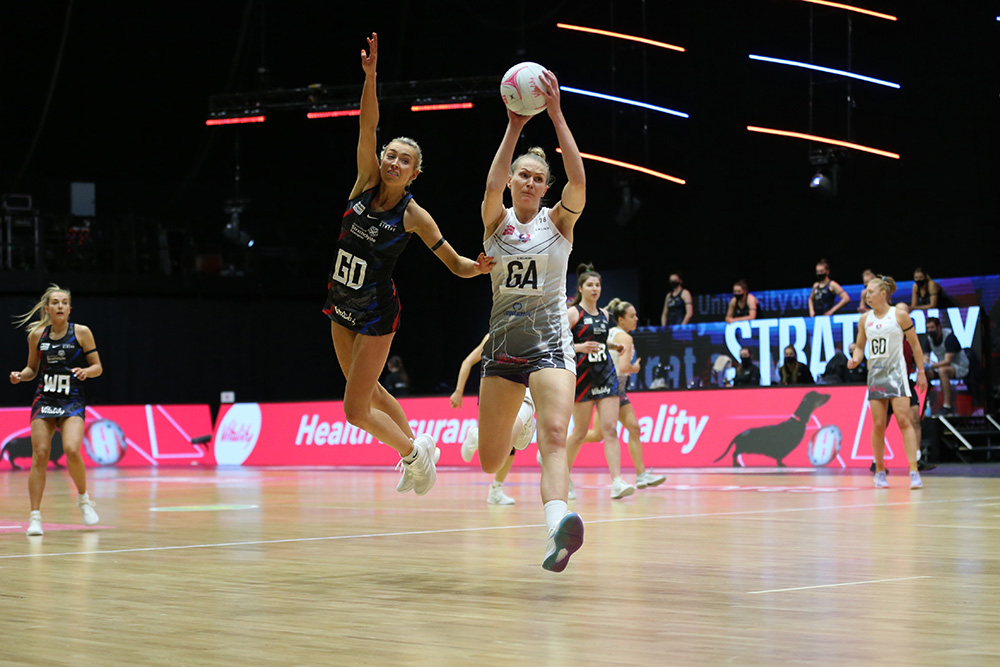 (Photo Credit: Morgan Harlow)
With just two points separating the two sides, Head Coach Sara Bayman switched up her line-up for the second half, bringing young guns Suzie Liverseidge and Jas Odeogberin on to the goal attack and goal defence positions.
Creating an instant momentum shift, Lightning meant business and with Odeogberin challenging each and every ball that came her way, Sirens once again needed to regroup and readjust to a ferocious Lightning side. Providing speed and more options on the circle edge, Liverseidge opened up additional opportunities for a shot at goal whilst Joseph's pinpoint feeds to Cholhok allowed her to maintain her 85% shot success rate. With just one quarter standing between Lightning and victory they headed into the final minutes of the game with a comfortable 15 goal lead.
End of quarter 3: Loughborough Lightning 43 - 28 Strathclyde Sirens
Eager to put the game to bed, Lightning returned to court aiming to maintain their lead and rotate the bench, which is exactly what they did. With just 8 minutes left on the clock, Bayman allowed her starting line-up a well-deserved rest whilst rewarding her replacement players with valuable court time. Boasting a twenty-goal lead, Lightning ran down the clock and extended their score, unable to close the gap, Sirens also used the opportunity to change up their squad bringing young players into the mix as the seconds ticked down.
Full-time: Loughborough Lightning 61 – 35 Strathclyde Sirens
After another dominant display on court, Vitality Rose Beth Cobden earned herself another Player of the Match Award;
"We really needed a good performance. We had a big loss last weekend and a few of our recent performances were down from the level we want to be at, so it was great to get everyone on court today and get a good win. Last week was a wakeup call at a good point in the season and it's got us back on track."
Head Coach Sara Bayman also reflected on her side's performance;
"I was happy with the girls today, we talked about what we wanted to do during the week and whilst we didn't do it for the whole match, the second half performance was really pleasing to see."
When asked about her changes at half-time Bayman commented:
"We were starting to get a bit static in attack and if Suzie brings anything it's movement, so I thought she had an outstanding second half particularly and Jas challenges a lot of ball for us. They did well!"

"Sirens are such a tough team, so we're relieved to have those two games out of the way and to get two wins under our belt as they're definitely a side that are going to trip someone up very soon!"
The competition for the starting goal attack bib this season has become one of the most talked about positions within Bayman's squad:
"We talk about competition for places and Suzie stuck her hand up today and said, 'I want that bib' and we saw Ella come back on at the end and start shooting the lights out and that's what she can do and I'm happy that they want to fight for those spots. They bring very different styles to the game and today we could see that and how well it could work for us."
Lightning are back in action in a number of hours as they face Celtic Dragons on Saturday 10th April at 6pm.
You can witness all the action LIVE on Sky Sports YouTube.