Coming into the game on a high, after securing victory over Strathclyde Sirens on Friday night, Head Coach Sara Bayman switched up her usual starting seven line up, rewarding young Loughborough University students' Jas Odeogberin and Suzie Liverseidge a starting spot with Lightning stalwart Lauren Nicholls also claiming an opening bib.
With Celtic Dragons yet to secure a win in the 2021 Vitality Netball Superleague season, Lightning aimed to match their strong start from the night before, and in doing so gained a seven-goal run in just a matter of minutes. Having faltered in previous weeks in their feeds to Cholhok, Lightning showed no signs of error, with Joseph and Panagarry delivering pinpoint balls to their 6ft7 Ugandan shooter time and time again. A ruthless side, Lightning continued to hunt down the opposition, securing a seven-goal early lead at the end of the opening quarter.
End of quarter 1: Loughborough Lightning 15 - 8 Celtic Dragons
Switching up the shooting circle, with Lucy Parize taking on the goal attack bib, Lightning continued their relentless pursuit, with quick delivery through all phases of attack before Cholhok sunk the ball. Securing a whopping 17 turnovers in just 12 minutes, Lightning pushed on and left Dragons struggling to adjust, unable to convert their centre pass and allowing Lightning's score line to run away.
Half-time: Loughborough Lightning 32 - 12 Celtic Dragons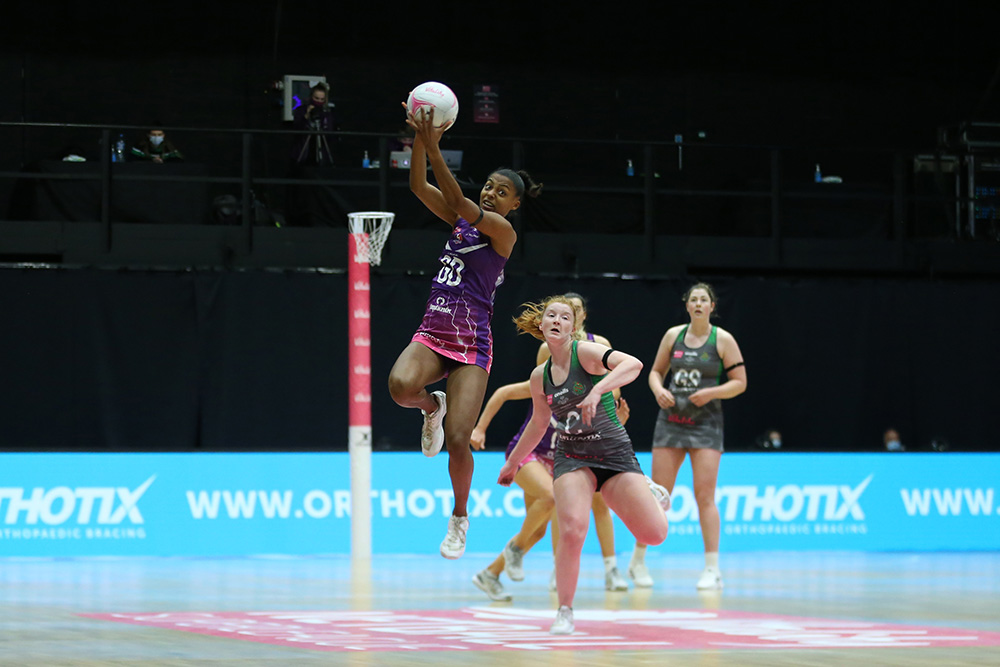 ‌(Photo Credit: Morgan Harlow)
Making more changes, Bayman rotated the bench adding Sam May, Annabel Roddy and Beth Cobden to the mix. Hassling each and every pass, Lightning turned ball after ball and with cool and calm long range shooter Lucy Parize confidently sinking shots out wide, the gap continued to widen. Injecting England U21 Hannah Williams to the centre court, Lightning converted 100% of their centre passes with a goal and Dragons once again found themselves having to readjust to a seemingly unphased opposition.
End of quarter 3: Loughborough Lightning 56 - 19 Celtic Dragons
Closing out the game in the final quarter, Lightning's numbers began to impress. Tallying up an unprecedented 50 turnovers in just 48 minutes and with Mary Cholhok maintaining a 90% shot success rate, Lightning's final score line saw them break the record of 'most goals scored' in the 2021 season so far, topping a record already held by themselves from their previous encounter with Leeds Rhinos in round four.
Full-time: Loughborough Lightning 76 - 23 Celtic Dragons
Having returned to Wakefield this weekend after a difficult loss to reigning champions Manchester Thunder last week, Head Coach Sara Bayman shared her pleasure at her team's turnaround:
"I'm really happy with today, they played well, they competed for the entire game and it was the complete performance today, so we've got to take that and get the positives from it."
Of her changes Bayman commented:
"We were very keen to give people opportunities surrounded by strength today, we didn't want to just make wholesale changes, we wanted to put combinations out there and give people a real opportunity to put their hand up for a starting seven spot. I think most people did that today and I'm really, really happy with everyone that came on and the job that they did."
Looking ahead to the second half of the season, Bayman noted the timeliness of the break:
"We're really looking forward to this natural break halfway through the season just to sit down and look at where we're at, where do we want to go, and I think it's a nice opportunity for us to regroup and start afresh."
Aiding the side in securing their impressive result, Loughborough University student Suzie Liverseidge was deservedly named Player of the Match;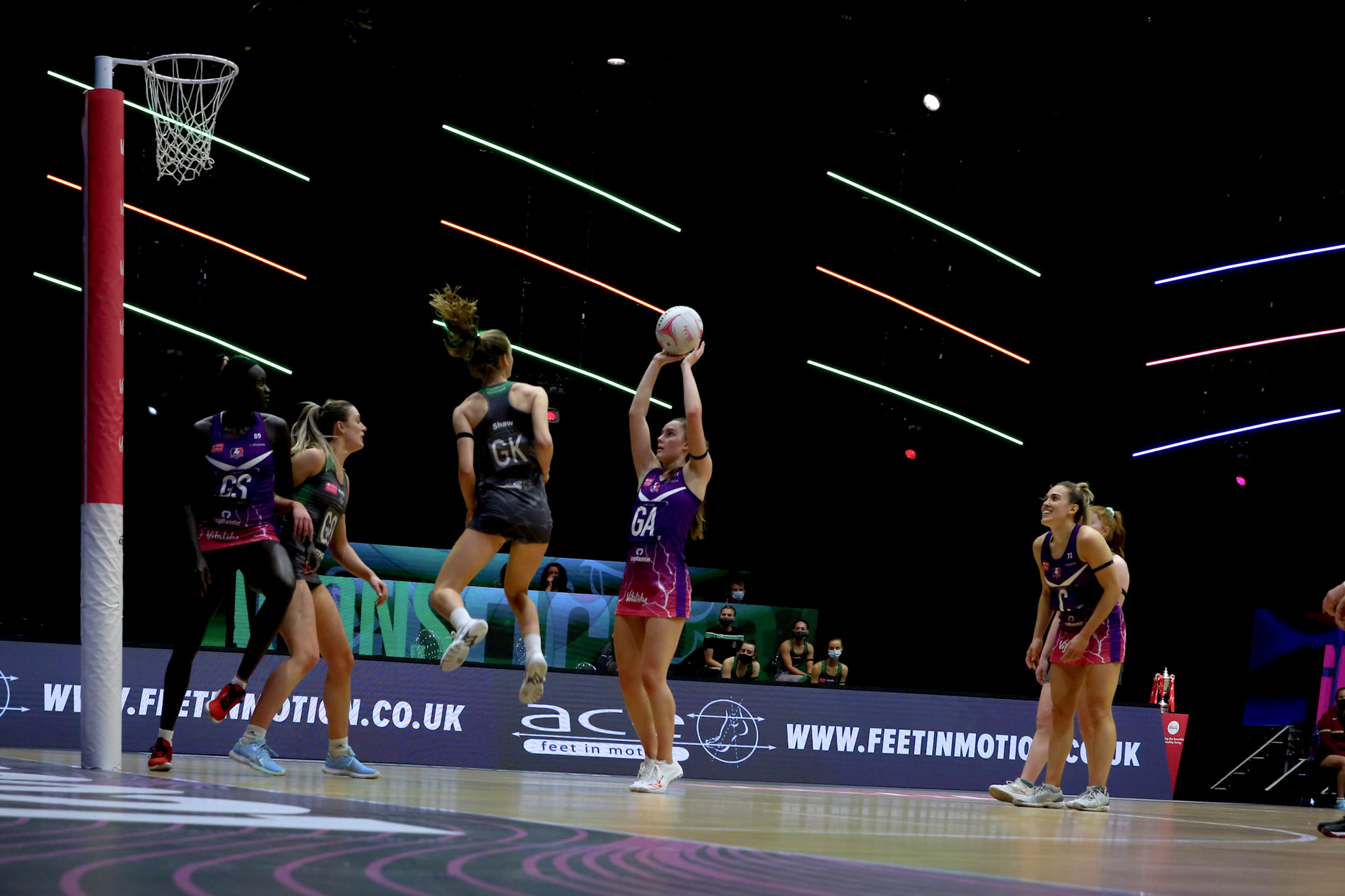 ‌(Photo Credit: Ben Lumley)
"I think it was really good, we got lots of combinations out there and everyone just put their best foot forward. We knew we couldn't take it as an easy game or step off the pedal, so we just wanted to bring it as hard as we could."

"I think there's always things we can improve on but we just came out every quarter with the intention to go as hard as we could so I think we're happy with that but there's still things we can work on for the next match."
Of her personal success so far this season, Suzie commented:
"Coming into the season I never expected to be getting a starting spot, so I just focus on taking any chances I'm given. I play a completely different game to Ella; she's really experienced so I'm just trying to do the best I can when she's not here."
Now halfway through the season, the Vitality Netball Superleague heads into a BYE week before moving to The Copper Box Arena for the remainder of the season. Lightning are back in action on Sunday 25th April facing midlands rivals Wasps at 6pm.
You can witness all the action LIVE on Sky Sports YouTube.