The 2019 Netball World Cup bronze medallist will return to the side for her sixth consecutive season in the purple dress having led the side to consecutive Grand Finals in 2017 and 2018 and victory in the 2017 British Fast5 competition.
"I can't believe this is going to be my sixth season at Lightning. I feel really confident and comfortable here and I'm thankful to the University for all the experiences that I've had," she said.

"There's been a few highlights during my time here, getting to the Grand Final twice, obviously not the outcome we wanted but to get there was a huge achievement. Winning Fast5 for the first time was really great and such a good experience, and to do that for Karen Atkinson was a great send-off for her."
Panagarry has consistently shown leadership skills both on and off the court and will continue to offer vital experience to the squad during the campaign ahead. Looking back at her 2019 World Cup success, Panagarry explained how important that experience was for her career progression:
"The world cup was absolutely incredible; I said the whole way through that this was going to be an experience that I just wanted to soak up and remember and I was so thankful for that opportunity.

"I think I spent the whole two weeks just mesmerised by the whole frenzy around us. It was more than I could have imagined."
She added:
"I'm still enjoying my netball and I want everyone to do the same no matter what age you are. It's really important to the sport and to the team that the higher you go, and the more pressure there is on each match, that you still enjoy it. I want the young ones to learn from us but also for us to learn from them as I think we all have so much to offer."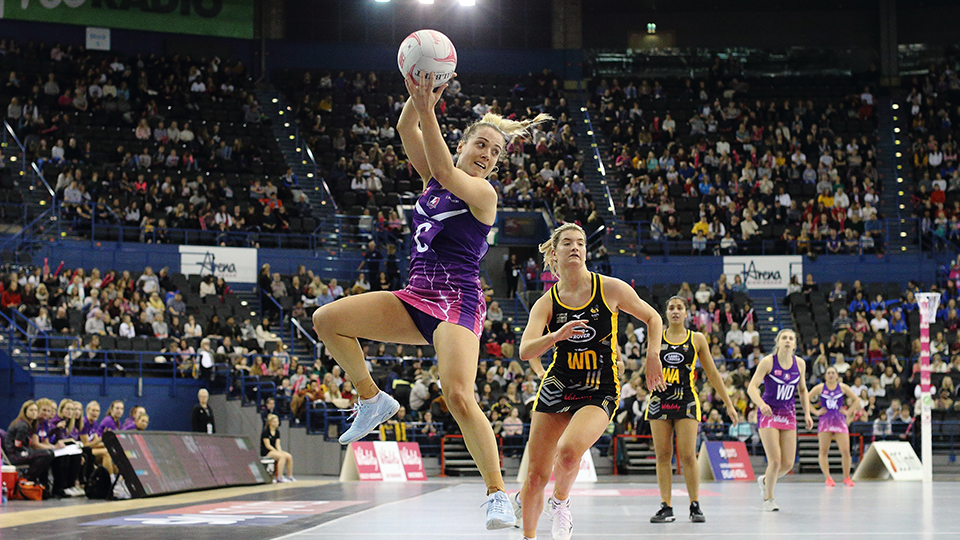 ‌(Photo credit: Still Sport)
Panagarry will be looking forward to an injury-free campaign after seeing last season disrupted by a foot injury prior to the covid-19 outbreak:
"Last season was definitely a whirlwind and not the ideal situation I wanted to be in. I was really gutted that in the first five minutes of the opening game to get a fracture in my foot. It wasn't the plan I wanted and then for the covid-19 outbreak to happen and the season end was certainly disappointing.

"My aim this season is to stay fit - I'm done with injuries. I'm always so thankful for the coaches because they always push us to better our game no matter what age you are and I'm always thankful for those younger players as they push me and get me running up and down because their fitness levels are phenomenal."
Panagarry remains driven and has her sights firmly on a top-four spot:
"I think for the team the target is to always push for that top-four spot, but to get in that final after the year that everyone's had would be incredible."
Head Coach Sara Bayman was equally pleased to see Panagarry return to the side:
"It's fantastic to have Nat back for another season. It's important for us to maintain a strong core of players and Nat's experience and leadership is crucial to us as a team."
Panagarry joins Lightning's star-studded roster for 2021 and with the likes of Commonwealth champion Beth Cobden, two-time VNSL winner Sam May, Ugandan shooting sensation Mary Cholhok and duel-international Ella Clark already revealed, Lightning's final squad is set to be extremely exciting.
As the signing window draws to a close this week (Friday 30th October) keep your eyes peeled on Lighting's social channels over the final days to find out who else will be joining Nat next season to complete the squad.
Confirmed squad so far:
Beth Cobden
Sam May
Annabel Roddy
Beth Gabriel
Lucy Parize
Ella Clark
Mary Cholhok
Hannah Williams
Alice Harvey
Jas Odeogberin
Suzie Liverseidge
Nat Panagarry