After a successful debut season with the side in 2020, Williams returns for her second season to build on her previous performances in purple.
"I enjoyed my time with Lightning last year, it was a bit of a no brainer as to whether I wanted to come back," explained Williams.

"The team, the dynamic, the pathway, everything about the set up here was what brought me back - it was just a really good season, despite the early ending."
Williams added:
"I just want to pick up from last season and carry on. I don't want a dip, I just want it to all run as smoothly as possible, which is the highest aim as I know it won't always be like that, but just want to push myself each week and aim to get the best out of myself and the team at all times."
Williams made the move to Lightning last season from fellow VNSL side Manchester Thunder where she had progressed through the pathway. Now, going into her final year of a Psychology degree at Nottingham Trent University, Williams commented on her move:
"It was a new squad; it was new and exciting and not really something I'd experienced before. Playing with people I'd never played with before, having new coaches, the whole system was just fun and exciting."
With the season cut short due to the national pandemic, Williams and her teammates had to quickly adjust to a new way of training:
"Lockdown was difficult at the start, going from training in a big team environment to not even be able to be in the gym with each other. That was difficult but having zoom calls really kept us motivated and involved throughout.

"It was a nice break at the start, but you don't realise how much you need a connection with the other players and have them around you."
Now back together for pre-season, Williams commented on the side's return to training:
"It's really good to be back, being around everyone with the jokes and laughs again is so nice. I'm really looking forward to playing again, even training! Just having the lifestyle of training and studying and some structure back in my life is what I'm looking forward to."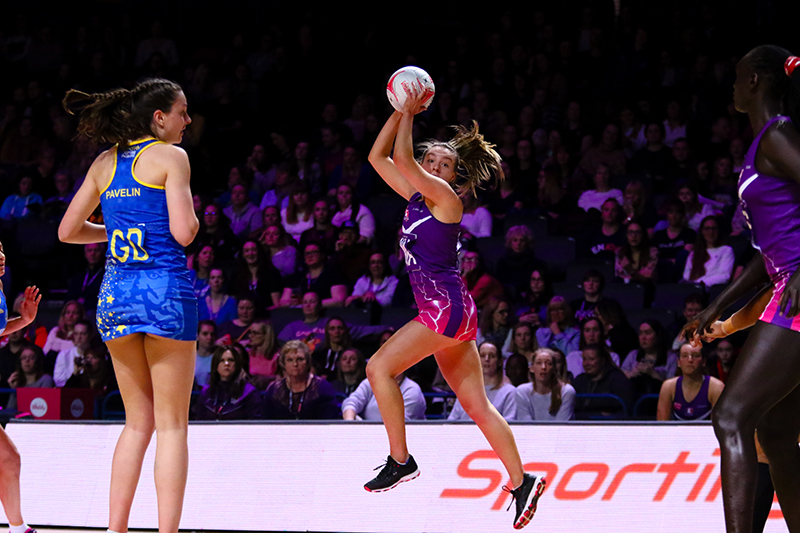 ‌(Photo credit: Ben Lumley)
Williams has risen through the ranks, having represented her country for the first time at just 16-years-old. In 2018 she was then selected to represent the U19 side on a tour to Australia, however, her time was unfortunately cut short after suffering from an injury set back. More determined than ever, William's hard work was rewarded in 2019 when she was selected to represent England in the U21 long squad for the 2021 World Youth Cup.
Shortly after her selection, Williams received her first taste of senior international netball, competing in the 2019 Netball Europe competition. Following success at the competition, Williams went on to captain the U21 side to three consecutive wins at their respective Netball Europe competition.
Head Coach Sara Bayman commented on the importance of blending youth and more experienced players to be successful:
"We've tried to recruit the best young English talent in recent years and these players are exactly that. We saw a glimpse of what they could do last season and I'm excited to see much more from them this year."
Williams becomes the eighth signing to join Lightning's star-studded roster for 2021 and with the likes of Commonwealth champion Beth Cobden, two-time VNSL winner Sam May and duel-international Ella Clark already revealed, Lightning's final squad is set to be extremely exciting.
As the signing window draws to a close this week (Friday 30th October) keep your eyes peeled on Lighting's social channels over the coming days to find out who else will be joining Hannah next season.
Confirmed squad so far:
Beth Cobden
Sam May
Annabel Roddy
Beth Gabriel
Lucy Parize
Ella Clark
Mary Cholhok
Hannah Williams