No stranger to elite netball, 6ft 2in Harvey first appeared on the international scene at just 16 years of age, competing for England at U17 level.
Rising through the ranks, 2019 became Harvey's most notable year, where she toured Australia with the U19 Roses side before being named in the U21 World Youth cup long squad and was a feature in the U21 side that claimed gold at the Netball Europe Championship.
A figure of success from Lightning's Academy, Harvey caught Head Coach Sara Bayman's attention after competing in the Lightning U19 and U21 sides, claiming her first Vitality Netball Superleague (VNSL) contract in the 2020 season.
"We've tried to recruit the best young English talent in recent years and these players are exactly that. We saw a glimpse of what they could do last season and I'm excited to see much more from them this year," Bayman commented.
Now beginning her undergraduate degree at Hull University and looking to balance her studies with netball, Harvey is looking to build on her success last season, which included claiming gold at the British Fast5 All-Stars competition.
"I decided to come back to Loughborough as I felt like I was really well supported last year. I've built a really strong relationship with all the coaches and the players so they can support me in balancing my academics whilst still being the best I can be on court," she said.
Having stepped up to her first Superleague contract in 2020, Harvey spoke of the ease in transitioning to the next level:
"I felt the transition from academy to Superleague was really good. U21s would have match play at the end of training with the Superleague team, so we were all really familiar with each other, so when I moved up it didn't feel daunting at all.

"The first training session there was definitely nerves but I was eased in and we built up more and more contact time until it felt completely normal."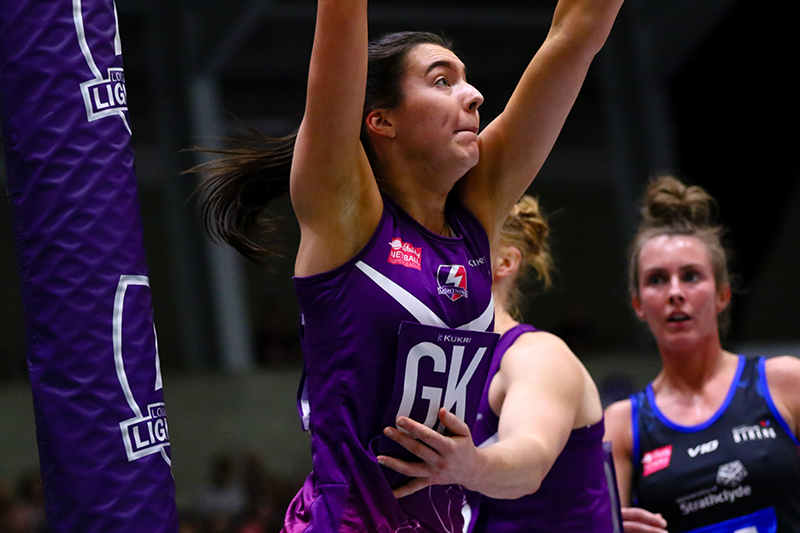 Also returning to the defensive end for 2021 is two-time Superleague champion and netball stalwart, Sam May. As a young player, Harvey commented on the value in having such an experienced mentor by her side:
"Sam's someone who I feel I can go to about anything. She's continually working on being better, she asks me my opinions on how we can do better just as I ask her, and she respects me in the same way that I respect her. I'm so lucky to have such a good leader within our area and someone I know I can talk to about anything. I find that relationship really valuable."
Despite the season being cut short in 2020, Harvey noted the importance of the court time she gained in the opening matches:
"I think the start to the season gave me the confidence I needed, it made me realise that I can do it and I am here for a reason. Once I got those first few intercepts, I was like, ok right I'm fine, I'll be alright. It just gave me so much confidence to go forward with.

"I'm now looking forward to picking up where we left off, getting back to the standard we were at before the season ended and to continue learning as a team."
As the signing window draws to a close this week (Friday 30th October) keep your eyes peeled on Lighting's social channels over the coming days to find out who else will be joining Alice next season.
Confirmed squad so far:
Beth Cobden
Sam May
Annabel Roddy
Beth Gabriel
Lucy Parize
Ella Clark
Mary Cholhok
Hannah Williams
Alice Harvey