In an explosive start to her debut season, Odeogberin was a key feature in the Lightning side to claim the title in the 2019 British Fast5 All-Stars competition. Her performances in that competition led to further court time in Lightning's opening matches of the 2020 campaign.
"It was definitely nerve-racking before the season started last year but the team were all so supportive," Jas explained.

"I always felt like I had a really strong support system on court and off court during matches and it's just disappointing that we didn't get to push on and see where we could've gone together."
Combining training with her studies, Odeogberin has recently started her second year of a Geography degree at Loughborough University:
"I really enjoyed my first year at Loughborough, it had a really good balance of sport, academics, and fun and it was so good to be around so many sporty people which I'd never really experienced before.

"The first season with the girls was really good, I really loved the training environment and it just made sense to come back this season," she said.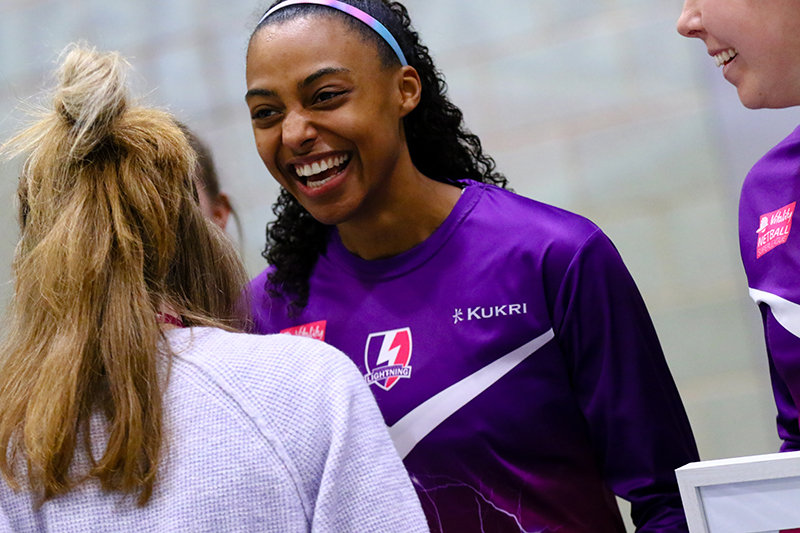 Odoegberin made her debut in the VNSL with London Pulse in the 2019 season and also enjoyed an impressive international debut with England U17s at just 16 years old. She has since risen through the Roses Academy, having captained the U17s tour to Australia and is now a regular feature in the England U21 side.
Now competing for Lightning's NSL and U21 squad alongside the university's BUCS (British Universities and Colleges Sport) side, Odoegberin is relishing being back on campus with her teammates:
"It's been really good to be back so far; it's been tough training with Lightning and the BUCs team at the same time, but it's been good to be back on court and playing netball again.

"I'm really looking forward to playing again, it feels so long since we've had games, so it will be fun to actually play but to also see how we come out of this period and see how we've adapted and how we push on this season."
Odeogberin concluded:
"Because the season got cut short last year, I want to just continue to build on coming into a newish team and to really push myself in training and see what opportunities I can get from that."
Head Coach, Sara Bayman shared her excitement as Odeogberin's return:
"We've tried to recruit the best young English talent in recent years and these players are exactly that. We saw a glimpse of what they could do last season and I'm excited to see much more from them this year."
As the signing window draws to a close this week (Friday 30th October) keep your eyes peeled on Lighting's social channels over the coming days to find out who else will be joining Jas next season.
Confirmed squad so far:
Beth Cobden
Sam May
Annabel Roddy
Beth Gabriel
Lucy Parize
Ella Clark
Mary Cholhok
Hannah Williams
Alice Harvey
Jas Odeogberin