The incredible opportunities available and the progress made by Loughborough's sport performance analysis students was the main topic of conversation at a recent roundtable discussion held at the University.
Seven students took part in a wide-ranging group conversation that looked at their career to date, adapting styles to different coaches, future opportunities in performance analysis, and the challenges facing the sector.
The key findings to come out of the roundtable included how Loughborough has helped created a solid foundation for the students and how placements and voluntary work have proved to be vital in building careers.
The students on the panel have experience of working for major brands such as Hawkeye, the Lightning franchises, England Rugby, Leicester Tigers, and at the Rugby World Cup 2019.
‌They spoke about the part Loughborough has played in their careers to date; "There's no way that we'd be able to do performance analysis in the first place without Loughborough. Our roles were initially advertised through the CVA (Coach and Volunteer Academy), and from there we volunteered for any opportunities…as a result of the partnership with Hudl we've been able to do an absolute ton for coaches and players," Andrew McBay said.
This was echoed by Dan Green who stated how important performance analysis lead Andy Rhys Jones has been during his time at Loughborough; "I know that Andy is in the room but he's the one who gives us all the support."
The conversation soon turned to how important placements and voluntary opportunities have been for the students - with Loughborough's help - including the learnings they have managed to bring back to campus. Henry Melrose commented:
"Without the experience I gained here, starting two years ago, I wouldn't have been able to secure the placement at Leicester Tigers. The fact that Andy (Rhys Jones) had links with them already was really useful for me."
Maddy Burnage added, "that's very similar to me. Because of Loughborough Lightning being in the Tyrrells Premier 15s, that's very closely linked to the Red Roses (England Rugby). So, I now get experience with them through that whole connection."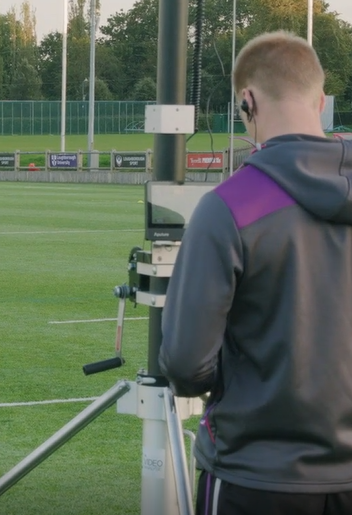 Henry also stated how important trust is when trying to build relationships; "trust is probably the biggest thing that I learned on placement…you have to build a relationship where coaches trust the information you're delivering."
As Maddy said, this can take time; "it's taken three years of being here to get the coaches to respect my opinion and they now also like me to challenge their thoughts."
Altering their style of work to suit specific coaches' needs was also on the agenda, as Dan explained; "it's how you present the information and how you can keep it very simple for both players and coaches. You have some tech-savvy coaches and some people who won't understand that type of content too well - it's about how you convey that information easily."
Natasha Coleman also explained; "I've been in quite a privileged position by working with both Men's and Women's hockey so I've worked with two completely different sets of staff and coaches. They have different attitudes to performance analysis… I think it's just being around the environment as much as you can and keep communicating."
The group also talked about how performance analysis can differ between groups and individuals. Ellie Milbourn who works in athletics said:
"Athletics consists of 36 individual coaches with different groups of athletes, so the challenge is finding out what makes the coach tick…what are they looking for? What matters to them?"
Dan talked about how cricket has bridged the gap between both individual and a team sport; "cricket is an individual sport but you also play as a team…it's learning how the coach wants the team to play then can build KPI's for individuals from this."
Ellie stated how athletics differ somewhat; "there's a lot less subjectivity in athletics, it's very much how fast can you run, how long can you jump. I'm often working with one coach, one athlete and that's why there's so much time spent in sessions, working out how they like things done – it's a lot of catering to what they want as it's going to build trust as well."
The question of what makes a good performance analyst was also raised, with all students agreeing it wasn't one size fits all.
Lewis Chapman said; "in tennis, being adaptable is key. You have to be able to change your style to coaches' needs."
Maddy added; "every analyst is so different, and we all have different skill sets. It's about having a passion for that team you're working with to do well and I think that's a trait everyone has in that aspect."
Andrew agreed; "every analyst can have a skill set, you can be a wizard with numbers or programming, but if you're not able to communicate effectively and not able listen effectively you'll not be able to progress."
The group also commented on punctually, 'being available', the ability to make contacts and be comfortable learning from other sports. It was also discussed how important it was to have a baseline understanding of the sport you're working on.
Lewis explained; "I was in Sunderland with the National Tennis Academy last week and knowing the likelihood of who our athlete was going to play was really beneficial."
The final point of the discussion was the future of sports performance. Lewis stated that "I believe that tennis will be automated. There will be cameras picking everything up and tagging automatically."
Ellie added; "the main change will probably be in advancement in technology. If I'm analysing a shot-put session, I'm digitising every single frame, and it takes hours. There's a lot of equipment being trialled now that will give you that information instantly but it's not quite reliable just yet."
Tasha concluded by explaining how technology is helping sport at Loughborough; "in hockey, for the first time this year, we have a live feed to the bench. This basically means the coaching staff has an output window so they can monitor live analysis throughout the match."
The roundtable discussion was chaired by Dan Trussell and Andy Rhys Jones and consisted of Ellie Milbourn, Lewis Chapman, Andrew McBay, Dan Green, Henry Melrose, Natasha Coleman and Maddy Burnage.‌