At LU Arts we work with a wide range of people from individual students and student networks and associations to societies, academics and other professional services at the University. Here we look in more detail at some of the students we have worked with and some of the projects we have been involved in.
We will be adding more stories to this page over time so please keep checking back for the latest content.
The Handicrafts Residency
Will Shannon: A Public Workbench
Public Workbench is an upcoming commission for Loughborough university. Forming part of a new type of street furniture the commission will see a carpenters workbench installed outside within the student village, the bench will have a rudimentary roof structure and be accessible by all for use as a practical space for making. Each year LU Arts will invite a different maker to develop a new commission that takes inspiration from one of the University's most fascinating histories. With this in mind LU Arts has invited artist Will Shannon to develop this project, in collaboration with today's students.
Inspired by the former handicrafts unit at the university, the workbench has traditionally been a place for developing skills and a sharing of knowledge. By installing it in this new context the work is presented as an open workspace that has no prescribed use but could be used for student workshops in furniture making, bicycle repair, ad hoc exhibitions, table top sales or simply a place to shelter from the rain.
The Handicrafts Unit at Loughorough was established in the 1930s. Here, students were trained in furniture making and produced items that were used, and are still used, within the fabric of the University. It is celebrated because it was led by two of the most famous proponents of the Cotswold School - Peter Waals and Edward Barnsley who ensured that the work was of a high quality. Students were expected to dedicate time each week to practice and had to make their own bedroom sets consisting of drawers, chairs, wardrobes and bookcases. Often, the students would carve their initials into the finished pieces and Loughborough Vice-Chancellor Professor Robert Allison's father's work was discovered amongst the collection.
Loughborough also has a reputation for self-sufficiency with students historically being involved in the design and construction of key features of the campus. Some of these remain today, with the cricket pavilion being one such example, but they also built an open air swimming pool, a chicken coop and a radio station, with students working on everything from design to build.
With this in mind we have invited artist Will Shannon to re-imagine this history, asking him to develop something, in collaboration with today's students, that will be useful to the current campus. Will is interested in considering the tools and machinery that have facilitated the furniture that was produced as part of the Handicrafts Unit and the workbench can be considered the beating heart of any workshop.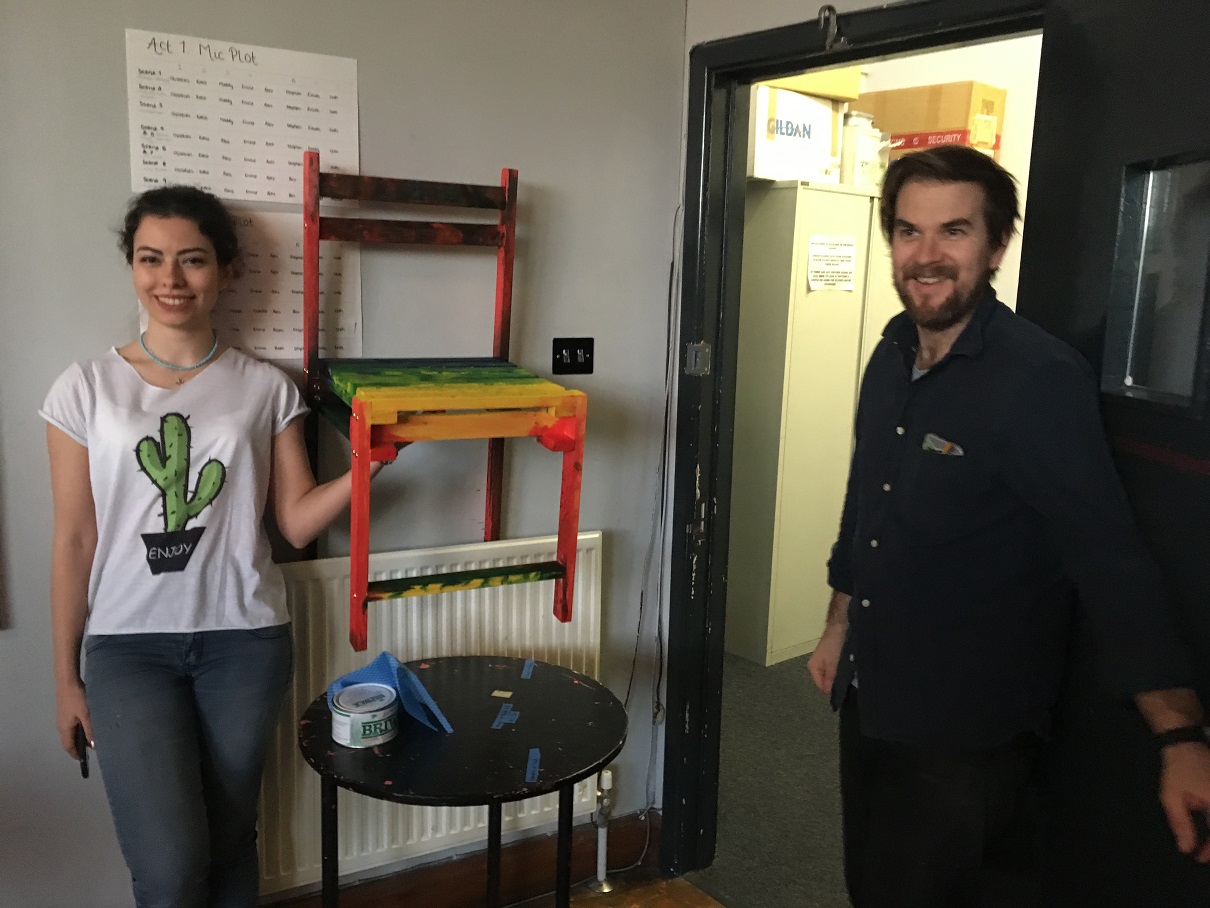 Before finalising the designs, in January 2020 Will Shannon's day-long session for Co-Lab week ran as part consultation and part practical workshop, in order to begin to explore what these alternative uses might be and see if they would influence the overall design. Students were bought together to share simple skills and practical knowledge, tackling the making of basic furniture items whilst engaging in conversation about how the concept of a public workbench could be expanded and its alternative uses explored conceptually metaphorically or practically.
The workbench in the student village will function as an open workspace that could be used for student workshops in furniture making, bicycle repair, ad hoc exhibitions or a place to shelter from the rain. When not being used it will sit in homage to the makers of the past and the imaginary workspace they might have inhabited.
The work on developing the design and installation will take place throughout the 2019/20 academic year.
Telling Our Stories: Campus Poems
LU Arts invited poet Indigo Williams to curate an anthology of poems that were sighted in locations across the campus for the whole of October, as part of Black History Month.
From Zimbabwe to Nigeria and London, Telling Our Stories is a collection of 11 Contemporary Black British Poets writing on themes of ethnicity, family, home and what it means to be Black British.
Curated by Indigo Williams, each poem presents a distinct voice that shares stories of the past, future and present life that influenced who they are and how they see themselves in the world.
Featuring poets: Toni Stuart, Ioney Smallhorne, Yomi Sode, Raymond Antrobus, Theresa Lola, Indigo Williams, Belinda Zahwi, Inua Ellams, Keith Jarrett and Ada Ughanwa
Ian Giles LGBT+ histories project
Artist Ian Giles is working on a new project that engages with the current LGBT+ Association.
Ian's artistic practice often makes visible interesting LGBT+ histories, involving a direct engagement with a specific geographical community, and mirroring local LGBT+ histories with key historical moments. For this project Ian has been researching Loughborough's LGBT+ history, and how it is represented within the University archive, alongside developing a specific project that will take place as part of LGBT+ History Month.
The event will take place in February and will playfully make visible histories personal to Loughborough (that have in part been secured via a call out to the Alumni) alongside important events that have taken place at the same time, that have sought to achieve sexual equality.
Image: Ian Giles, Trojan Horse / Rainbow Flag, Screening at Bethnal Green Working Men's Club, presented by Gasworks, London, 2019.
Photo by Rob Harris
Aidan's performing arts scholarship year
Aidan won the Performing Arts Scholarship (Dance) for 2018/19. Here he reflects on how the LU Arts scholarship has helped him develop his skills throughout the year.