But what about those items you have but no longer want or need? Instead of throwing them in the bin and letting them go to landfill, you can donate them to the University's Give 'n' Go scheme instead.
Give 'n' Go is a sustainability initiative that gives students living in halls of residence the chance to give away their unwanted belongings and support a worthy cause.
The Sustainability Team has joined up with six charities and non-for-profit organisations – including Dogs Trust, Better World Books, and Shepshed Food Bank – who will all benefit from the donations received, as many of them have been impacted by the pandemic.
There will be 14 donation stations set up across campus from 11 June-2 July, which will be regularly checked and emptied to make sure there's room for everyone's donations. You can see a full list of the donation stations online.
When the donation stations close, the Sustainability Team and a group of volunteers will be working hard behind the scenes sorting and packing all the donations ready for distribution to our partner charities.
What can you donate?
Non-perishable food - Unopened tinned or dried foods (such as soups, baked beans, pasta and rice) as well as food in unopened jars such as sauces
Frozen food* - Unopened frozen food items can be left in your freezer in your halls of residence, just let your hall manager know they are there and our team will come and collect them
Crockery and kitchen items – Eg plates, pans, utensils, Tupperware boxes, cutlery, mugs, and glassware. These must all be clean and in good condition
Clothing - Clothes and shoes for all ages and genders welcome
Coat hangers
Books - All fiction (adult and children's) and any textbooks
Stationary - Used and unused folders, notepads, pens, pencils etc
Bedding items - Used and unused pillows, duvets and throws (must be in good to excellent condition)
Toiletries - Unopened bath and shower products, lotions, toothpaste, toothbrushes, and sanitary products
Electrical items - Working and broken electrical items such as tablets, keyboards, and headphones
*Please note frozen food cannot be accepted in the Unite Halls (Harry French, The Holt and William Morris).
If you have something that is not listed above and you want to know whether it can be donated or recycled through the scheme, please email waste@lboro.ac.uk and they'll let you know.
Live in town but still want to get involved? Look out for charity bags or specific collections organised by Charnwood Borough Council and the Choose to Reuse campaign led by the Community Warden Team.
Nik Hunt, Environmental Manager at the University commented: "Our aim is to repurpose and recycle as many items as possible that would otherwise end up in general waste and landfill. By taking part in the scheme, not only does your support have a positive impact on the environment, but you'll also be helping vulnerable groups of people (and dogs!) in our local community."
For more information about Give 'n' Go – visit the dedicated webpage here.
This initiative contributes to four of the United Nation's Sustainable Development Goals: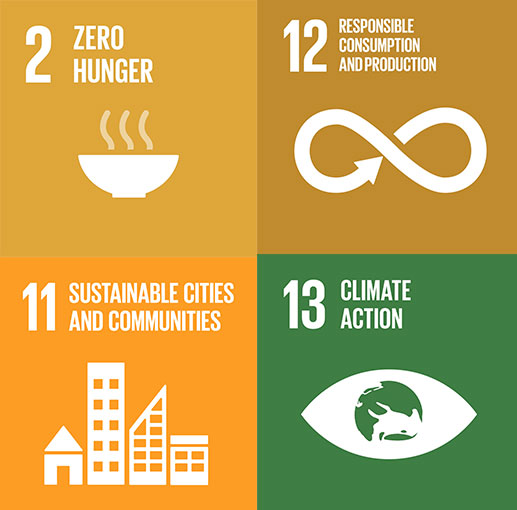 ‌