This year we asked current student Lilian Briggs about her Thanksgiving traditions. Currently studying Civil Engineering at Loughborough, her Thanksgiving looks a little different in the UK. At home it's usually a big family gathering:
"At home, we would alternate between staying home and going to Scranton, PA to visit family.
"We would stay home on the years that our town's high school football team was playing at home and watch them play. In high school, this also meant playing in the pep band at the game!
"My grandmother was originally from Scranton, PA and although no one from our family lives there anymore, the entire extended family (40-60 people depending on the year!) meets up and stays at a hotel where we have dinner in a banquet hall. Although unconventional, it means so much to see my extended family members every other year."
When they meet in Scranton, the family enjoy a tie contest, where the men wear their favorite tie, or one with special meaning. They also find a park to play flag football and Lilian enjoys getting Krispy Kreme donuts the day after Thanksgiving – something she has continued in the UK!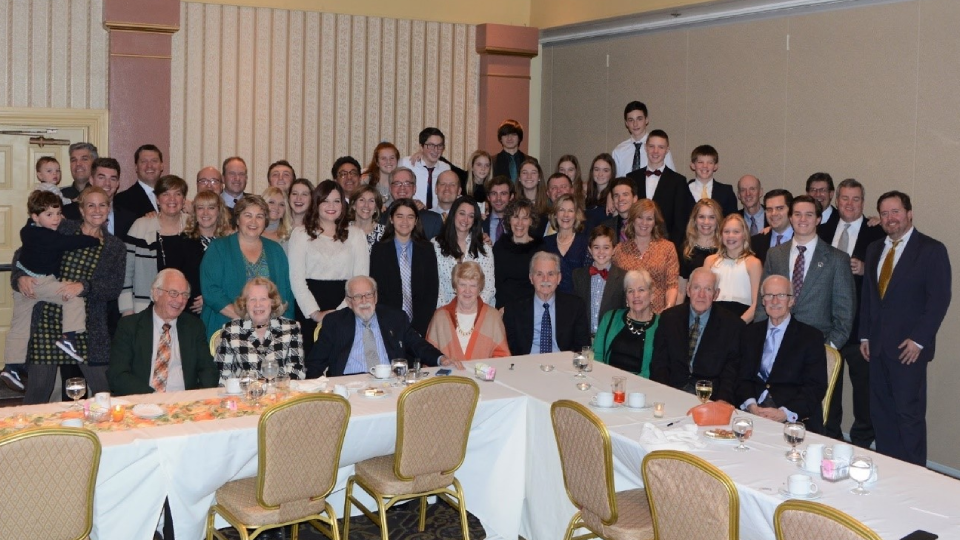 Lilian's family Thanksgiving in Scranton, 2016 ‌
Moving to the UK for university, Thanksgiving is a different experience for Lilian:
"Since I have started university, my Thanksgivings have looked a bit different. I have made an effort to make a dinner each year and celebrate with friends, with the exception of 2020 when I joined my family's Zoom Thanksgiving.
"To prepare for each Thanksgiving meal, I bring over Bell's seasoning and a can of jellied Ocean Spray cranberry sauce.
"This year, I will have a big Thanksgiving dinner on Saturday with my housemate and her family. I am really looking forward to it because it will be more similar to Thanksgivings I have had in the past."
Lilian is also helping other students to celebrate and to learn about Thanksgiving:
"I am going to have a table in the students' union where people can write what they're thankful for and put it on a tree. I will also be volunteering in the LSU Nursery to teach children about Thanksgiving and make hand-turkeys as many children in the US do when they are little."
Lilian wishes everyone a wonderful Thanksgiving and is looking forward to celebrating and sharing Thanksgiving traditions with students (and toddlers!).
Read the full piece on the alumni website and get involved by sharing your stories and photographs via Twitter or Instagram @lborouniversity.