The positions are as follows:
Chair:
Chris McLeod (he/him), Research Associate and University Teacher in Psychology (SSEHS)
Trans and Non-binary Lead:
David Wilson (they/them), Application Support Manager (IT Services)
Celebration & Awareness Lead:
Matt Youngs (he/him), Graduate Management Trainee (1st placement: Research and Enterprise Office)
Projects Leads:
Carys Page (she/her), Projects Officer (Student Services)
Charlie Wheeldon (she/her), Head of Student Development and Graduate Outcomes (Student Services)
Collaborations Leads:
Borja García-García (he/him), Senior Lecturer in Sport Management and Policy (SSEHS)
Robin Rainier (she/her), Administrator for the Centres of Doctoral Training (ABCE)
Lboro London Champion:
Olly Swanton (he/him), Student Support Manager – Welfare (Loughborough London)
Media & Communications Lead:
Stephen Ashurst (they/them), Senior Web Designer / Developer (Creative and Print Services)
Plus Lead:
Currently unfilled - email lgbt@lboro.ac.uk for more information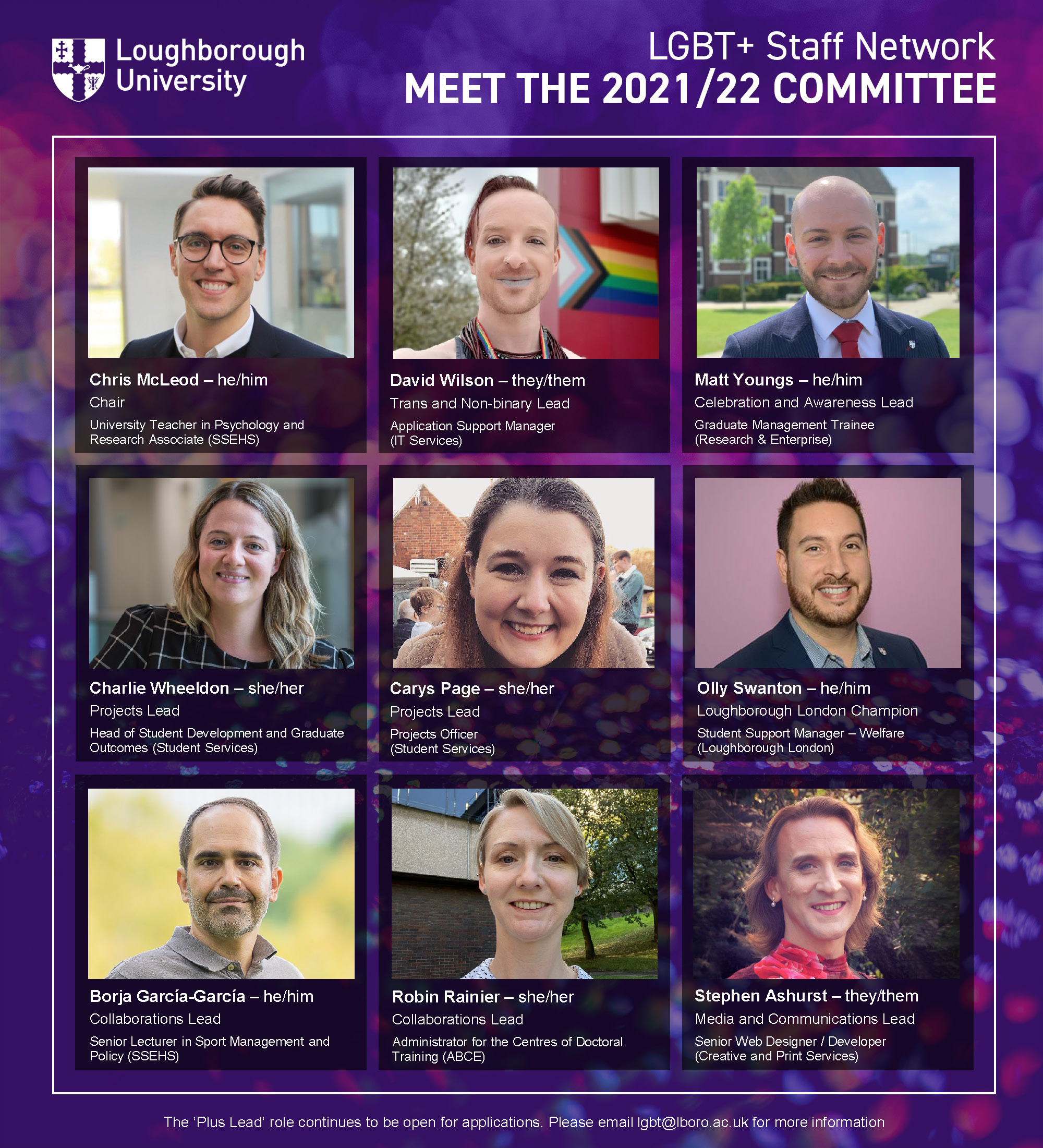 On the new appointments, Chris said: "I'm so excited to be part of this fantastic committee of committed colleagues. Together, we are looking to lead the way in instigating changes to our University processes and structures, to improve the experience of our LGBT+ staff, as well as to celebrate and raise awareness of LGBT+ history and people on our campuses.
"We're very much looking forward to working with colleagues across the University as we make progress towards greater inclusion, allowing all staff to bring their full selves to work."
More information on the LGBT+ Staff Network is available here. The LGBT+ Staff Network Committee welcome discussions with colleagues across the University to ensure that working environments can best support LGBT+ individuals and that LGBT+ visibility is supported.