Earlier this month, Dr Danny Longman, a Lecturer in Physiology based in the School of Sport, Exercise and Health Sciences, swam the length of all 13 publicly accessible lakes – including England's longest, Windermere – in the Lake District in just 41 hours and 7 minutes.
He began at 5.10am at Wastwater on 9 August and completed it at Derwent Water at 10.17pm the next day.
The total distance came to 71km and beats the previous record of 59 hours. It is the second time Danny has completed the same challenge, after setting the first record in 2019 before it was beaten last year.
Danny decided to undertake the challenge in memory of his friend Stuart Pearson, who he described as "an incredibly warm, generous and humorous person". Stuart was a clinical psychologist based in Leeds who also volunteered for Leeds North and West Foodbank, and so Danny decided all donations would go towards this important cause.
Reflecting back, Danny commented: "It's great to have set a new record after so much preparation. I came into the challenge feeling strong, and the first 18 hours or so went really well, ticking off the lakes. During the night we were three hours ahead of schedule, so I decided to take a quick 60-minute nap. I woke up almost vomiting from the smell of the damp wetsuits in the car, feeling groggy, nauseous, my right wrist on fire and generally a lot worse than when I fell asleep.   
"I then had to swim for almost five hours along the length of a particularly long and cold lake. Thankfully, a duct-tape make-shift wrist support and the kayakers got me through the night, and the support team put me together again at the end with the help of some Eccles cakes. I perked up and we drove to the next one."
He continued: "It was the support team that made this possible. I'd like to say a massive thank you to my Mum and Dad, my girlfriend Adelina, and my mates Ben, Thommo, Alex, Dan, Colwyn, Kim and Huw for all getting stuck in. Usually, my ultra-endurance adventures are in far-flung and remote parts of the world, so it was great to be able to share this with them."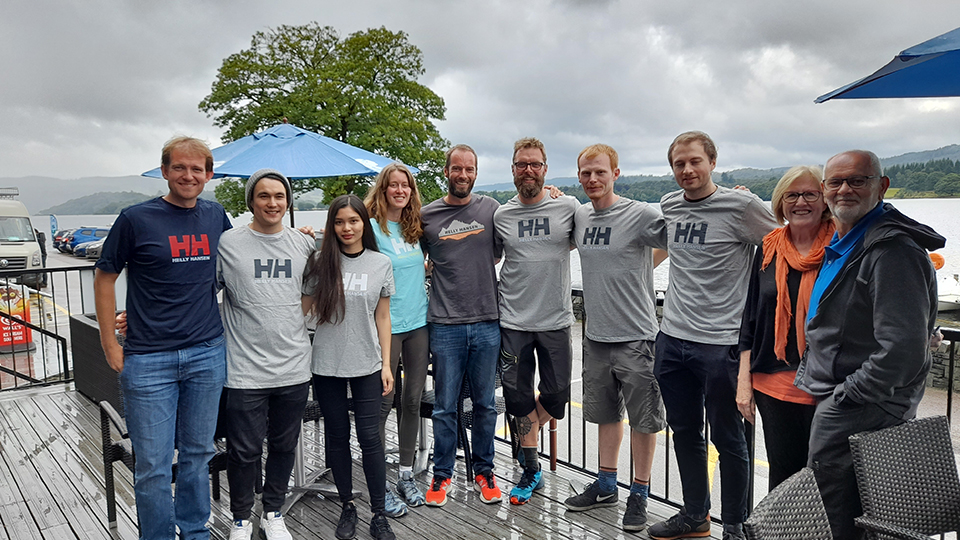 I‌mage: Danny's support team who he described as 'amazing and critical to this record attempt'.
Dr Longman describes himself as an ultra-endurance enthusiast and has previously rowed across the Arctic Ocean as well as completing long-distance cycling adventures across four continents, including a 10,000km ride from Mexico City to Ushuaia in Argentina.
Anyone who would like to donate to the cause can do so by visiting Danny's fundraising page.