23 Aug 2018
Batty about bats? Then help the Sustainability team support the species!
International Bat Weekend (25-26 August) is nearly upon us and the Sustainability team wants to highlight how staff and students can support flying friends in-and-around Loughborough.
Earlier this summer, the team launched its 2018 'Support a Species' flyers that shine a light on undervalued creatures with considerable ecological importance.
This year's initiative focuses on the significance of bees, butterflies, hoverflies, wasps, wildflowers and bats.
The double-sided flyers contain information on how each species helps the environment and the threats they face.
They also provide tips on how to spot the flora and fauna when out-and-about and explain what can be done at home to support their wellbeing.
So why support bats?
Bats play an important role as more than 500 plant species rely on them to pollinate their flowers.
Bats from Bathaus hunt around the campus woodlands and at least six different species have been recorded.
However, many species are considered vulnerable or endangered and numbers have declined significantly over the past 100 years.
Habitat loss, fragmentation, a diminished food supply, destruction of roosts, disease and hunting are among the threats bats face.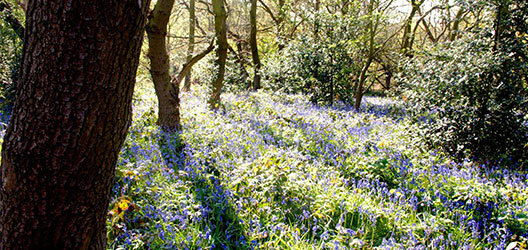 Flowers on campus.
What can staff and students do?
Bats need help to provide roosts and insect-rich habitats which they feed on. Staff and students can help by doing the following in their gardens:
Planting night-scented flowers such as Primrose and Scabious
Building a pond
Allowing wildflowers and plants to grow
Installing a bat box
Keeping cats indoors at night
Reducing or removing artificial lighting
Bat boxes.
Staff, students and members of the community are encouraged to share the Support a Species flyers, which can be downloaded as PDFs via the Sustainability webpage, as they see fit to inspire others to be more environmentally-friendly.
More information on International Bat Weekend can be found on the Bat Conservation Trust website.
The information above is taken from the Support a Species 'Batty about bats' flyer.