Professor Mark Lewis, an expert in musculoskeletal biology, is involved in a new venture that will "revolutionise rehabilitation" and bring together research, innovation, education, and training alongside clinical practice to drive excellence in this area.
On the latest episode of the Cuppa with a Scientist podcast, Professor Lewis discusses his involvement in the National Rehabilitation Centre (NRC) –an NHS rehabilitation facility to be built on the Stanford Hall Rehabilitation Estate, that is set to open to patients by the end of 2024 - plus future research and why a small, cute amphibian has piqued the interest of scientists working in this area.
"The National Rehabilitation Centre is a £100m development that will sit a few hundred metres from the Defence Medical Rehabilitation Centre at Stanford Hall, 4 miles from our Loughborough campus; it will revolutionise rehabilitation", Professor Lewis tells podcast listeners.
"Rehabilitation is a fascinating area as it means something to everyone but never the same thing to everyone. I see rehabilitation as having a major life event – whether this is a car accident or being diagnosed with type II diabetes – and then going through a rehabilitation process after that.
"Rehabilitation is always seen as old people's homes and zimmer frames, but it's way more than that and it encompasses multiple disciplines such as health, medical, and biological sciences, plus engineering, it's really broad.
"This Centre will treat people and also bring together a community of researchers to create a world-leading centre of excellence and it's exciting that Loughborough University is one of the drivers of the project. It's going to be transformational."
The NRC will focus on three types of rehabilitation and look at the role technology can play in each:
Pre-rehabilitation: how we can prevent something happening in the first place (i.e., type II diabetes) or taking steps quickly if it does happen so the consequences are not so severe
Acute rehabilitation: when something has just happened and what to do next
Chronic rehabilitation: long term rehabilitation.
"Wearable technology is obviously really important in this area, so if we can devise devices and apps that can help people do the right thing at the right time if anything does happen, that's great", Professor Lewis says.
"And then there's the cool science fiction things like exoskeletons and things for people to wear."
While discussing ongoing research in these areas, Professor Lewis flagged that some scientists believe a small animal may hold some big answers.
"Axolotls are part of the salamander family and they're interesting because they can regenerate their limbs", Professor Lewis explains.
"So that's what we're particularly interested in: regeneration and repair. There are some schools of thought that if you understand how creatures like this or lizards can regenerate lost organs or tails then it might help us understand how human beings might do it.
"I don't necessarily subscribe to that school of thought, but they're fascinating creatures!"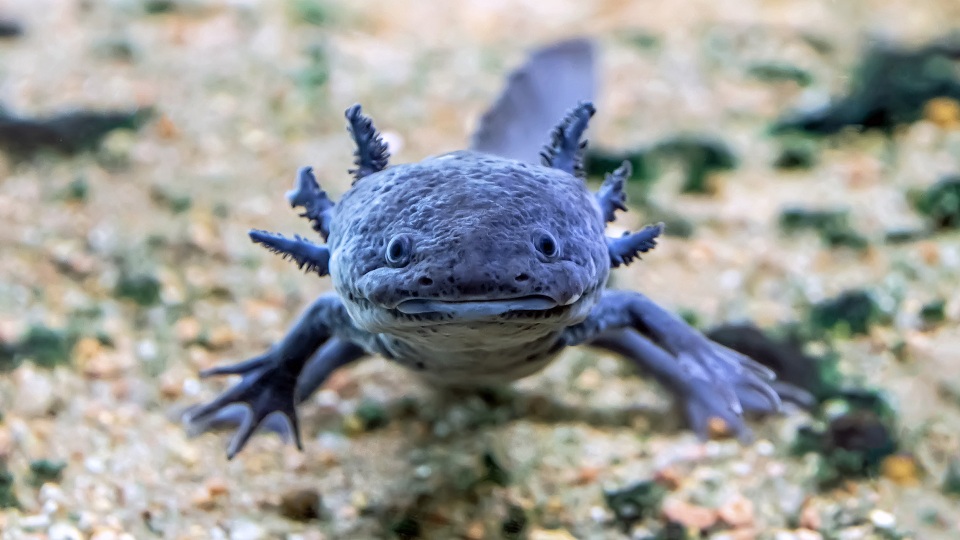 To watch Professor Lewis' interview in full – which also discusses modelling the musculoskeletal system outside of the body, working in academia with ADD, and more – click the below YouTube video.
Or if you prefer to listen to your podcasts, visit the link below:
More information on the National Rehabilitation Centre can be found on the dedicated website.
'Cuppa with a Scientist' is a podcast series launched by the Loughborough University PR team that aims to inspire the next generation of scientists and dispel the myth that all scientists wear white lab coats. Read more about it here.