Made from ripstop nylon treated with a metallic coating, the 23m-long and 4m-high piece 'breathes' thanks to a pulsing on/off fan, making every visitor's experience of the work unique.
U-too is bespoke to the galleries at The Hub, Sleaford, and on show from tomorrow (Saturday 25 September) until January 16 2022.
The sculpture's twists and turns are guided by the building's architecture and, by rising up off the ground in places and expanding to create walls of fabric that cannot be looked over, it encourages visitors to view the space differently.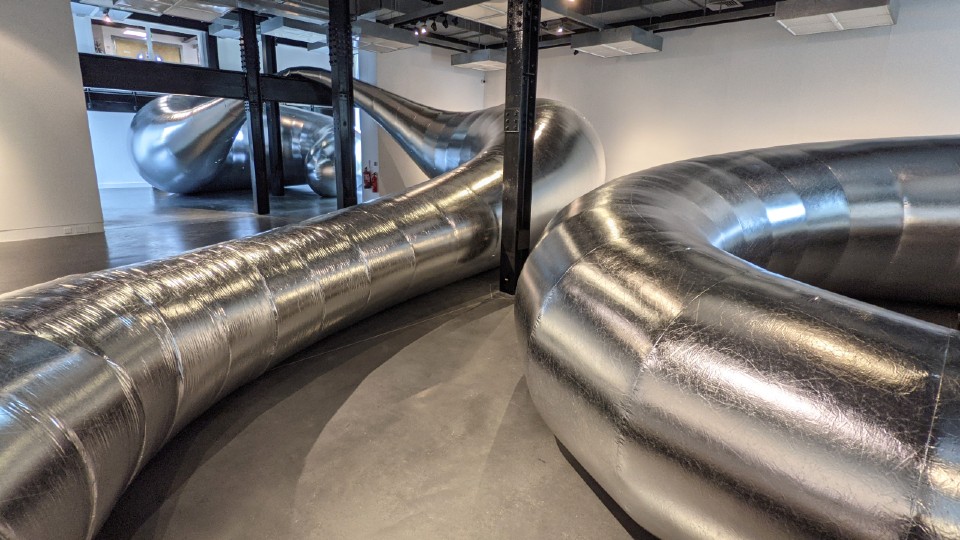 "The sculpture is so large and comes sufficiently close to parts of the building's architecture that it cannot be viewed from a single point", Michael explained.
"Rather, it is a sculpture that must be experienced over time and one that reveals its nuances as viewers move around its labyrinthine geometry."
He continued: "Hopefully it is a sculpture that has some universal appeal to everyone, as it requires no previous knowledge to enjoy. It has no socio-political message but is a joyful exploration of form in space delivered by air pressure and reflections."
U-too forms the centrepiece of Michael's exhibition, titled ACTIVATE/PARTICIPATE.
For more information on Michael's work, his creative process, and inspirations, read the interview he did with VOLUME, Loughborough University's online magazine, here.
More information can also be found on his website https://michaelshaw.art and Instagram https://www.instagram.com/michaelshaw.art/.