As a keen sailor and former rugby player, Peter believed that sport provides important stepping-stones to self-development.
He was passionate about supporting young people with a disability and disadvantaged young people to participate and excel through sport.
Through the Peter Harrison Foundation, he donated millions, establishing the Peter Harrison Centre for Disability Sport on campus, a research centre whose mission is 'to improve knowledge about Paralympic sport and to promote the substantial health and quality of life benefits that can be gained through participation in disability sport and physical activity'.
Professor Robert Allison, Vice Chancellor and President, who had the privilege of knowing Peter said, "I was deeply saddened to hear about Peter's death. He has been a long-term friend and supporter of the University through the Peter Harrison Foundation. His legacy through the Peter Harrison Centre on campus will continue to impact students and staff for many decades to come. His support for and pride in Disability Sport at the University will be part of Loughborough's future endeavour for many years to come."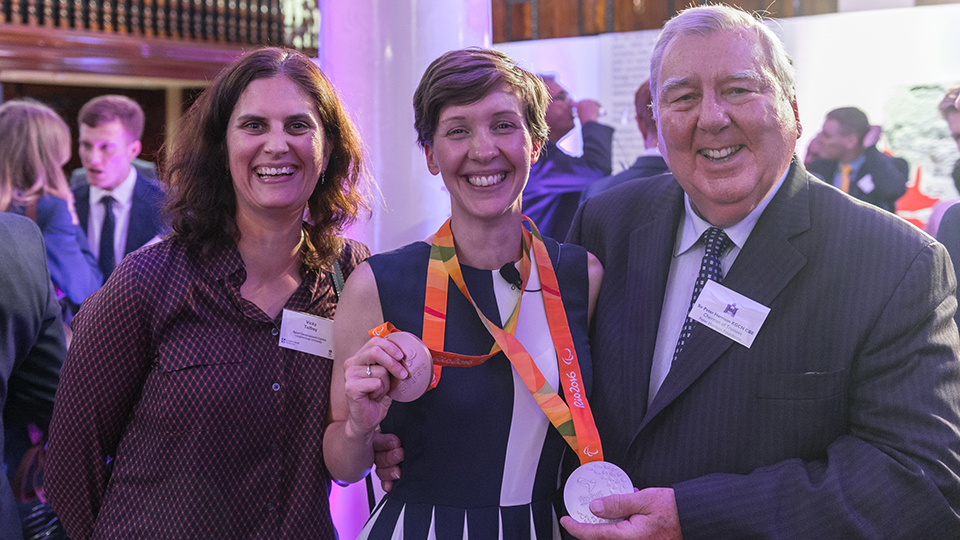 I‌mage: Professor Vicky Tolfrey, British Paralympic track and road cyclist Crystal Lane-Wright, and Peter Harrison at the Rio 2016 celebration event
Professor Vicky Tolfrey, Director of the Peter Harrison Centre commented: "Peter Harrison became a friend over the 14 years that I knew him – through not only his support of the Peter Harrison Centre for Disability Sport (PHC) but also through our mutual interest in supporting Chelsea football club. I had the pleasure each year to enjoy a match in Peter's company with Owen my son, where he would often share his stories of life and provide words of wisdom to Owen. I know that I am one of many whose lives were enriched by this great man.
"The sphere of Peter's influence was indeed large given his generous funding to Para sport, not only with support for the PHC at Loughborough University, but also significantly enhancing the Paralympic movement with other charitable contributions. He will be very sadly missed by everyone at the PHC and Paralympic sport as a whole."
We send our sincere condolences to Peter's family and friends at this time.