// University News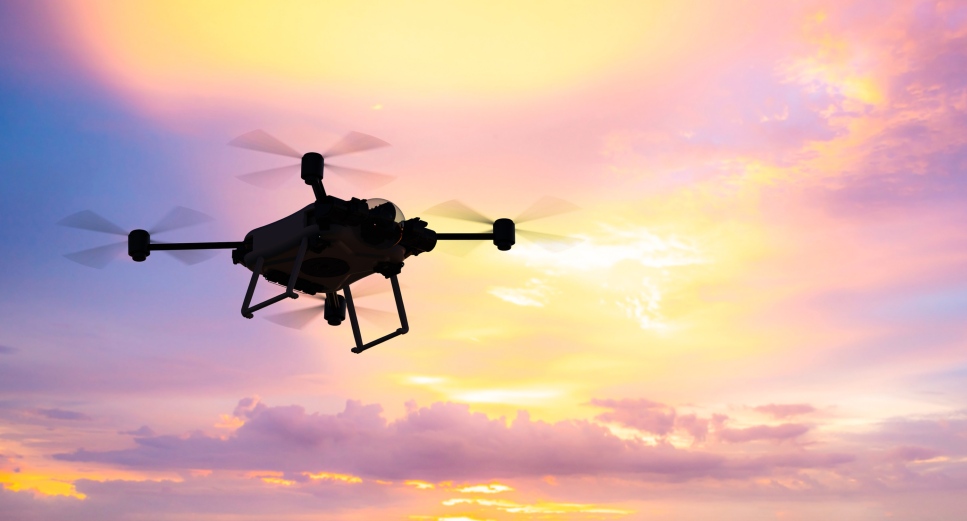 Loughborough researchers to help develop next-generation drone technology for intelligent solar plant inspections
Loughborough University researchers are to help develop cutting edge drone robotics for autonomous, fast, ultra-high-resolution solar plant inspections as part of a new collaborative project funded by Innovate UK.
Announced today (10 June), 'Follow PV' is being led by Above – leaders in aerial inspection services and software – and involves experts from the University's Aeronautical and Automotive Engineering department and the University of Essex.
Solar photovoltaic (PV) capacity is increasing the fastest of all renewable energy sources and countries around the world are racing to build large solar plants.
The most important challenge the industry faces today is to reduce costs and increase efficiency, which the project aims to solve through autonomous drones.
Above uses drones fitted with specialist cameras and sensors to collect data about solar PV modules and its cloud-based platform, SolarGain, identifies any defects.
This solution is faster and more accurate than manual ground-based inspections using handheld equipment.
However, some defects that can reveal early systemic degenerative problems are only visible very close up.
Current drone technology is not yet accurate enough to fly safely autonomously significantly closer above the solar panels, and so labour-intensive manual inspections are still often needed.
By uniting experts in solar, robotics, artificial intelligence (AI), sensors and embedded systems, Follow PV aims to develop a spatially aware drone that can rapidly process and make in-flight corrections using artificial intelligence and sensing technology.
This will enable the drone to better capture the condition of PV modules in greater detail by flying closer to the panels' surface.
Loughborough University's Principal Investigator Dr Matthew Coombes, a lecturer in autonomous vehicles, is to lead on the aerial robotics control and navigation research.
His team will look at how AI processed sensor data can be used to control and guide drones accurately to allow close proximity solar panel survey flights.
Dr Coombes commented: "Robotics and especially UAV's have the ability to completely revolutionise how we conduct inspections and surveys across a number of sectors that traditionally rely on people painstakingly performing these manually.
"By performing inspections autonomously with UAV's, they can be performed faster, safer, cheaper, and more accurately, while also being able to reach places normally inaccessible to humans. The solar industry would be an obvious benefactor from this technology."
Will Hitchcock, CEO and Founder of Above, added: "It's clear that robotics is playing an increasingly important role in the solar industry, and it's exciting that Above is continuing to lead the agenda."
Jinya Su, University of Essex's Principal Investigator, said: "Solar industry would significantly benefit from these technologies considering its large scale and also the time/labour/cost involved in conventional human manual inspection."
Notes for editors
Press release reference number: 21/98
Innovate UK
Innovate UK is part of UK Research and Innovation, a non-departmental public body funded by a grant-in-aid from the UK government. They drive productivity and economic growth by supporting businesses to develop and realise the potential of new ideas, including those from the UK's world-class research base. Find out more here.
Loughborough University
Loughborough is one of the country's leading universities, with an international reputation for research that matters, excellence in teaching, strong links with industry, and unrivalled achievement in sport and its underpinning academic disciplines.
It has been awarded five stars in the independent QS Stars university rating scheme, named the best university in the world for sports-related subjects in the 2020 QS World University Rankings and University of the Year by The Times and Sunday Times University Guide 2019.
Loughborough is in the top 10 of every national league table, being ranked 7th in the Guardian University League Table 2021, 5th in the Times and Sunday Times Good University Guide 2020 and 6th in The UK Complete University Guide 2021.
Loughborough is consistently ranked in the top twenty of UK universities in the Times Higher Education's 'table of tables' and is in the top 10 in England for research intensity. In recognition of its contribution to the sector, Loughborough has been awarded seven Queen's Anniversary Prizes.
The Loughborough University London campus is based on the Queen Elizabeth Olympic Park and offers postgraduate and executive-level education, as well as research and enterprise opportunities. It is home to influential thought leaders, pioneering researchers and creative innovators who provide students with the highest quality of teaching and the very latest in modern thinking.