Angel Fernandez was brought into Joshua's team during his redemption victory over Andy Ruiz Jr. in 2019, where he stormed to victory to regain the World Boxing Association (WBA) (Super), International Boxing Federation (IBF), World Boxing Organization (WBO) and International Boxing Organization (IBO) heavyweight titles to become a two-time World Champion.
Now, the experienced elite level coach is tearing up the traditional boxing rule book by taking athletes to new heights of ability and athleticism in collaboration with Loughborough Sport at the newly formed Boxing Centre of Excellence on campus.
The first cohort of athletes includes Richard Riakporhe (British Cruiserweight and WBA International Champion), Qais Ashfaq (WBA Continental Champion), and Charles Frankham (Commonwealth Youth Games and European Championship Gold medallist).
All boxers will work under Fernandez's technical guidance with Loughborough Sport's performance support team integrating expertise in strength and conditioning, physio, physiology, nutrition, sport and performance psychology, performance analysis and performance lifestyle.
They will be based on campus year-round and will undergo heightened periods of training pre-competition.
Richard Riakporhe trains in Powerbase. Photography by Ernest Simons.
Jo Simpson, Commercial Director, Loughborough Sport said:
"The vision is to create a Centre of Excellence that leads the way in boxing training and development. The Centre will harness the best of Loughborough's sport services, used by our elite athletes, alongside technical boxing coaching at the highest level in the world.
"We are taking phenomenal athletes to the next level, by creating new standards for boxing training and development and we will be optimising their talent and ability through personalised development plans helping create elite-level boxing athletes.
"The athletes will be carefully selected so their attitudes and values match that of Loughborough Sport and we're proud to be able to create an environment that professionalises all aspects of performance.
"The new Centre of Excellence will provide another dimension to the fantastic sporting environment already on offer at Loughborough University".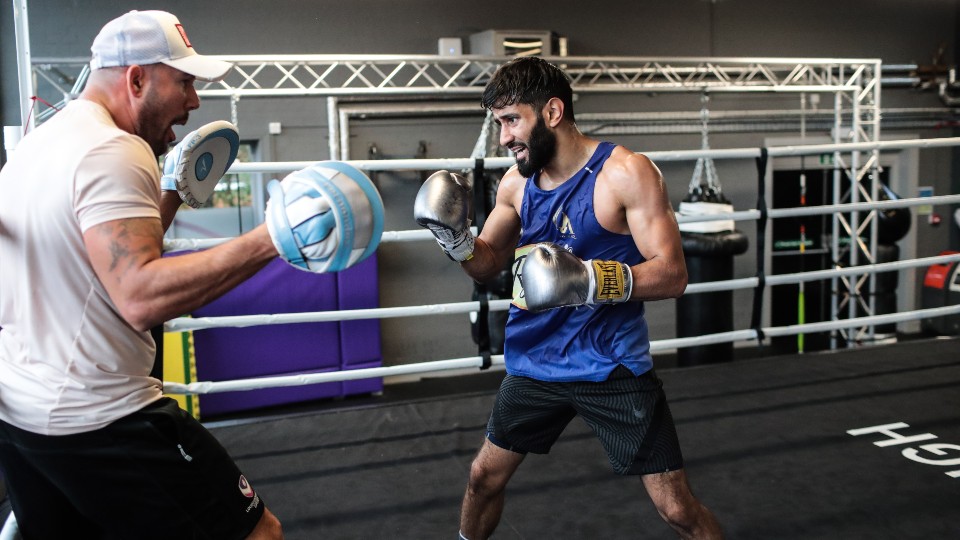 Angel Fernandez (L) trains with Qais Ashfaq (R). Photography by Ernest Simons.
Angel Fernandez added:
"I chose to come to Loughborough as I saw it as the best place to develop my team and my coaching. There's no doubt that it's a motivational environment and we're surrounded by other elite athletes training on a daily basis.
"The facilities are the best I've ever seen, and the boxers have progressed massively from the integration of elite performance support services alongside our coaching sessions.
"We are already seeing improvements in their abilities as athletes which is allowing me to get the very best out of them.
"The team is settled and happy and our focus is to create future World Champions here at Loughborough."
The new boxing academy officially opened its doors in October 2020.