The very fact that talks have moved from Belarus, a key Russian ally, to Turkey is an indication that things have changed and that Russia's military position is not as strong as it had originally hoped for. Meanwhile, the decision to hold the meetings in Turkey make sense for a number of reasons.
It's not the first time the two sides have met since the invasion on February 24. Turkey hosted a meeting in Antalya on March 10 between the Russian foreign minister, Sergei Lavrov, and his opposite number, Ukraine's Dmytro Kuleba. The talks took place against a backdrop of worsening violence across Ukraine and were largely unfruitful, except as an opportunity for the two sides to send messages to the watching world.
Lavrov said that the US and its allies had forced Ukraine to choose between Russia and the west. Kuleba, meanwhile, appealed for Russia to allow the evacuation of civilians from Mariupol, which was – and remains – under heavy bombardment.
Now the talks have returned to Turkey – this time to Istanbul. The Nato member has plenty of recent history with Russia going back several years. Turkey has always feared Russian interference in the strategic Bosphorous and Dardanelles, which is why it joined the western alliance in 1952. Russia's annexation of Crimea also worried Ankara as it increased its influence in the Black Sea region. This much was evidenced when Turkey closed the Bosphorus Strait to warships at the end of February.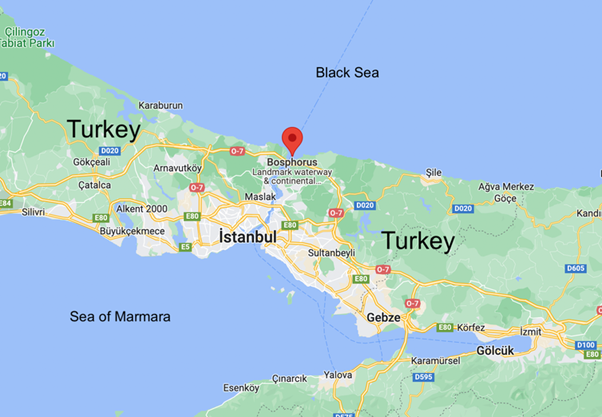 Bosphorus Strait: critical to Turkey's security. Google Maps
Russia's involvement in Syria introduced tensions between the two countries. In November 2015, Turkey shot down a Russian warplane near its border with Syria. Turkey said the aircraft was in its airspace at the time and had ignored warnings to leave. Russia insisted the aircraft had remained within Syria's borders and had received no warnings. For a few days there were fears of a confrontation, which would have been the first between Russia and a Nato member.
Continues…

For the full article by Massimo D'Angelo visit the Conversation.