Conversations At The Table was inspired by 'The Dinner Party', a historically important piece of art by feminist artist Judy Chicago. 'The Dinner Party' was a designed ceremonial banquet with a total of 39 place settings, each commemorating a significant woman from history. This work was re-imagined by LU Arts with a version that was designed and made by artist Sarah Taylor Silverwood, in collaboration with Loughborough Women's Network.
Guests who attended the University event included the Vice-Chancellor and his wife, Nick and Jo Jennings, members of the University's Senior Leadership Team, representatives from the staff and student Women's Networks, academics, as well as students who have contributed to women's experiences at the University.
The dinner took place in the Council Chamber based in the Hazlerigg Building on Tuesday 8 March.
The tablecloth and the napkins designed and curated by Sarah, in collaboration with Loughborough Women's Network, were used to initiate important conversations at the dinner table, acknowledging topics such as bias, uplifting female voices, and providing safe spaces for women.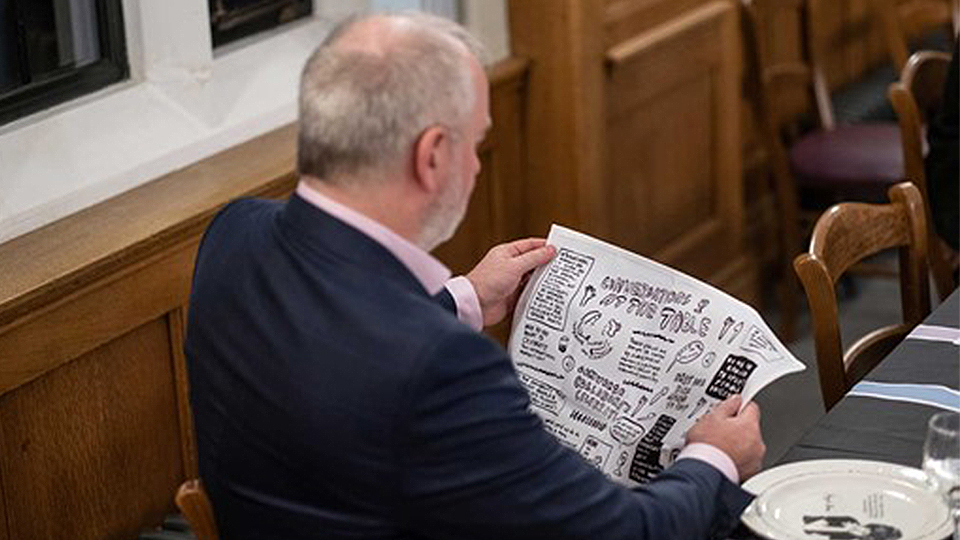 Leading up to the event, Sarah also ran an online plate decorating workshop open to Loughborough staff and students. Attendees decorated their plates to celebrate a historical or contemporary figure or to consider ideas around International Women's Day and gender equity. These plates were glazed and used at the dinner and are now being returned to their original creators.
Jenna Townend, Co-Chair of the Maia Network commented: "It was a real joy to come together with students and colleagues for this fantastic event. The organisers from the Loughborough Women's Network, and our student artists, should be extremely proud of putting together such a creative event that was both celebratory and thought-provoking.
"Bringing our senior leaders, the majority of whom are currently men, into the evening's conversations was extremely valuable as those who have the power to shape Loughborough's culture and progress toward gender equity from the top. We all enjoyed a range of open and candid conversations about the individuals and quotations featured on the plates, as well as the napkins that inspired us to talk about equity in its broadest sense. While we also need concrete action, the evening brilliantly highlighted the value of asking questions, sharing experiences, and listening to others' perspectives as key tools in progressing Loughborough's journey to gender equity."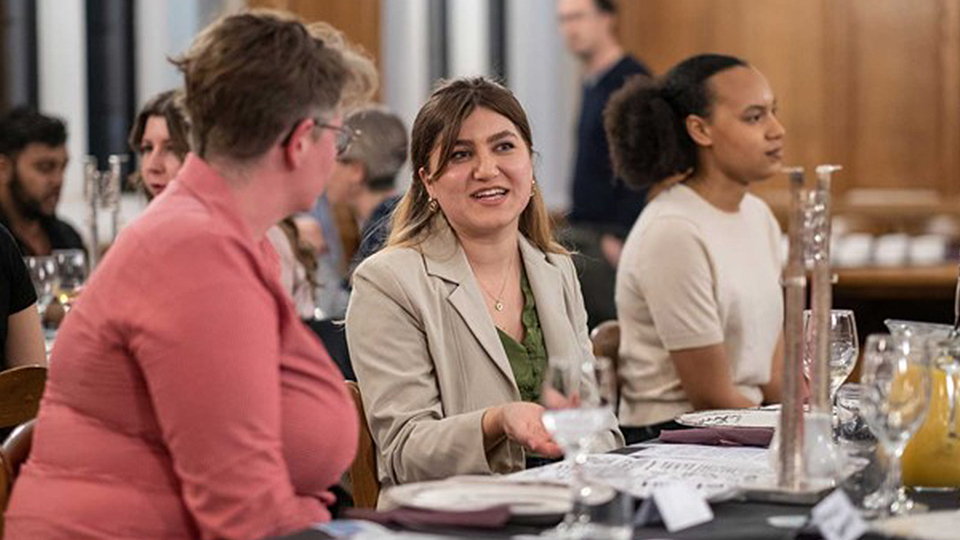 Poorvika Uvaraj, Chair of the Student Women's Network added: "The dinner paved the way to facilitate conversation between students and senior staff. As a student, I was pleased by how approachable staff were and open to hearing the reality of what issues students face on campus. I am glad to have been a part of the dinner and able to also understand all the efforts put forth by the University to help better our academic experiences. I also gained insight into their vision for the University in the coming years and how they were to achieve this. I was pleased by their responses to the importance of students' welfare and their willingness to understand why the LSU and my association are important to help marginalised students on campus."
More information and photos from the event can be found on the LU Arts website. Other LU Arts initiatives which took place to celebrate International Women's Day included a sold-out banner-making workshop by Loughborough alumna and artist Amelia Seren Roberts; this collaborative banner was used for the IWD march on campus and also displayed at the dinner evening event.