Cyclist Capewell continued her fine form on the track to secure a superb silver medal in the Women's Keirin at Lee Valley VeloPark.
The 23-year-old followed up her bronze medal yesterday by going one better to take second place behind New Zealander Ellesse Andrews.
In the pool, alumna Abbie Wood clinched an impressive bronze in the Women's 200m Individual Medley to record a mammoth fourth medal of the Games.
Wood, who has already claimed podium places in the Mixed 4x100m Relay (heats), Women's 4x100m Freestyle Relay, and Women's 4x200m Freestyle Relay, produced another strong swim to touch the wall in third behind Canada's Summer McIntosh and New Zealand's Kaylee McKeown.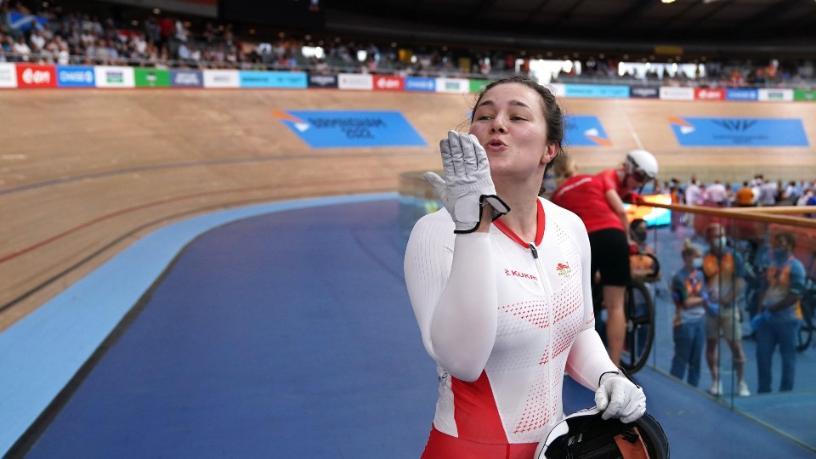 S‌ophie Capewell after winning silver in the Women's Keirin. Image provided by PA/Alamy.
In yet another medal for Loughborough, alumnus Joe Litchfield and Loughborough College learner Jacob Whittle formed part of Team England's Men's 4x200m Freestyle Relay team that won silver in the final race of the night.
Sophie Capewell said: "I am super proud of how I rode…every day has been getting harder and harder to bring yourself up for each race.
"Today I took it one race at a time, I am really happy with how I executed the final. I am a bit gutted I didn't come round Ellesse [Andrews] at the end. I know what I need to do next time. I mean she is bloody fantastic. I am really proud of myself today.
"I think I have got better as it has gone on a little bit…I have a lot to come away and be proud of these championships. It has not been a bad first Commonwealth Games."
Abbie Wood said: "I feel such a weight lifted off my shoulders. After the season I've had, I'm really happy with that and it's a sigh of relief.
"I didn't feel pressure from anyone intentionally, but I had my family here…it's a season's best, I couldn't ask for any more after such a hard cycle post-Olympics. Fourth there hit me so to get it together for this week, I'm really happy.
"It was pretty much go-go-go after the Olympics so I'm definitely having a nice break after this, celebrating with my family."
Earlier in the day, alumnus weightlifter Chris Murray added a gold to Loughborough's medal tally by setting a new Commonwealth Games record in the Men's 81kg category.
Loughborough's dedicated 2022 Commonwealth Games website features all the latest news, videos, and medal tables from Birmingham.